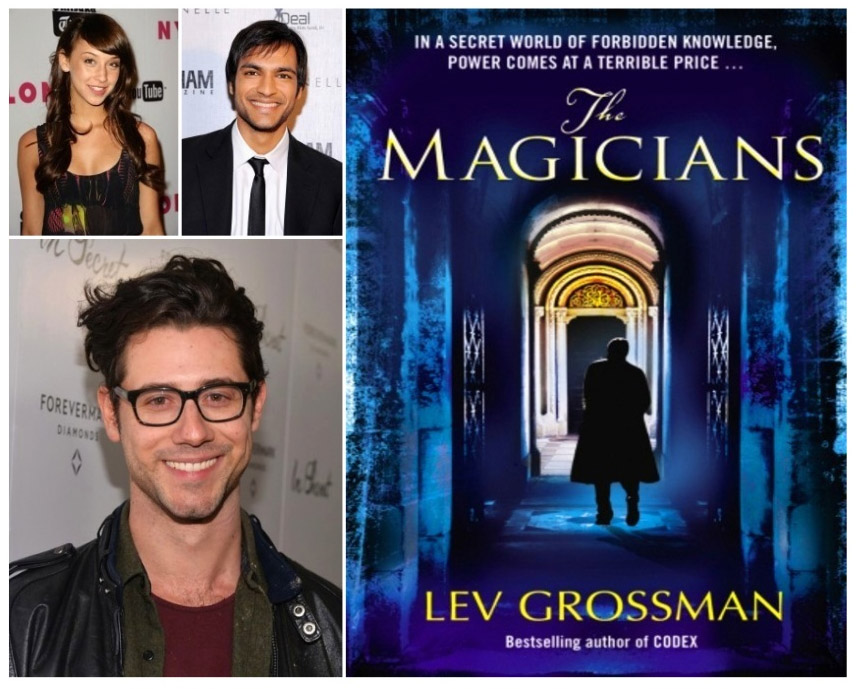 Syfy and Universal Cable Productions have cast Stella Maeve (Chicago PD), Hale Appleman (Teeth) and Arjun Gupta (Nurse Jackie) in key roles for the upcoming pilot The Magicians, an adaptation of Lev Grossman's beloved #1 New York Times best-selling book series, which begins production in New Orleans this December.  Acclaimed independent film producer Mike Cahill (I Origins, Another Earth) is signed on to direct. 
Stella Maeve will play the beautiful and confident Julia, a wealthy and brilliant Ivy-Leaguer who seems destined for success. But Julia's future plans are forever altered after she is denied admittance to the mysterious Brakebills College for Magical Pedagogy. Unaccustomed to failure, Julia finds life meaningless now that the possibilities of a previously unseen magical world have been denied to her. But she may get another chance to pursue a career in magic when she's recruited by a secret society.  Maeve can currently be seen in a recurring role on the NBC series Chicago PD. She most recently starred in the independent features Dark Summer opposite Keir Gilchrist, All Together Now, which premiered at the Los Angeles Film Festival, and Independent Spirit Award-winner Starlet.  Previously, Maeve co-starred with Dakota Fanning and Kristen Stewart in The Runaways. Maeve is repped by Paradigm Agency and Principato-Young Entertainment.
Hale Appleman will portray Eliot, a student at the Brakebills who is an odd combination of a preppy with intrinsic coolness. Effortlessly hip, with his air of self-possession, Eliot is accustomed to commanding any clique, and he's a natural leader of his fellow magical students. He will prove a sometimes frustrating ally in Quentin's fortunes — and may soon factor into a series of perilous adventures. Appleman played Tobey Cobb in the 2007 film Teeth.  He made his film debut in Chad Lowe's feature Beautiful Ohio, and portrayed cartoonist Judd Winick in Pedro, Nick Oceano's 2008 film dramatizing the life of AIDS educator Pedro Zamora. He also recurred on NBC's Smash. His theater credits include Alex Timbers' The Last Goodbye, which was at the Old Globe in San Diego, and Streamers on Broadway. He is represented by Innovative Artists and D2 Management.
Arjun Gupta will portray Penny, a young man with an edgy look and attitude. He's deliberately intimidating to Quentin, his new roommate and fellow magic student at Brakebills. A reluctant telepath, he is bedeviled by voices that hint at pathways to other worlds. Gupta played Sam in the first three seasons of Nurse Jackie opposite Edie Falco, and currently recurs on ABC's How to Get Away With Murder. Gupta is repped by Gersh and Untitled Entertainment. 
The Magicians, produced by Universal Cable Productions, follows 20-somethings who, while studying magic in New York, discover that the magical fantasy world they read about as children is all too real and poses grave danger to humanity.   John McNamara (Prime Suspect) and Sera Gamble (Supernatural) will write the script, with Michael London (Milk) as producer. Production on the pilot is set to start this December in New Orleans. 
Lev Grossman's "Magicians" trilogy has been an international sensation, published and widely praised in more than twenty countries. The epic conclusion to the series, "The Magician's Land," just opened at #1 on the New York Times Hardcover Best Seller's list.