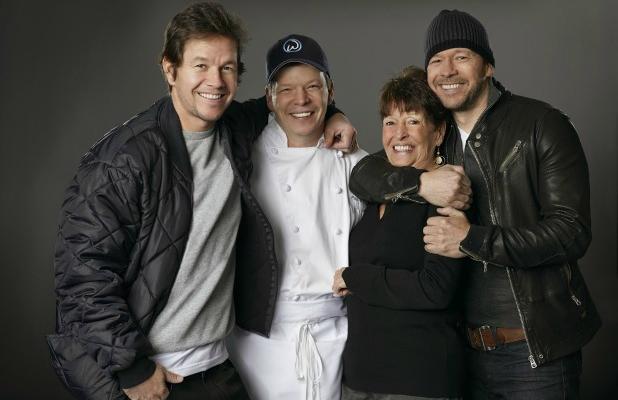 Wahlburgers, the popular casual burger restaurant founded by brothers Mark, Donnie and Paul Wahlberg and the focus of A&E Network's Emmy-nominated reality show of the same name, is now open at Toronto's SoHo Metropolitan Hotel. Located in the heart of the city, Wahlburgers Toronto creates the perfect dining experience for burger-fanatics with a sports bar, seated dining and quick service restaurant all under one roof.
"My brothers and I are thrilled to open our first franchise and first Canadian location" said Paul Wahlberg, Executive Chef of Wahlburgers. "Building a restaurant that people love to go to is our true mission. We've worked closely with the Toronto team to reach our goal and that's to have a place that is all about good food and great service."
Inspired by their love for the burger and the casual comfort food of their Boston childhood, the Wahlberg brothers opened the original Wahlburgers in Hingham, MA in October 2011 as a chef-driven burger concept. Like the Boston staple, the menu in Toronto places emphasis on its use of locally sourced and house-made ingredients. Wahlburgers are made with 100 per cent Canadian beef. The custom grind, created specifically by Chef Paul Wahlberg, comes from a local butcher and is cooked to medium, allowing the juices to flow.
Menu highlights include:
Mark's Choice: "The

Thanksgiving

Burger" made with fresh ground and seasoned turkey dressed with Paul's orange cranberry sauce, homemade roasted butternut squash and stuffing.
Donnie's Choice: "The BBQ Bacon Burger" topped with white cheddar cheese, bacon and avocado, finished with jalapenos and a house-made BBQ sauce.
Paul's Choice: The Wahlburgers original "Our Burger" made fresh to order with the restaurant's special blend of beef topped with government cheese (American cheese), dill pickles, lettuce, tomato, onion and finished with the signature Wahl sauce.
Starting December 2014, Wahlburgers will incorporate Canadian-themed dishes as part of the 'burger of the month' program.