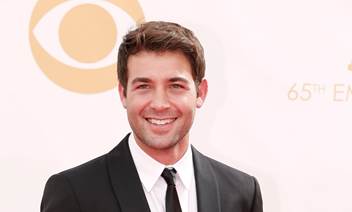 James Wolk will star in ZOO, a new drama series based on the bestselling novel of the same name by James Patterson, to be broadcast in summer 2015.
 
ZOO is a global thriller about a wave of violent animal attacks against humans sweeping the planet. James Wolk will play Jackson Oz, a young, renegade American zoologist who spends his days running safaris in the wilds of Africa when he begins noticing the strange behavior of the animals. As the assaults become more cunning, coordinated and ferocious, he is thrust into the race to unlock the mystery of the pandemic before there's no place left for people to hide.
 
Most recently, Wolk starred in the television comedy "The Crazy Ones," on the Network. Prior to that, Wolk was perhaps best known to television audiences for his portrayal of Bob Benson in "Mad Men." Previously, Wolk received critical acclaim for his starring role in the series "Lone Star." His additional television credits include "Political Animals," "Happy Endings" and "Shameless."
 
Wolk's feature film credits include "You Again," "There's Always Woodstock" and "For a Good Time Call," which premiered at the 2012 Sundance Film Festival. In addition, he just wrapped production of two independent films, "The Stanford Experiment" and "This is Happening." His theater credits include the West Coast production of the Tony Award nominated show "Next Fall," at the Geffen Playhouse.
 
As a book, Zoo was originally published in September 2012 by Little, Brown and Company and was a #1 New York Times bestseller. It's been translated into six languages, and has sold more than four million copies worldwide.
 
James Patterson is the world's #1 bestselling writer. To date, he has sold 300 million copies of his 130 novels worldwide, and he's the first author to sell 10 million ebooks. He holds the Guinness world record for the most #1 New York Times bestsellers of any author.
 
Jeff Pinkner, Josh Appelbaum, Andre Nemec and Scott Rosenberg are executive producers with James Mangold, Cathy Konrad, James Patterson, Bill Robinson, Leopoldo Gout and Steve Bowen. Brad Anderson is directing.  ZOO is a CBS Television Studios production.