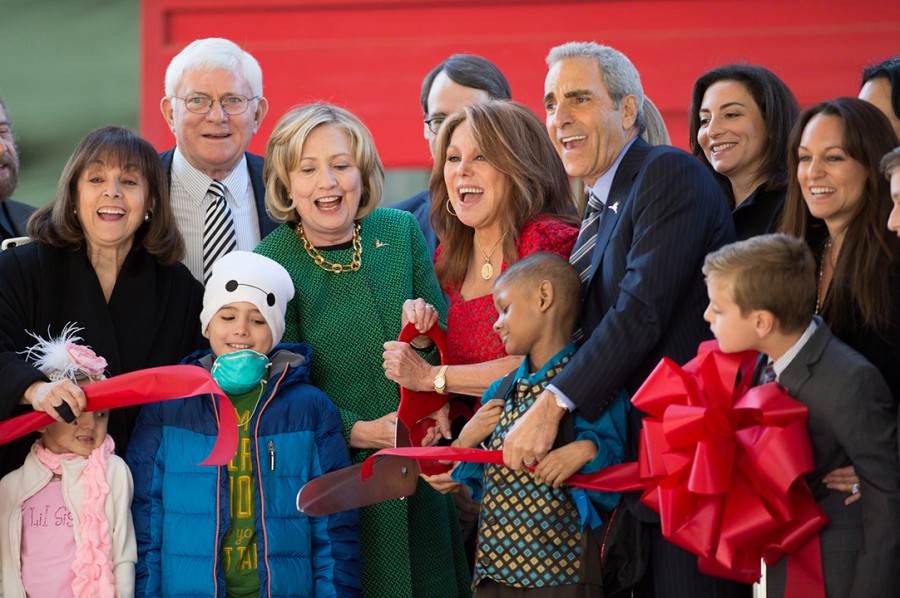 Hillary Rodham Clinton joined Marlo Thomas as she was honored with the opening of the Marlo Thomas Center for Global Education and Collaboration on the St. Jude Children's Research Hospital campus in Memphis on Thursday, November 20. The center is named for Marlo Thomas, who serves as the National Outreach Director  for St. Jude, in recognition of a lifetime spent working for St. Jude to raise awareness and funds for the research and treatment of childhood cancer.
On Monday, November 24, Marlo Thomas will be honored by President Barak Obama with the Presidential Medal of Freedom. The nation's highest civilian honor, the Presidential Medal of Freedom is presented to individuals who have made especially meritorious contributions to the security or national interests of the United States, to world peace, or to cultural or other significant public or private endeavors. Photos will be available Monday afternoon through the White House press pool or AP. 
Marlo Thomas is an award-winning actress, producer, best-selling author and social activist. Whether championing equality for women, giving voice to the less fortunate, breaking barriers by portraying television's first single working women on That Girl, or teaching children to be "Free to Be You and Me," Thomas inspires us all to dream bigger and reach higher. Thomas serves as National Outreach Director for St. Jude Children's Research Hospital, a pediatric treatment and research facility focused on pediatric cancer and children's catastrophic diseases. The hospital was founded by her father, Danny Thomas, in 1962.   
Photo credit: St. Jude Children's Research Hospital