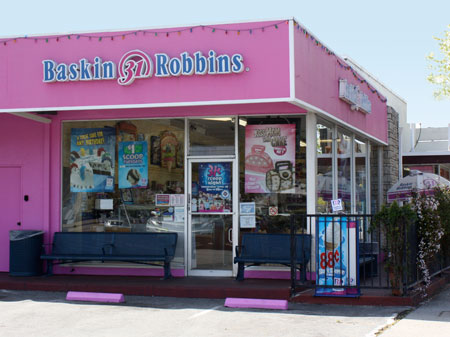 Baskin-Robbins, is showing its appreciation for military veterans this Veterans Day with more than $25,000 in financial discounts on royalties and initial franchise fees as part of a special veteran's incentive program for U.S. veterans seeking to open a Baskin-Robbins franchise in the U.S. In October, franchisee and Army veteran Charlie Bertram, and his wife, Karen Bertram, opened a Baskin-Robbins shop in Shelbyville, Kentucky. The new store was purchased with the help of the Baskin-Robbins Veteran's Incentive Program.
"We're proud not only that Baskin-Robbins is our first franchise business, but also that the brand supports all military veterans through special franchising incentives and discounts," said Charlie Bertram, owner of the Shelbyville Baskin-Robbins. "Between the passion we've seen in other franchisees and the fact that my wife and I have been together for 31 wonderful years - the same number as the brand's famous flavors - it was an easy choice for us to open a Baskin-Robbins."
Bertram is a U.S. Army veteran, who served during Desert Storm from 1987 to 1991.  He was an Army Specialist (E4) when he was honorably discharged. 
"Charlie Bertram and U.S. military heroes just like him should be rewarded for their service to our country," said Bill Mitchell, President, Baskin-Robbins U.S. and Canada, and Baskin-Robbins & Dunkin' Donuts China, Japan and Korea, who served as a Captain in the U.S. Army. "At Baskin-Robbins, we take pride in supporting military veterans, providing franchising incentives so they can make their dreams of owning their own business a reality."