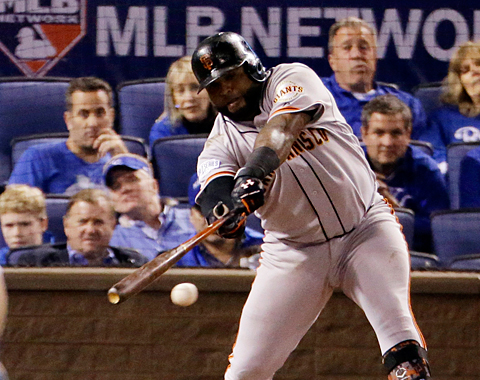 Photo: http://sanfrancisco.giants.mlb.com (Not from
The San Francisco Giants defeated the Kansas City Royals 7-1 to take game one of the 2014 World Series. The loss is Kansas City's first of the postseason.
Giants pitcher Madison Bumgarner was brilliant over seven innings of work, throwing five strikeouts and only allowing three hits and one earned run. San Francisco's offense supported Bumgarner early, he entered the bottom of the first inning with a 3-0 lead thanks to a two-run homer by Hunter Pence. "It definitely makes it a lot easier on you when you can go out there and know that our guys have already scored three runs," Bumgarner says. "Just makes it easier to go out there and make pitches and attack guys and try to get ahead. You're not so worried about leaving one over the middle."
Despite a 29 year postseason drought, the Kansas City Royals exploded on the scene this October as a team of destiny. After winning their wild card playoff game against Oakland, they consecutively swept the AL West leading Angels and AL East winning Orioles. In the Giants, however, they face their greatest kryptonite: experience.
The Royals feature a grind-it-out style of play; do the little things that can win a game. They had the fewest home runs of any team during the regular season, yet feature some of the most elite base runners in the game. Their youth and inexperience has not proven problematic until last night.
Last night's game-one victory was the seventh straight World Series win for San Francisco as they look to win their third title in five years. From Bumgarner's gem to the stellar performance of rest of the team, the Giants looked poised  and focused Monday night. For all Kansas City's swagger, that kind of postseason know-how is something they don't have.
As the series continues, it's important to keep in mind that the winner of game one has gone on to win the title ten of the last eleven seasons. While the momentum seems to be in San Francisco's favor, Kansas City might still have a little postseason magic to conjure up.
Watch game two tonight at 8:07 pm ET on FOX.