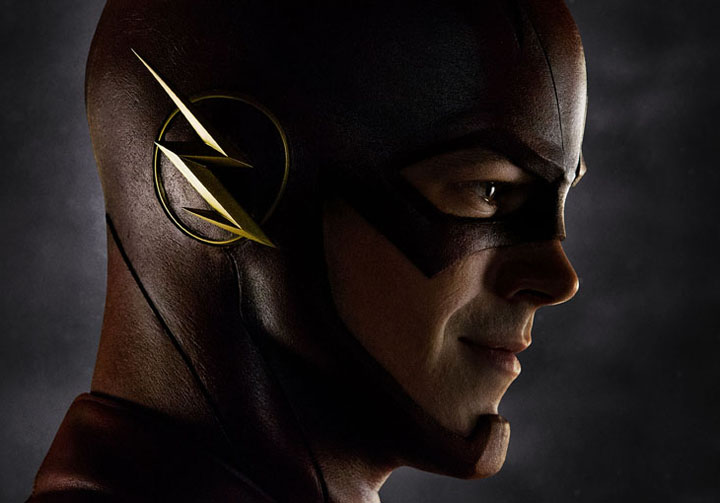 "The Flash" series premieres on the CW TUESDAY 8/7c
Barry Allen was just 11 years old when his mother was killed in a bizarre and terrifying incident and his father was falsely convicted of the murder.  With his life changed forever by the tragedy, Barry was taken in and raised by Detective Joe West, the father of Barry's best friend, Iris.  Now, Barry has become a brilliant, driven and endearingly geeky CSI investigator, whose determination to uncover the truth about his mother's strange death leads him to follow up on every unexplained urban legend and scientific advancement that comes along. Barry's latest obsession is a cutting edge particle accelerator, created by visionary physicist Harrison Wells and his S.T.A.R. Labs team, who claim that this invention will bring about unimaginable advancements in power and medicine.  However, something goes horribly wrong during the public unveiling, and when the devastating explosion causes a freak storm, many lives are lost and Barry is struck by lightning. 
After nine months in a coma, Barry awakens to find his life has changed once again – the accident has given him the power of super speed, granting him the ability to move through Central City like an unseen guardian angel. Barry has always had the heart of a hero and now he has the legs to match, but he quickly learns that being a superhero is not as easy as it seems — and he can't do it alone.  While Barry struggles to understand his new abilities, the people around him also have to adjust to a new reality. Joe West, Barry's surrogate father, is coming to grips with the fact that the world of the extraordinary actually does exist. Joe thought he understood what it meant to chase criminals, but now he's facing opponents who can do more than just rob a bank, they can control the weather. Though he knows this remarkable turn of events is Barry's destiny, every time Barry faces danger, Joe is terrified for his surrogate son. While Joe worries about Barry, Barry worries about Joe's daughter Iris, and how his new life as The Flash will change their relationship.  Iris and Barry grew up together, and she has always believed in Barry's conviction that unknown forces were at work the night his mother was killed.  Barry has kept his romantic feelings for Iris hidden, and now feels he must protect her by keeping his new identity a secret as well.  And Iris has a secret of her own — she has been dating her father's partner, Detective Eddie Thawne, who is such a good guy, even Barry finds it hard to hate him. Still, there is tension between Barry and Thawne, who is jealous of Iris' newfound fascination with The Flash and is determined to unmask him. Barry realizes that keeping the secret of his new identity separates him from Iris, even as her growing obsession with uncovering the truth brings her ever closer to The Flash. 
Barry has found another kind of surrogate family in the team at Harrison Wells' S.T.A.R. Labs. Wells himself is quickly becoming a second father figure to Barry, who learned about morality and justice from Joe, and is now learning about science and technology from Wells. Wells' ultimate agenda remains somewhat mysterious, but Barry is excited by the grander worldview that has been opened for him, and the friendship he's building with S.T.A.R. lab team members Caitlin Snow and Cisco Ramon. For Caitlin, who lost her fiancé in the catastrophic explosion, working with Barry is providing a much-needed sense of purpose and a way to deal with her grief. Caitlin's excitement at seeing Barry learn to use his new power is balanced by her growing concern for his safety – she and Cisco have both learned that accidents have devastating consequences. Cisco was a close friend of Caitlin's fiancé and secretly blames himself for the tragedy. 
A mechanical genius who comes up with amazing gadgets that help Barry control his speed, Cisco is happy to suddenly have a new project – and a new friend – in Barry. While he struggles to combine these two very different groups of people into a crime-fighting unit, Barry is still excited every day by his newfound powers.  He is also shocked to discover he is not the only "meta-human" created in the wake of the accelerator explosion – and not everyone is using the new powers for good. In the months since the accident, the city has seen a sharp increase in missing people, unexplained deaths and other strange phenomena.  Barry now has a renewed purpose – using his gift of speed to protect the innocent, while never giving up on his quest to solve his mother's murder and clear his father's name. For now, only a few close friends and associates know that Barry is literally the fastest man alive, but it won't be long before the world learns what Barry Allen has become…The Flash.