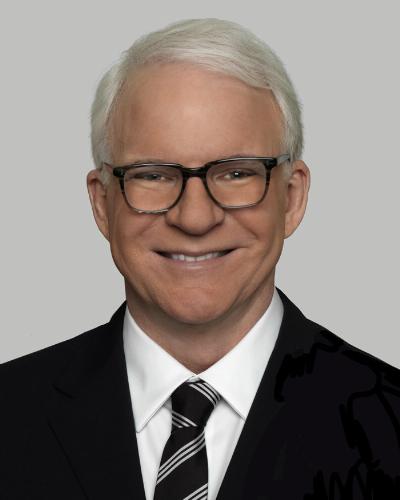 Sir Howard Stringer, Chair of the American Film Institute's Board of Trustees, announced the Board's decision to honor Steve Martin with the 43rd AFI Life Achievement Award, the highest honor for a career in film.  The award will be presented to Martin at a gala tribute in Los Angeles, CA on June 4, 2015.  The 43rd AFI Life Achievement Award tribute special will return for its third year on TNT when it airs in June 2015, followed by encore presentations on sister network Turner Classic Movies (TCM).
"Steve Martin is an American original," said Stringer.  "From a wild and crazy stand-up comic to one who stands tall among the great figures in this American art form, he is a multi-layered creative force bound by neither convention nor caution. His work is defined by him alone, for he is the author – and a national treasure whose work has stuck with us like an arrow in the head.  AFI is proud to present him with its 43rd Life Achievement Award."
One of the most diversified performers and acclaimed artists of his generation, Steve Martin is an actor, comedian, author, playwright, screenwriter, producer and musician. Recipient of an Emmy®, four Grammy® Awards, a Kennedy Center Honor and an Honorary Oscar®, Martin first rose to prominence as a stand-up comedian and quickly established himself as a leading man with a body of work defined by his unique creative voice.
Martin began his career writing for THE SMOTHERS BROTHERS COMEDY HOUR – and in 1969, won an Emmy® for his work.  Through the 1970s, he appeared on a number of memorable TV shows – including iconic spots on THE TONIGHT SHOW STARRING JOHNNY CARSON and SATURDAY NIGHT LIVE – as well as comedy essays and albums.  The big screen beckoned. Martin's first film was a seven-minute short he wrote and starred in, THE ABSENT-MINDED WAITER. The film was nominated for an Academy Award® for Best Short Film, Live Action in 1977. In 1979, he had a breakout role as the sweet and clueless "Navin Johnson" in THE JERK (which Martin also co-wrote).  It was a perfect showcase for his distinct comedic sensibilities – earnest, innocent and absurd – and it launched him into the zeitgeist.  PENNIES FROM HEAVEN (1981) followed, and he went on to become a bankable big-screen star, with distinct roles in films such as DEAD MEN DON'T WEAR PLAID (1982), THE MAN WITH TWO BRAINS (1983), THREE AMIGOS! (1986), LITTLE SHOP OF HORRORS (1986) and DIRTY ROTTEN SCOUNDRELS (1988) – while also embodying an endearing everyman in ALL OF ME (1984), PLANES, TRAINS AND AUTOMOBILES (1987), ROXANNE (1987) and FATHER OF THE BRIDE parts I and II (1991, 1995).  He proved himself more than just a funnyman in bittersweet ensemble works including PARENTHOOD (1989), GRAND CANYON (1991), L.A. STORY (1991) and SHOPGIRL (2005) – a film which he wrote based on his own novella of the same name.
In addition to his beloved film credits and his successful writing career, Martin is also an accomplished musician. Martin recently premiered his new musical BRIGHT STAR, at the Old Globe Theater featuring original music by Martin and songwriter Edie Brickell, inspired by their Grammy® Award-winning collaboration "Love Has Come For You."