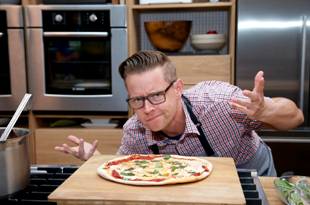 Chef Richard Blais reveals how you taste, choose, and crave favorite foods on Food Network's new series, Hungry Games. In each of the six half-hour episodes, fun hidden camera experiments and man-on-the-street taste tests will reveal surprising facts about the inner-workings of the brain that will change the way you think about food.  Throughout the season, Richard Blais investigates the psychology and science behind our food decisions and cravings. In one episode, he learns about the role that expectations play when tasting new foods, by experimenting with an untraditional salmon-flavored ice cream taste test. In one episode, he explores the surprising power of language to stimulate cravings for a slice of cheesy pizza. He also discovers the secret x-factor of juicy burgers, and the irresistible appeal of greasy, salty bar foods.
Plus, he gets to the bottom of why comfort food really is so comforting. Richard also exposes the hidden psychological connection between rooting for a winning sports team and the amount of food we consume during the game. Then, he discovers the reason why mom's homemade side dishes always taste the best. These mind-blowing discoveries will change the way you think about what you eat!
Here's a sneak peek into the premiere episode; How much would you pay for a pizza? Richard Blais is throwing a pizza party to test out just how powerful language is to get you to crave and pay more for a perfect, cheesy pie! You'll also never believe the surprising role of smell when it comes to tasting your favorite pizza toppings.

Hungry Games premiere's Monday, October 20th at 8:00pm ET/PT on Food Network.