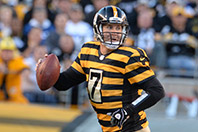 Week seven of the 2014 NFL season was defined by the quarterback. It was a Sunday of record setting performances and a myriad of happy fantasy football owners. 
Even on a day when so many quarterbacks stood out, Ben Roethlisberger was without question the best. Roethlisberger threw for 522 yards and six touchdown passes in the Pittsburgh Steelers 51-34 victory over the Indianapolis Colts. The yardage was good for the fourth highest single-game total in NFL history, and more than enough to overshadow MVP hopeful Andrew Luck (400 yards and three touchdown passes). 
As far as quarterbacks are concerned, it was a tale of two teams in the AFC East. The New England Patriots, first in the division, watched the hall-of-fame bound Tom Brady dismantle the Chicago Bears for 354 yards and five touchdown passes. Brady completed a highly efficient 30 of 35 passes in the Patriot's 51-23 win. Meanwhile, the New York Jets witnessed their starting quarterback, Geno Smith, throw more interceptions (three) than completions (two). Smith was benched before the first quarter ended, and the last-place Jets lost to Buffalo 43-23. 
The Arizona Cardinals defeated the Philadelphia Eagles 24-20 in a matchup of teams with only one-loss. Carson Palmer connected with John Brown for a 75 yard bomb with 80 seconds left in the game to put the Cardinals ahead for good. In a rare morning game for American audiences, the Detroit Lions beat the Atlanta Falcons 22-21 in London. Facing a 21-0 deficit at halftime, Lions quarterback Matthew Stafford put the team on his back, rallying for a final drive down only two. Matt Prater's 48 yard kick with no time remaining sealed Stafford's heroics, pleasing a packed Wembley Stadium crowd.
All scores from Sunday's games:
Detroit def. ATLANTA: 22-21
KANSAS CITY def. St. Louis: 34-7
Houston def. TENNESSEE: 30-16
Minnesota def. TAMPA BAY: 19-13
Seattle def. CAROLINA: 13-9
CINCINNATI def. Baltimore: 27-24
Miami def. JACKSONVILLE: 27-13
NEW ENGLAND def. Chicago: 51-23
Buffalo def. NEW YORK JETS: 43-23
ARIZONA def. Philadelphia: 24-20
CLEVELAND def. Oakland: 23-13
PITTSBURGH def. Indianapolis: 51-34
NEW ORLEANS def. Green Bay: 44-23
By Kyle Edwards
Watch the Washington Redskins take on the Dallas Cowboys tonight on ESPN's Monday Night Football.
Photo: www.steelers.com (Media)