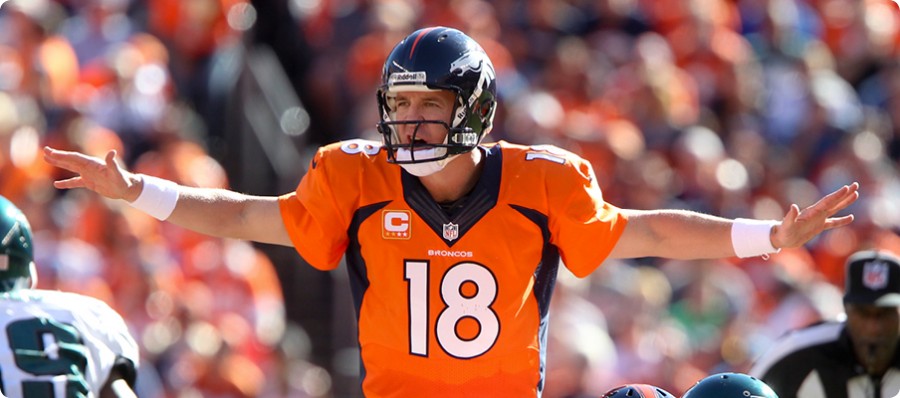 Photo Courtesy: © Gabriel Christus/ Denver Broncos

Greatness is seldom appreciated during the moment. The term, "living legend" is often overused, but not in the case of the 38-year old athletic phenom Peyton Manning, who is a special breed of quarterback; someone whose statistical greatness and character is unquestioned. Last night he added another record to his future-Hall of Fame resume, and another level to the measure of his greatness.
In the Denver Broncos 42-17 victory over the San Francisco 49ers, Manning threw the 509th touchdown pass of his career, surpassing Brett Favre as the NFL's all-time leader. As Al Michaels gushed throughout the broadcast, Manning is a once in a lifetime player still at the peak of his powers. He dazzled in the nationally televised game, completing 22 of his 26 passes for 318 yards and four touchdown passes. Anyone who watched the game knew who the best player on the field was.
Manning's former team, the Indianapolis Colts, also wowed audiences in their Sunday afternoon contest. Their 27-0 win over the AFC North leading Cincinnati Bengals featured total dominance on both sides of the ball. Andrew Luck, Manning's replacement for the Colts, has slowly made a case for the NFL's MVP. After an 0-2 start, Indianapolis is 5-2 and Luck leads all quarterbacks in passing yards and is tied with Manning for the touchdown pass lead.
And who is Luck's competition in the MVP race? Look no further than the surprising Dallas Cowboys running back DeMarco Murray. In yesterday's 31-21 victory over the New York Giants, Murray became the first tailback in NFL history to rush for over 100 yards in the first seven games of the season. Dallas is 6-1 on the season and look like Super Bowl contenders in large part due to Murray's brilliance in the backfield.
The last two weeks have been a disaster for the defending champion Seattle Seahawks. They lost their first home game in over a year last week, traded star wideout Percy Harvin to the New York Jets, and lost again yesterday to the lowly St. Louis Rams. The 28-26 loss gives the Seahawks a 3-3 record, and brings attention to the turmoil brewing in the Emerald City. It doesn't appear that the Seahawks are able to handle last year's success.
All scores from Sunday's games:
BALTIMORE def. Atlanta: 29-7
WASHINGTON def. Tennessee: 19-17
ST. LOUIS def. Seattle: 28-26
JACKSONVILLE def. Cleveland: 24-6
INDIANAPOLIS def. Cincinnati: 27-0
BUFFALO def. Minnesota: 17-16
Miami def. CHICAGO: 27-14
DETROIT def. New Orleans: 24-23
GREEN BAY def. Carolina: 38-17
Kansas City def. SAN DIEGO: 23-20
Arizona def. OAKLAND: 24-13
DALLAS def. New York Giants: 31-21
DENVER def. San Francisco: 42-17
By Kyle Edwards
Watch the Houston Texans take on the Pittsburgh Steelers tonight on ESPN's Monday Night Football.