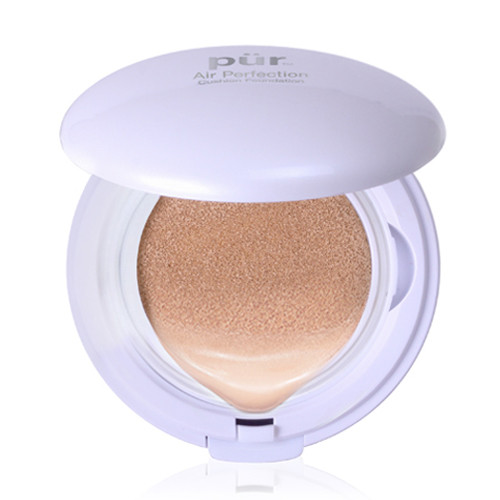 For women with dark spots, scarring and constant blemishes, it's difficult to find the right foundation. Many cover-up products are too light and loose; they barely make a difference. Only a handful of lines actually do the trick. Pur Minerals Air Perfection CC Cushion Compact Foundation is one of the few that work.
Unlike most foundations, Air Perfection is in sponge form. Simply open up the compact and press the makeup pad down on the sponge. Pat down and evenly cover your dark spots and blemishes. With the right shade match, you will notice the spots disappear. Air Perfection delivers ultra high-quality sheer to medium coverage with a unique, mousse-like texture that feels lighter than air. This portable liquid foundation infuses the skin with advanced botanical problem solvers, including the ultimate skincare emollient: Babassu Oil. Native to Brazil, this palm-based ingredient nourishes a dewy soft complexion with intensely hydrating lauric and myristic acids and antioxidant vitamin E.
The Ingredients help:

Provide texture-plumping hydration that softens the look of lines
Moisturize, smooth and protect with antioxidant benefits
Deliver a megadose of anti-aging amino acids and vitamins
Available in Light, Medium and Tan shades.
Price: $30.00