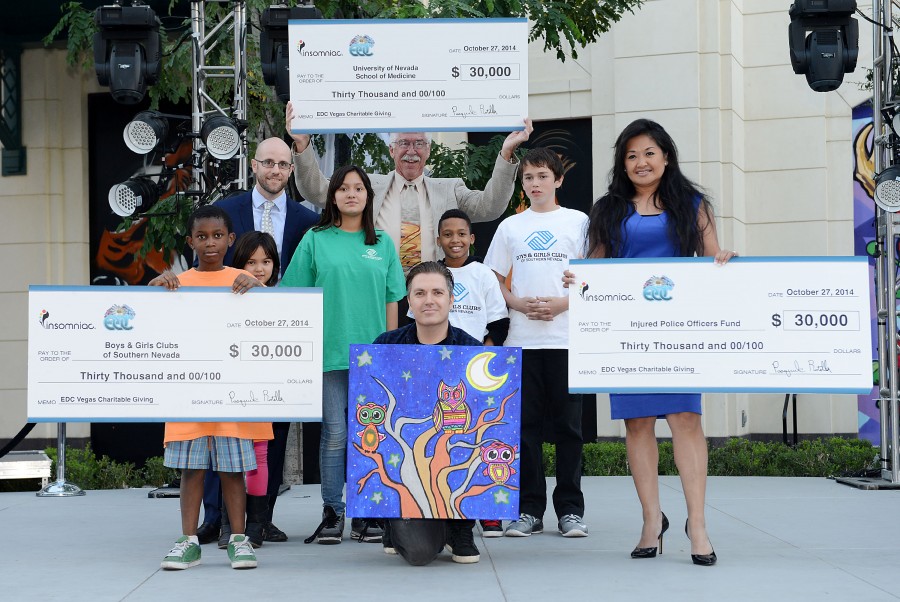 Insomniac donated $90,000 raised through their annual music festival, Electric Daisy Carnival (EDC), Las Vegas to three local organizations, honoring the company's commitment to giving back to the communities where they produce their shows. This year's recipients included the Boys & Girls Clubs of Southern Nevada, Injured Police Officers Fund (IPOF) – Las Vegas, and the University Of Nevada School Of Emergency Medicine.
"I'm really grateful that the fans from EDC Las Vegas have made it possible for me to stand here today and present $90,000 to three amazing organizations, each of which gives so much back to the Las Vegas community," said Insomniac's Founder and CEO, Pasquale Rotella. "Las Vegas is not only where Insomniac hosts our largest festival, but it is also my home. Being able to give back to the community where I live and work is an amazing feeling and I hope it inspires others to look around and see, no matter how big or small, that they can make their hometowns a better place to be."
Leaders from the three charitable organizations came together at The LINQ where Rotella presented each with a donation of $30,000. Injured Police Officers Fund Director, Minddie Lloyd, Boys & Girls Club President, Brian Knudsen and Dr. Dale Carrison of the University Of Nevada School Of Emergency Medicine accepted the gift on behalf of their organizations. Youth from the Boys & Girls Clubs of Southern Nevada showed their gratitude and surprised Rotella with a handcrafted painting of "electric owls" to close out the event.
Following the check presentation, 24 children from the Boys & Girls Clubs of Southern Nevada, along with representatives from the local charities, were treated to a complimentary ride on the High Roller.
The Injured Police Officers Fund (IPOF) reduces the financial burden suffered by police officers and their families in the event of a line of duty injury or death. IPOF currently assists more than 8,000 officers in Nevada by providing monetary assistance to them and their families.
"We know no amount of money will heal the wounds of families but we hope the support from Insomniac will lessen the burden of those left behind through their grieving," said Minddie Lloyd, director of the Injured Police Officers Fund.
The Boys & Girls Clubs of Southern Nevada operates 14 facilities, three summer outreach programs in Southern Nevada and serves more than 30,000 youth in Las Vegas, North Las Vegas, Henderson, Southern Highlands and Summerlin. The organization provides children with the essential tools needed for a successful and bright future through a variety of daily creative, fun, and educational programs.
The Emergency Medicine Resident Fund is an established gift fund used to support resident research activities within the University Of Nevada School Of Medicine Foundation's Emergency Medicine Department. The physicians that planned and directed the care for the Electric Daisy Carnival are local physicians that are involved in teaching and training emergency medicine residents for the University Of Nevada School Of Medicine.
Since 2011, Insomniac has donated $375,000 to local and regional organizations following EDC Las Vegas including Clark County School District's School-Community Partnership Program, Smith Center for the Performing Arts, Speedway Children's Charity – Las Vegas Chapter and Rock the Vote.
Insomniac held the 18th Annual Electric Daisy Carnival on June 20 – 22, 2014 at the Las Vegas Motor Speedway and welcomed a sold-out crowd of more than 400,000 fans throughout the three-day festival. The 1,000-acre complex was transformed into an audiovisual adventure with more than 500 musical acts, theatrical performers, full-scale carnival rides, elaborate décor, state-of-the-art lighting and sound production, pyrotechnics and innovative stage designs along with nightly firework displays.