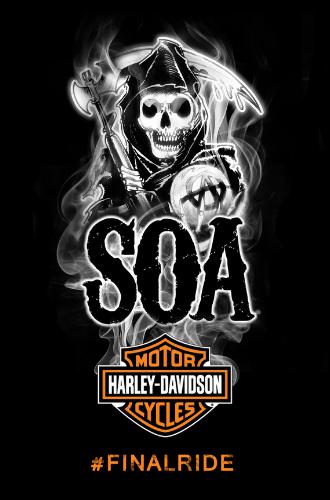 Harley-Davidson® and "Sons of Anarchy" ("SOA") fans are gearing-up for the show's finale and a legendary party hosted by stars of the show Kim Coates and Theo Rossi. Harley-Davidson is offering one lucky fan an "SOA" viewing party at their hometown Harley-Davidson dealership hosted by Coates and Rossi, as well as a 2015 "SOA" customized motorcycle.
"The last seven seasons have been a hell of a ride," said Dino Bernacchi, U.S. Marketing Director at Harley-Davidson. "In true Harley and SAMCRO style, we're putting fans front and center with an "SOA"-inspired motorcycle and a viewing party they'll never forget."
Members of the fictional Sons of Anarchy Motorcycle Club have ridden Harley-Davidson Street Bobs since the show began. A special team at Harley-Davidson collaborated with the "SOA" production team to customize more than 100 motorcycles for the show. From "club style" cruisers to touring bikes, each motorcycle began as a stock showroom model and canvas for customization.
The winner's motorcycle will come with a customized tank that merges Harley-Davidson's inherent style and attitude with California's motorcycle club culture. Providing the contest winner a 2015 "SOA" customized motorcycle will allow them to start a new series in their riding journey.
Today through Oct. 31, fans can visit www.h-d.com/soa to enter the contest and receive exclusive Harley-Davidson and "SOA" stickers (while supplies last).
"Sons of Anarchy" airs Tuesdays at 10:00 p.m. ET/PT on FX.