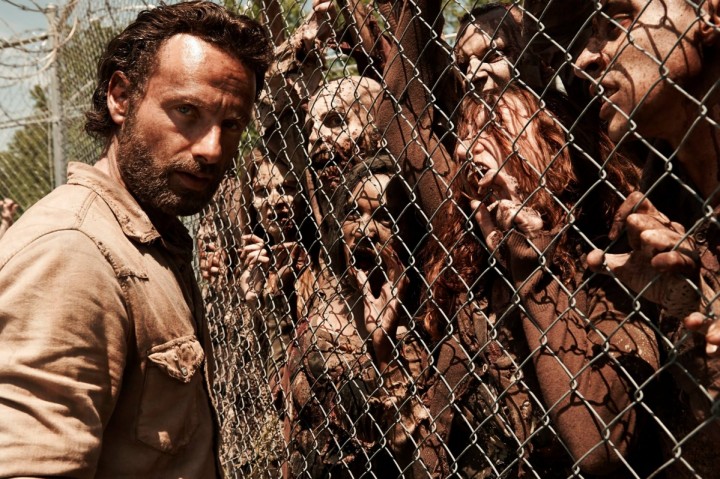 Days away from its season five premiere, AMC announced today that it has renewed "The Walking Dead," the #1 show on television among adults 18-49 for the last two years and most highly-rated show in cable television history, for a sixth season. The season five premiere is this Sunday, Oct. 12, at 9 p.m. ET/PT, followed by the live season premiere of "Talking Dead" at 10 p.m. ET/PT with host Chris Hardwick and this week's guests Scott M. Gimple, Greg Nicotero and Conan O'Brien.
"We could not be more excited for October 12th as we share new episodes of 'The Walking Dead' with fans around the globe," said AMC President Charlie Collier. "In advance of Sunday's season five premiere, AMC proudly confirms a sixth season order of this extraordinary series. Thank you to Robert Kirkman, Scott Gimple, the terrific executive producers, and the entire team who brings this compelling world and these rich characters to life.  There's plenty more Dead ahead thanks to their impressive, collective effort."
 
Social media activity and interest around "The Walking Dead" is up significantly from the same period a year ago. For several weeks leading up to the season five premiere, the show has been #1 in digital engagement of all returning fall cable series, as measured by the ListenFirst Digital Audience Rating. The show's social media following and fan engagement are at an all-time high with more than 30 million Facebook fans and 2.7 million Twitter followers, while video views of scenes and trailers for the upcoming season are well outpacing last year's results.
 
For season six, Scott M. Gimple will return as the series' showrunner and executive producer along with executive producers Robert Kirkman, Gale Anne Hurd, David Alpert, Greg Nicotero and Tom Luse. AMC also recently announced that it has ordered a pilot for a potential companion series to "The Walking Dead," based on a new story and new characters from Robert Kirkman.
 
Around the world, "The Walking Dead" will again be "First on FOX," with FOX International Channels (FIC) bringing the show to audiences globally within 24 hours after the U.S. launch. Season 5 premieres on October 13 in all of its 125+ markets as part of FIC's continued commitment to broadcast the series day-and-date internationally. Following the U.S. trend, "The Walking Dead" continues to break records overseas and has more than tripled its numbers on FOX since its launch.