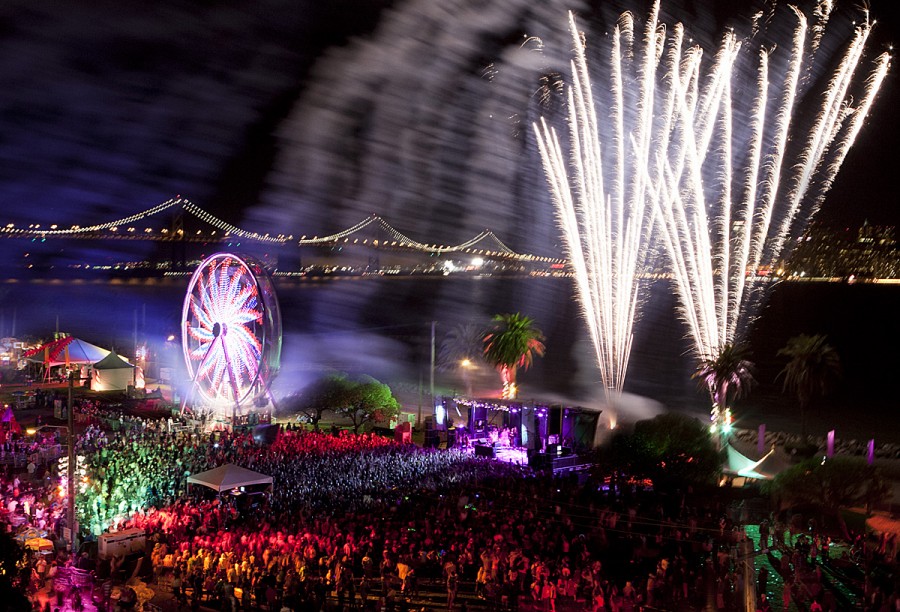 Treasure Island Music Festival has announced the daily breakdown of bands over the course of their two day festival, happening on October 18th and 19th on Treasure Island.  As such, single day tickets will be available for purchase on Friday, September 12th at 10 AM PT; pricing info and ticket link are below.
Treasure Island Music Festival 2014 will be two straight days and nights of non-stop music, food and arts. Not only will it be the most intimate festival to see Outkast headline this season, but TIMF will also be one of the last times you can catch Andre 3000 and Big Boi perform this year. Additionally, The New Pornographers – who just released their first new album since 2010 – will return to the Bay Area with their original lineup, including Neko Case and Dan Bejar (Destroyer). Massive Attack's set at Treasure Island will be one of their three U.S. shows this year.
In addition to indie rock powerhouses alt-J and TV On The Radio, both of which have highly anticipated new albums out this fall, as well as the effervescent Janelle Monلe, the lineup also boasts buzz-worthy up-and-comers such as St. Lucia, Banks, Jungle, Mط, Chet Faker, Classixx, XXYYXX, ءsgeir and many more. With stunning panoramic views of the San Francisco Bay, as well as two stages with zero – yes, ZERO – overlapping sets, TIMF will deliver one of the most unique festival experiences of the season.
SATURDAY, OCTOBER 18th, 2014
Outkast
Zedd
Janelle Monلe
St. Lucia
Jungle
Mط
Classixx
Ryan Hemsworth
Ana Tijoux
XXYYXX
Ratking
Tobacco
Painted Palms
SUNDAY, OCTOBER 19th, 2014
Massive Attack
Alt-J
TV On The Radio
The New Pornographers
Washed Out
Banks
White Denim
Poliça
Growlers
Chet Faker
ءsgeir
Bleached
Cathedrals
Single Day Tickets – both VIP tickets and general tickets – will be on sale this Friday at 10 AM PT. VIP Single Day Tickets are priced at $175, while General Admission Single Day Tickets are priced at $89.50.  Single Day On-Island Parking Passes will also be available, priced at $40.  2-Day Regular and VIP tickets, in addition to 2-Day On-Island Parking Passes, are still available as well. Get yours at www.treasureislandmusicfestival.com.