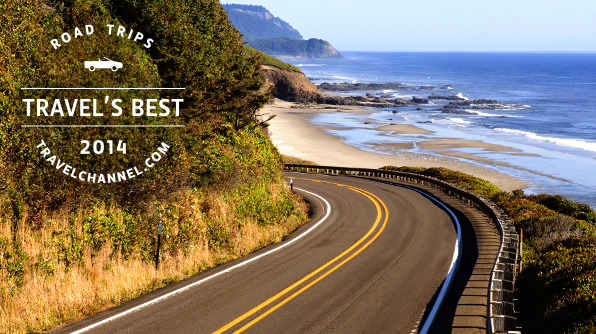 TravelChannel.com names the "Travel's Best: Road Trips" of 2014, reminding travelers that it's time to hit the open road and cruise through some of the most picturesque locales across the globe. Are you going to hit the road Jack?
Annecy, France
Start your journey along the banks of Lake Annecy under the French Alps' Mount Blanc, and drive through Europe's charming lakeside towns towards Italy. You'll catch sight of picturesque canal bridges and countless hilltop castles. When you're ready for lunch, make a leisurely stop for Italian fondue. Then, head north passing Switzerland's tiny villages that dot the mountainside to enjoy the stunningly beautiful Belle Époque city of Montreux, Switzerland on the shore of Lake Geneva. Whether you have four hours or a week's worth of time to drive, you'll see three countries in one trip!
Cheddar Gorge, Somerset, England
Enjoy the English countryside as you begin your trip high atop the rugged coast of Cornwall at Tintagel Castle. From there, pass through the fishing village of Boscastle, which dates back to the 1500's, and take the scenic route to Bath. Finish up your trip at Cheddar Gorge, a land of caves and waterfalls – and the home of the original, cave-matured, cheddar cheese! Enjoy a sample while seeing how it's made by the town's only remaining cheese-makers at Cheddar Gorge Cheese Factory.
Creel, Mexico to Batopilas, Mexico
For an adventurous road trip, drive from the Mexican town of Creel to Batopilas. Over the years, a series of 20 canyons have been formed by six rivers, creating an amazing white-knuckle, eye-popping route to the base of Mexico's Copper Canyon. The narrow, mostly dirt road begins in Creel, which has a frontier feel, and ends in Batopilas, a sleepy old silver mining town at the base of the canyon. Drive cautiously as you take in the breathtaking views as there are no guardrails, and you can expect to weave through a few cattle, donkeys and goats along the way. Once in Batopilas, spend the day hiking in the canyon.
Glacier National Park, Mont.
Montana's "Going to the Sun Road" is one of the most iconic and breathtaking drives, spanning 50 miles of Glacier National Park's most beautiful twists and turns. Considered an engineering marvel, the road was completed in the fall of 1932, after workers blew through half a million pounds of explosives for its construction. Jackson Glacier Overlook, which is between Logan Pass and St. Mary, offers the park's best road views of a glacier. And while Montana might not be the first place that comes to mind for viewing fall foliage, take a drive here in autumn to witness the dazzling color show.
Michigan's Gold Coast
Treat yourself to a three-day autumn road trip starting in Grand Rapids, Mich., where you can soak up serious art, public gardens and craft beer. Drive west along the "Gold Coast" highway to the jaw-dropping shoreline of Lake Michigan. From Grand Haven down to Saugatuck and on to South Haven, you'll discover some of the finest beaches, highest dunes and freshest seafood in America. If you need a break from driving, ride Saugatuck's ferry, the only remaining chain-driven ferry in the United States, to Oval Beach.
Rapid City, S.D. to Devil's Tower, Wyo.
Embark on a 110-mile loop starting at Rapid City, S.D. and drive through deep forests and thrilling mountain vistas. Don Wildman, host of Travel Channel's "Mysteries at the Museum" and "Monumental Mysteries," was fortunate enough to make the trek during the annual Sturgis Motorcycle Rally. Follow in his footsteps and hop on a Harley headed to the Sturgis Motorcycle Museum in South Dakota. Make your final stop at Devil's Tower, Wyo., which may look familiar as it is where the iconic alien landing scene was filmed in the movie, Close Encounters of the Third Kind.
Salar de Uyuni, Bolivia
For the intrepid road tripper, Bolivia offers off-road adventures across otherworldly landscapes.  "The world's largest salt flat, Bolivia's Salar de Uyuni, is a surefire, natural amazement," says Wildman. Take a short flight south from La Paz, Bolivia, where a number of skilled tour companies will house you in a hotel constructed entirely of salt and then take you out to experience extraordinary sights that can't be missed. While the salt flats are the smoothest "road" you're likely to drive on, keep in mind you're at an altitude of 12,500 feet, so take measures to prevent altitude sickness. 
San Juan Skyway, Colo.
Nicknamed the "Road to the Sky," the San Juan Skyway loops through the heart of southern Colorado's towering San Juan Mountains and is a "must-do" for road-tripping fans. With dazzling views, especially in late summer/early fall, the Skyway passes through old Colorado mining towns such as Ouray, Telluride and Silverton. After climbing to an elevation of more than 14,000 feet, be careful as you circle down to the ancient cliff dwellings of Mesa Verde National Park; the cliffside-clinging stretch known as "The Million Dollar Highway" has parts of the road that lack guardrails.
Oahu, Hawaii
Escape Honolulu's crowds and discover the hidden gems on Oahu by exploring Halona Blowhole, Tropical Farms' Macadamia Nut Farm and Lanikai Beach – often ranked as one of the world's best beaches. Plan to stay at least one night on Oahu's famed North Shore, a relaxed surf town that is home to the Pipeline and beach-basking sea turtles. Once along Kamehameha Highway, grab a bite at one of the garlic shrimp trucks and then stop at Waimea Bay and Sunset Beach to watch big-wave surfers and take in some incredible sunsets.
Puglia, Italy
With over 250 miles of ancient olive groves, charming fishing villages and glistening Adriatic coastline, Italy's Puglia region is an unforgettable "foodventure." Though Puglia – the heel on Italy's boot – is less tourist trodden than other Italian regions, there are some cattle and some steep hills to be mindful of – making this region best explored on a slow-paced road trip. As you drive along the Puglia's coast, stop at such cliff-side wonders as Vieste's fortified whitewashed castle and Bari's Grotta Palazzese, one of the many restaurants nestled inside ancient caves perched over the blue-green Adriatic Sea.