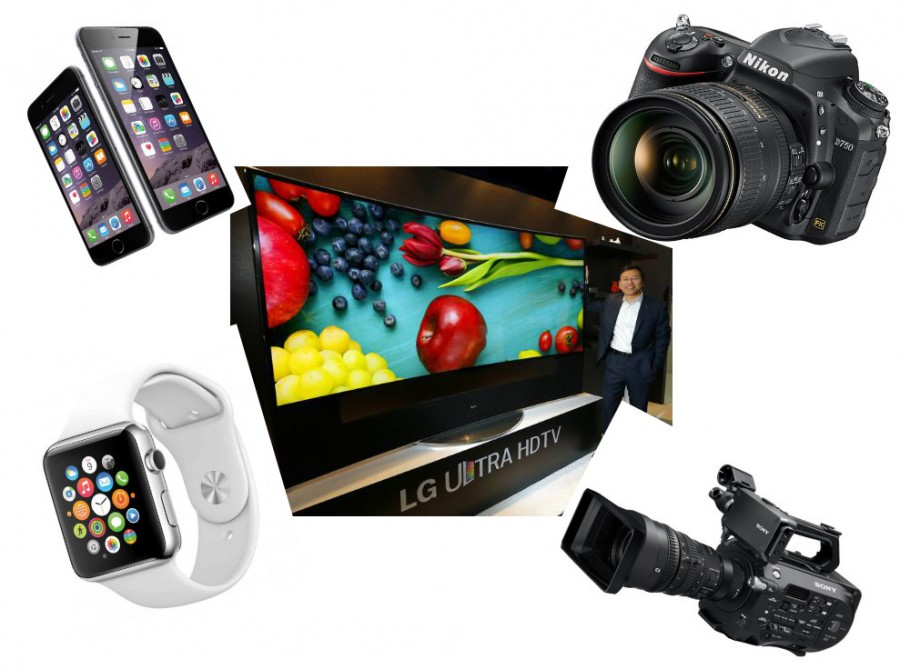 It was a big week in the tech world. As previously reported, Apple unveiled not only the iPhone 6 but also the Apple Watch. Read more here. On Sony's end, their newest addition to its large sensor line is a complete camera system that delivers long-form recording capabilities with 4K resolution in a compact, hand-held design. The new PXW-FS7 XDCAM Super 35 camcorder combines the flexibility of native E-mount technology, the recording efficiency of the XAVC-L codec; the transfer speed and intelligence of XQD memory cards; and comfortable, handheld ergonomics, including a new "Smart Grip."
The new camcorder is designed for a range of long-form shooting and production applications, from "cinema verite"-style documentaries and reality TV to magazine shows, commercial and corporate applications. www.sony.com
Also in the world of cameras, Nikon Inc. announced the D750, the D-SLR that provides adept enthusiasts with the powerful combination of pro-caliber photo and video features with FX-format image quality. The new D750 represents a leap forward for this camera segment, inheriting some of the best elements from Nikon's revered full-frame professional cameras, with new and refined features aimed at sparking creativity and sharing with built-in Wi-Fi. Additionally, Nikon has also announced the SB-500, a versatile yet compact multimedia Speedlight, and Nikon's fastest ultra wide-angle lens yet, the new AF-S NIKKOR 20mm f/1.8G ED. These new products easily supplement a professional's kit, while making it more appealing than ever for enthusiasts to discover the intense and immersive image quality that only an FX-format sensor can offer. www.nikon.com
LG Electronics has more than doubled its number of Ultra High Definition TV models available in the United States, announcing fourth-quarter availability of new models ranging from 40- to 105-inches at suggested prices of $999 to $99,999.
Led by new 105- and 98-inch class sets (104.6 and 97.5 inches measured diagonally), the expanded lineup further advances LG's presence and leadership in the exploding Ultra HD market. The new 105UC9 and 98UB9800 Ultra HD TVs – ideally suited for custom-installation market where consumers demand larger screens and improved audio – are on display at the 2014 CEDIA Expo (Booth #140) this week.
On the other end of the Ultra HD spectrum, LG is rounding out its lineup with five new entry-level 4K LED TVs, including a value-packed 40-inch class model – all delivering on the promise of stunning 4K resolution with more than four times the picture detail of Full HD TV. All told, LG now offers 16 Ultra HD TVs, including the new 77- and 65-inch class Ultra HD 4K OLED TVs also launching this fall.