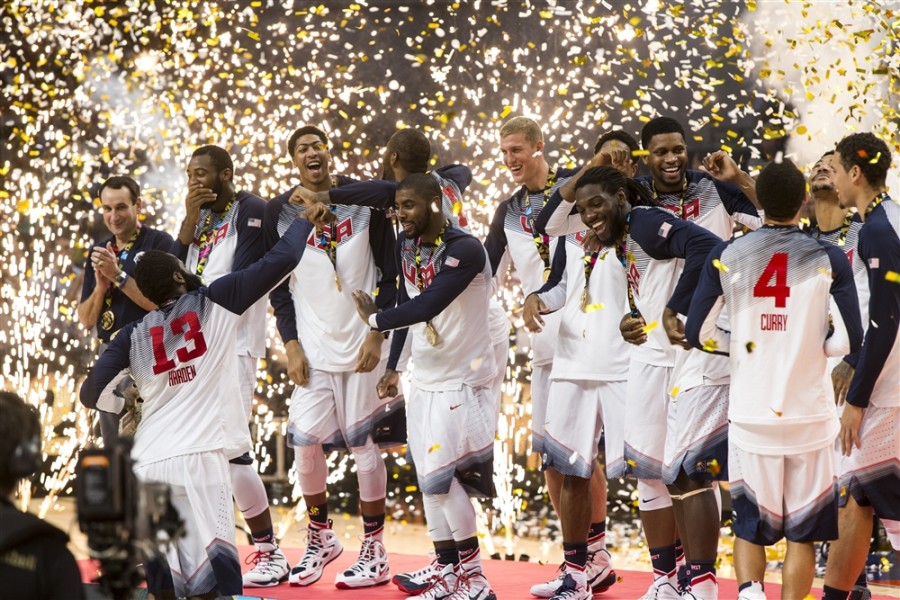 Photo: http://www.fiba.com

Team USA defeated Serbia 129-92 Sunday night in Madrid, Spain to take the 2014 FIBA World Cup title. The title is Team USA's third consecutive in international play, a feat they've accomplished three times and no other country has ever accomplished. 
Cleveland Cavalier guard Kyrie Irving was named tournament MVP after scoring 26 in the gold medal game. He was elusive attacking the basket and a perfect six-for-six from the three point line, leading the Team USA offensive juggernaut. Houston Rockets guard James Harden added 23 points. 
Perhaps most redeeming for the squad was silencing their critics. 
"It kind of was, again, a smack to our face, saying the US was sending the B-team to go play in the World Cup," forward Kenneth Faried said to reporters following the game. "Just because LeBron [James]'s not here, Kobe [Bryant]'s not here, [Kevin] Durant's not here, doesn't mean anything. We can step up and win the gold, too. That's what we did tonight."
For most of the game Serbia looked like a junior varsity playing the varsity. This was redundant with most of the tournament for Team USA. They scarcely played from behind and if they did, they erupted down the stretch and won in blow-out fashion. The tournament was always theirs to lose. 
"Obviously we didn't have a very close game all tournament, but for that to happen we had to play hard for 40 minutes and not relax and not give any inch while we were out there," guard Stephen Curry said to reporters after the game. 
The World Cup title solidifies Team USA's spot in the 2016 Olympics, their next stint in international competition. Until the NBA season tips off in late October, this will be the last action these players see until that time. It's nice to see these upstart players get better for the season, one which should see them make a leap in their careers.
By Kyle Edwards