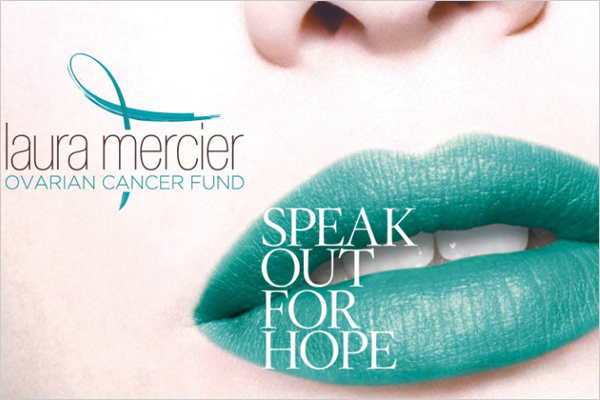 On Friday September 5th join the Laura Mercier Ovarian Cancer Fund in celebrating Wear Teal Day. Help support ovarian cancer by wearing teal and spread awareness by tagging #LMOCF and #SpeakOutForHope. Here's how you can help…
 
Know the Symptoms: Most women don't know the risk factors or symptoms (persistent bloating, abdominal or pelvic pain, feeling full quickly when eating, and changes in urination). If you have symptoms or a family history of the disease, talk to a doctor. Don't wait; the earlier ovarian cancer is diagnosed, the better the prognosis.
 
Spread the Word: Talk to your friends and family members about what you've learned. You can join the Speak Out for Hope conversation online by following @LauraMercier on Twitter, Instagram and Facebook. Who has inspired you to become stronger? Tell us how her battle with ovarian cancer has impacted your perspective. Share Your Story with us and join the conversation: Use #LMOCF and #SpeakOutForHope to support this important cause.
 
Donate: You can help LMOCF continue to raise awareness and fund research and educational efforts by making a 100% tax-deductible donation at lmocf.org or via Crowdrise. All funds go to programs that help diagnose, treat and support women with ovarian cancer.  
 
Shop for the Cause: Laura Mercier Cosmetics donates 100 percent of the profits from the sale of its fundraising products to LMOCF. The four products that fight back can be found at www.lmocf.org, www.ShopBAZAAR.com (the e-commerce store of Harper's BAZAAR) and retailers.