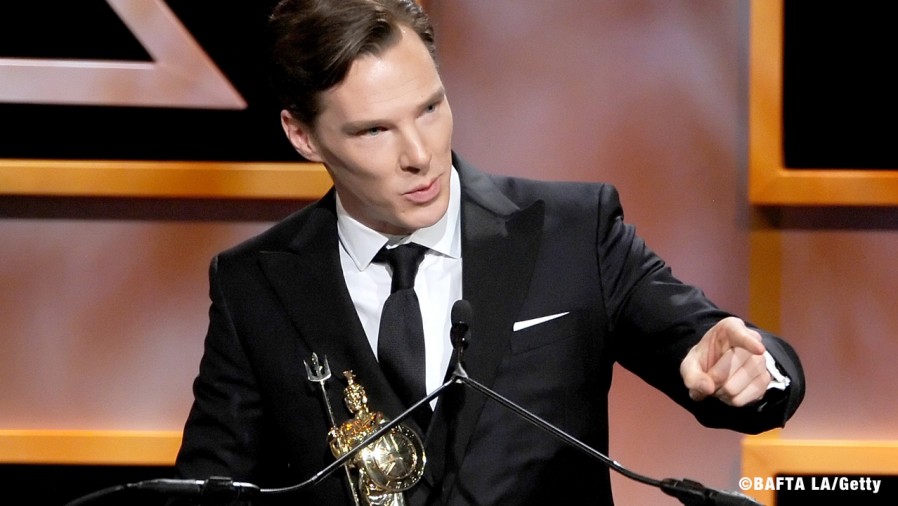 The British Academy of Film and Television Arts Los Angeles® (BAFTA Los Angeles) has announced the first honorees for the 2014 BAFTA Los Angeles Jaguar Britannia Awards presented by BBC AMERICA and United Airlines.
BAFTA Los Angeles will honor Robert Downey Jr., Mark Ruffalo, Emma Watson, Mike Leigh and Dame Judi Dench at this year's awards ceremony. The BAFTA Los Angeles Britannia Awards honor individuals who have dedicated their careers to advancing the art forms of the moving image in the US, UK and beyond.
The annual award show will be hosted for the second year in a row by award winning British actor and comedian, Rob Brydon, on Thursday, October 30, 2014 at the Beverly Hilton Hotel. For the third consecutive year, the ceremony will be broadcast on BBC AMERICA, airing in primetime on Sunday, November 2 at 9:00pm ET. The BAFTA Los Angeles Britannia Awards are a key event in BAFTA's award season, continuing with the Award Season Tea Party in Los Angeles on January 10, and the EE British Academy Film Awards in London on Sunday, February 8, 2015, also broadcast on BBC AMERICA.
Perry Simon, General Manager, BBC AMERICA added:  "We are thrilled to partner once again with BAFTA Los Angeles to bring this outstanding event to our BBC AMERICA audience. The Britannia Awards have become one of the most prestigious events in Hollywood, and this year's line-up of honorees continues that proud tradition."
"There is a long and prolific history of collaboration between the entertainment industries of the United States and United Kingdom, and the BAFTA Los Angeles Britannia Awards are a heartfelt celebration of this fruitful relationship" said BAFTA Los Angeles Chairman Nigel Daly OBE. "This year's honorees are the true definition of excellence. Each have committed themselves to the pursuit of excellence in our craft, serving as inspirations to practitioners on both sides of the Atlantic."
"In an era defined by nearly unlimited content, it is more important than ever to celebrate outstanding creative achievement.This year the Britannias will again reward the most exciting global filmmakers and artists who have added to the lasting legacy of great entertainment," commented Britannia Award Co-Chairs Bumble Ward and Deborah Kolar.
Robert Downey Jr. is the recipient of this year's Stanley Kubrick Britannia Award for Excellence in Film, which is presented to a unique individual, upon whose work is stamped the indelible mark of authorship and commitment, and who has lifted the craft to new heights. Prior recipients of the Stanley Kubrick Britannia Award for Excellence in Film include Warren Beatty, Jeff Bridges, Tom Cruise, Daniel Day Lewis, Robert De Niro, Clint Eastwood, Tom Hanks, George Lucas, Sean Penn, Steven Spielberg and Denzel Washington.
Mark Ruffalo will receive this year's Britannia Humanitarian Award for his work with Water Defense. The non-profit organization Ruffalo co-founded, is dedicated to using technology and public engagement to keep waterways and drinking water sources free from contamination and industrial degradation. The Britannia Humanitarian Award is presented to a colleague who has used their position in the entertainment industry to create positive social change and actively shine a light on important humanitarian issues. The awardhas previously recognized Idris Elba, Richard Curtis, Don Cheadle and Colin Firth.
Emma Watson is the recipient of The Britannia Award for British Artist of the Year presented by Burberry. This honor pays tribute to a talented British artist whose outstanding performances in a year have demonstrated the high quality of their craftsmanship. Whether an emerging talent, or an established name, the British Artist of the Year honors a person who represents the best of British talent. Prior recipients include Daniel Craig, Kate Winslet, Tilda Swinton, Helena Bonham Carter, Emily Blunt, Michael Sheen, Rachel Weisz, and more.
Mike Leigh is set to receive The John Schlesinger Britannia Award for Excellence in Directing presented by the GREAT Britain Campaign. The honor pays tribute to the legacy of the brilliant British director who made an unprecedented contribution to one of the great periods in American cinema. Recipients of this honor are deeply respected, distinctive and innovative directors, whose contribution as both technicians and artists represents the zenith of the directing profession.
Dame Judi Dench has been awarded the 2014 Albert R. Broccoli Britannia Award for Worldwide Contribution to Entertainment. Recipients are that rare breed of iconic and trail-blazing individuals whose innovative approach has had a profound, lasting impact on the entertainment industry and whose contributions to the moving image are second to none.
The Britannia Awards are BAFTA Los Angeles' highest accolade, a celebration of achievements honoring individuals and companies that have dedicated their careers to advancing the entertainment arts. The awards are presented annually at a gala dinner, where peers and colleagues celebrate the work and accomplishments of the year's distinguished honorees. Proceeds from the gala ceremony support BAFTA Los Angeles' on-going education, scholarship, community outreach and archival projects.