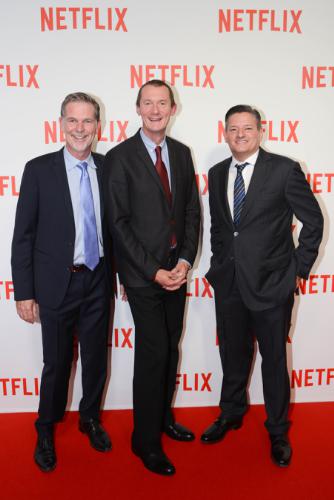 Netflix launched in Belgium and Luxembourg today, culminating a week of events that also introduced Netflix to France, Germany, Austria and Switzerland.
More than 63 million broadband households in these six European countries* can now subscribe to Netflix and, for one low monthly price, instantly access exclusive Netflix original programming and a wide selection of Hollywood, local and global TV shows and movies via a range of internet-connected devices.
"We've received a very warm welcome throughout Europe," said Reed Hastings, Netflix co-founder and chief executive officer. "Consumers love choice – in series and films and in when and where they watch. We are delighted people are embracing Netflix in our newest territories and, particularly, the incredible viewer enthusiasm for our original series."
Netflix is available from EUR 7,99 a month in France, Germany, Austria, Belgium and Luxembourg and from CHF 11,90 in Switzerland. A free, one-month trial of Netflix is available by visiting Netflix.com.
Available now on Netflix across the six countries is a wide variety of titles, including full seasons of Netflix original series never before broadcast there such as the critically- and popularly-acclaimed comedic drama Orange is The New Black, and animated comedy Bojack Horseman. Upcoming Netflix original series will also be only on Netflix in these countries. 
Also available across the region exclusively on Netflix are Fargo, a miniseries inspired by the Oscar-winning film, From Dusk Till Dawn, a series that expands on the story and characters first seen in its namesake cult classic, and Penny Dreadful, the hit psychological thriller.
Netflix original documentaries are also now available to new audiences with Battered Bastards of Baseball and Mission Blue available at launch and more titles following, including The Short Game, Print the Legend and the Emmy Award-winning The Square.
In addition to the broad slate of international viewables, there are also many local and European titles available on Netflix across the new countries.
Netflix is fully localized, offering subtitles and dubbing on foreign language movies and TV shows. In the coming months, more titles will be added, building upon the great choices available today.
Netflix offers an unbeatable entertainment experience and a great value with many titles available in high-definition and with Dolby® Digital Plus 5.1 surround sound and some in Ultra HD 4K. Advanced recommendation technologies and connection through Facebook help members discover movies and TV shows they'll love.
In Photo: Netflix chief officers Reed Hastings, Neil Hunt and Ted Sarandos at the Netflix launch celebration in Paris