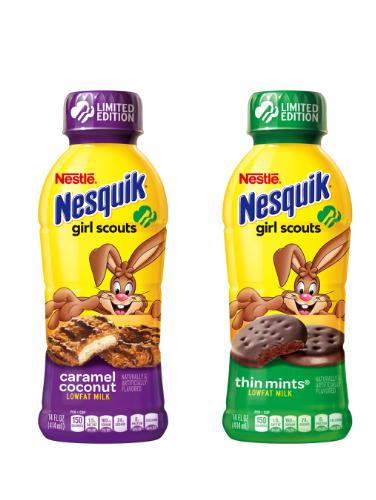 This could be one of the best combinations ever. As part of a licensing relationship with Girl Scouts of the USA®,  Nestlé® Nesquik® launches new Nesquik® Girl Scouts® Thin Mints® and Nesquik® Girl Scouts® Caramel Coconut flavors. The limited-edition product is on store shelves now and retails for $1.99. These new Nesquik® Low-fat Chocolate Milk beverages combine low-fat chocolate milk with two of the most popular Girl Scout Cookie™flavors to create a delicious on-the-go beverage.  
To celebrate the launch of this double awesome combo, consumers are invited to participate in the Double Awesome Twitter Contest for a chance to win a grand prize trip for two for their own double awesome adventure. The grand prize winner can choose a trip to one of four destinations which includes airfare, accommodations and $500 spending cash.
Trip options include:  
Ski trip in

Salt Lake City, Utah

Big city experience in

New York, New York

Seaside vacation in

Myrtle Beach, South Carolina

Weekend getaway to

Orlando, Florida
To enter the contest, fans must share their double awesome moments by tweeting a photo of themselves enjoying one of the Nesquik® Girl Scouts® beverages while doing their favorite activity. The double awesome moment can be any, already awesome, activity such as enjoying a game, hanging in the park with friends, or spending a day at the beach but made even better with a Nesquik® Girl Scout Cookie™ beverage. To be eligible as a contest entry, the entrant must follow @NestleNesquik on Twitter and the "Double Awesome" photo shared via Twitter must include the hashtag #DblAwesomeContest.
This limited-time beverage is part of a licensing relationship between Nestlé and Girls Scouts of the USA®. For more information about Girl Scouts®, visit www.girlscouts.org. To find a store near you, please visit Nesquik.com. For full contest rules, please visit here.