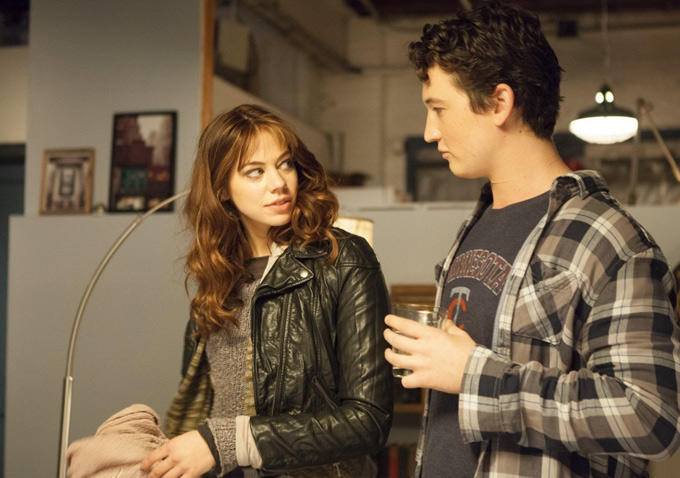 In today's collegiate landscape, the term "one night stand" is about as common to fraternity lifestyles as "chugging beers" and "keg stands." So, clearly stuck in the world of University life, I assumed that Max Nichols' directorial debut "Two Night Stand" was some sort of farcical college romp. Living up to the fact that it's impossible to judge a book by its cover, this Miles Teller (21 and Over) starring romantic comedy is anything but filled with frat parties and drunken hookups. Actually, it's not romantic or comical either. Exploring the question of whether or not two young individuals are capable of indulging in guilt-free sex for two days without becoming attracted to each other, Nichols' film is much more awkward than funny. Coming off a hot Sundance Film Fest earlier this year, Teller's 'next big thing' status might drive a few curious folks to the theaters. But be warned. "Two Night Stand" is no Sundance darling. For all those sorority sisters out there, it's definitely a "hot mess" of a motion picture.
As far as the story goes, the film revolves around the freshly dumped by her fiancé and recently graduated from college Megan (Analeigh Tipton). Megan is one of those girls that takes breakups rough. How rough? Let's just say, when we first meet her she views staying in your pajamas and watching Netflix all day as being productive.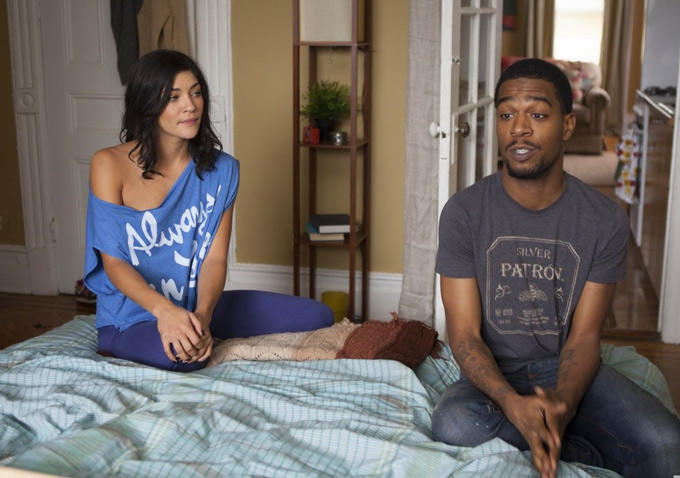 After being coaxed into joining a Tinder-esque dating site by her roommate Faiza (Jessica Szhor) and boyfriend Cedric (Scott Mescudi), Megan stumbles upon Alec (Teller), a fellow single New Yorker. Begrudgingly, she decides to let her sexual impulses get the best of her and goes over to the guy's place in the middle of the night to get her loving on. Next thing you know, a blizzard whites out the entire city, causing Alec and Megan to turn their "one night stand" into a two-day marathon date. 
Drawing on the same dialogue-driven post-graduate comedies that Noah Baumbach (Kicking and Screaming) made famous in the early 90s, this unexpected storm allows Megan and Alec plenty of time to squabble about such 20-something problems as: unsatisfying jobs, parents, and the prospect of maturing into adulthood. Actually, except for a few passing jabs at social media and probably the most frank discussion about gender roles during sex ever caught on film, the movie feels like it could have been lifted straight from a bygone generation. In short, we've seen this stuff before. Show me something new.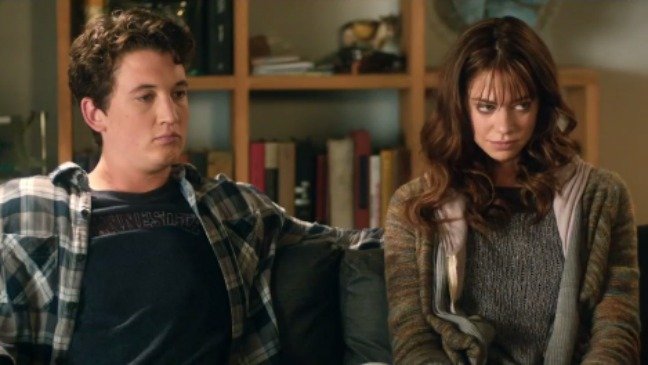 Unfortunately, "Two Night Stand" never offers anything new in the form of content. But just because the script is lacking—from the mind and laptop of screenwriter Mark Hammer (Skins)—and the direction is lackluster at best, doesn't mean stars Teller and Tipton should be cast aside. With their cute and quirky chemistry, the pair is the only reason I was able to stomach all 90 minutes of the film.
After a solid performance in "The Spectacular Now" and another in "That Awkward Moment", Teller has really found a sweet spot in playing that nice albeit slightly cocky guy every 20-something seems to know. Essentially, he's the Jason Bateman for the Millennial generation, and this time around, his Alec character is exactly that—a genuine guy with a smart mouth.
As for Tipton, her Megan is a bit more of the typical female post-grad cliché, but that's also because there's already an HBO show revolving around the same concept. "Girls" anyone?  Nonetheless, Tipton gives the character a refreshing sarcastic side.
If only Hammer's dialogue gave the talented duo more interesting things to say…
Unfortunately, at its heart, "Two Night Stand" is just another run-of-the-mill romantic comedy in which the audience is presented with seemingly opposite characters who, during the course of the film, realize they're perfect for each other. Insert "gag" noise here.
Featuring a screenplay oozing with dialogue that tries so hard, yet fails miserably, to be smart and referential, and sloppy direction from freshman director Max Nichols, Miles Teller and Analeigh Tipton are unjustly forced to labor through this ho-hum Rom-Com. At least they got paid to suffer through it. You, on the other hand, will not be paid to see it. So, with that, I say "Skip It".
By David Morris
http://haveatwonightstand.com/

Rated R for sexual material, language and some drug use. Running Time 86 minutes.