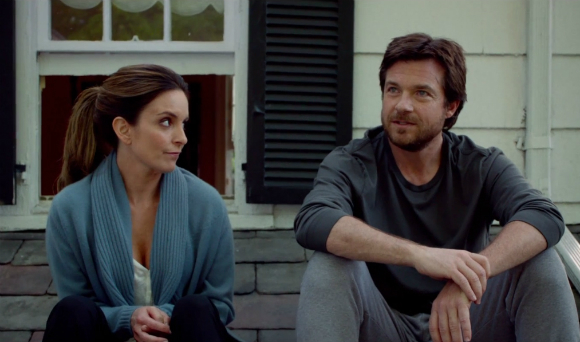 The prolific director-producer Shawn Levy may not have the name recognition of other mainstream filmmakers like Steven Spielberg or George Lucas, but if you've been a regular moviegoer over the past decade, chances are you've seen his work. Best known for broad comedies like the "Night At The Museum" franchise and "Date Night," Levy is now taking a stab at more adult fare with "This Is Where I Leave You," a dramedy starring Jason Bateman, Tina Fey, Jane Fonda, Adam Driver, Corey Stoll, and many others.
As a comedy, "This Is Where I Leave You" excels, basking in the utter dysfunction that is the Altman clan. As a drama, the film is less successful, though it does generate some heartfelt moments in between all the played-for-laughs family squabbles. Even with the overly busy storyline, thinly drawn characters and implausibly tidy denouement, it's hard to go too far astray when your comedic roster is as deep as the one assembled by Levy, and most audiences will find the film to be accessible, easily digestible entertainment.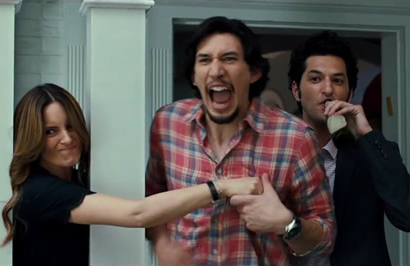 Centered around the impossibly quarrelsome Altman family, "This Is Where I Leave You" kicks off with middle brother Judd (Jason Bateman), a seemingly happy and successful radio producer in New York City, coming home from work to find his wife (Abigail Spencer) sleeping with his boss, the arrogant shock jock Wade Beaufort (Dax Shepard). Adding to his miserable week, Judd then receives a call from his bossy older sister, Wendy (Tina Fey), informing him that their father has passed away.
Along with Wendy and his two other adult siblings – Paul (Corey Stoll), the even-keeled eldest, and Phillip (Adam Driver), the immature baby brother – Judd and company descend on their childhood home to attend the funeral. Unfortunately, the Altman siblings have a lot more in store than just a service, as their mother, the shamelessly unfiltered Hillary (Jane Fonda), famous author of a bestselling parenting book, insists that her children and their respective families stay put for seven days to sit Shiva.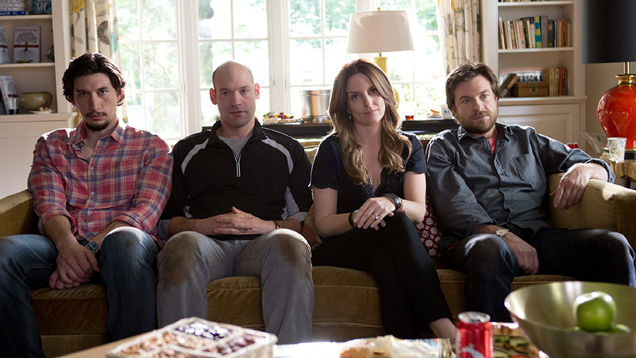 While the siblings begrudgingly take up residence in their childhood home and try to make nice, some longstanding resentments and unresolved family issues bubble to the surface. For instance, Wendy, despite having two adorable children, begins to question her marriage to her successful but unloving husband (Aaron Lazar) when she encounters her childhood love, Horry (Timothy Olyphant), a neighbor who still lives with his mother on account of a traumatic brain injury. Meanwhile, Paul's wife, Alice (Kathryn Hahn), who also happens to be Judd's ex-girlfriend, is trying unsuccessfully to get pregnant, which adds some tension to the proceedings. Phillip stirs up some trouble when he suddenly takes an interest in the family business that eldest brother Paul now runs. And finally there's Penny Moore (Rose Byrne), a local skating instructor who was Judd's high school love interest and basically exists in this storyline to help him get over his philandering wife and bring to light the error in his life choices. Mix all of these elements together and you have either one crazy Jerry Springer episode or a pretty damn entertaining movie.
Adapting his novel of the same name, author-screenwriter Jonathan Tropper does his best to condense his source material into a coherent 104-minute film, and for the most part his efforts are successful. When dealing with such an excess of characters and plot complications, it's inevitable that some things will ring truer than others, and "This Is Where I Leave You" is no exception.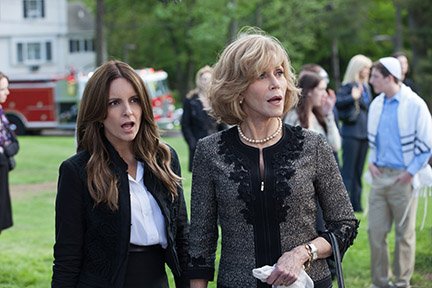 Director Shawn Levy is able to wring some sincere emotion from Tropper's screenplay, even if there are just as many situations that feel artificial and specifically designed to tug at the audience's heartstrings. As one might expect from a filmmaker who hails from the realm of broad comedy, the film is at its best when it puts the heaviness aside and allows these crazy characters to lace into each other. Comic highlights include a brotherly ganja session while attending Temple, a hospital showdown involving a vintage sports car and Dax Shepard at his most despicable, and pretty much everything dealing with Jane Fonda and her "bionic boobs."
Although each member of this impressive cast holds their own, the most engaging performances belong to the immediate members of the Altman family, particularly Jason Bateman and Jane Fonda. And while the screenplay strives to go beyond the surface of each character, it's Bateman's Judd that is awarded the most screen time, serving as the story's emotional core, and he has the chops to lend credibility to his character's well-worn storyline.
Though not without faults, "This Is Where I Leave You" will ultimately leave audiences happy that they made the trip to the theaters.
By Lucas Mirabella
Running Time: 104 minutes
Rated R for language, sexual content and some drug use. 
http://thisiswhereileaveyou.com