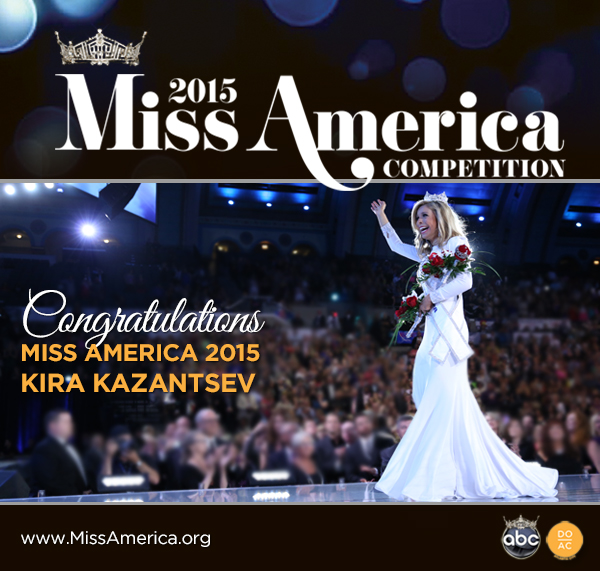 Miss New York Kira Kazantsev was crowned Miss America 2015 Sunday night at the birthplace of the legendary competition in Atlantic City's Boardwalk Hall. The Miss America Finals were broadcast live on ABC.
Kira's acceptance of the highly-prized crown is just the beginning of a journey that will take her to every corner of the nation during her year of service as Miss America 2015. She will embark on her national speaking tour about her platform, Love Shouldn't Hurt: Protecting Women Against Domestic Violence and act as the official National Goodwill Ambassador for Children's Miracle Network Hospitals. Children's Miracle Network Hospitals, a non-profit organization dedicated to saving and improving the lives of children by raising funds for children's hospitals, is the national platform partner of the Miss America Organization.
Kira is a graduate of Hofstra University. During her year as Miss America she will serve as spokesperson for education as she travels to Washington, D.C., to work with the Department of Education. Along with the coveted title of Miss America 2015, Kira won a $50,000 scholarship provided in part by Joseph Ribkoff Inc. and the Miss America Organization to continue her education. For the talent portion of the competition, Kira performed a vocal performance of the song "Happy".
First runner-up in the competition was Miss Virginia Courtney Paige Garrett who earned a $25,000 scholarship. Her talent was a classical vocal performance, and her personal platform is Defying Disabilities. Second runner-up honors and a $20,000 scholarship were awarded to Miss Arkansas Ashton Jo Campbell. Her talent was a vocal performance, and her personal platform is Aim Higher: Setting Our Sights on Higher Education.
Miss Idaho Sierra Sandison was the winner of ABC's America's Choice, an online competition where viewers were given the opportunity to vote for their favorite Miss America contestant. The announcement was made at the beginning of the Miss America broadcast, and Sierra became the 15th finalist to compete in the live finale. Miss North Dakota Jacky Arness was the winner of the Judge's Choice Award, an on-air, surprise opportunity for the judges to jointly select an additional contestant to compete among the finalists. Jacky also won the coveted Miss Congeniality Award, which was awarded live for the first time on national television during the pre-show.
The winners of $5,000 STEM (Science, Technology, Engineering, and Mathematics) Scholarships are: Miss New Mexico Jessica Burson, Miss Vermont Lucy Edwards, Miss Ohio Mackenzie Bart, Miss Massachusetts Lauren Kuhn, and Miss Georgia Maggie Bridges.
As the world's largest provider of scholarship assistance for young women and one of the nation's leading achievement programs, the Miss America Organization made available last year more than $45 million in scholarship assistance. The Miss America Organization provides young women with a vehicle to further their personal and professional goals and instills a spirit of community service through a variety of nationwide community-based programs.
The 94th Miss America Competition was hosted by Chris Harrison and Lara Spencer. The 53 contestants, who represented all 50 states, the District of Columbia, Puerto Rico, and the Virgin Islands, participated in preliminary competitions earlier in the week.
For more information visit us at www.MissAmerica.org. Join the #MissAmericaconversation on social media at Facebook.com/MissAmerica, Twitter @MissAmerica and@MissAmericaOrg, Instagram missamericaorg, and YouTube.com/MissAmericaOrg.