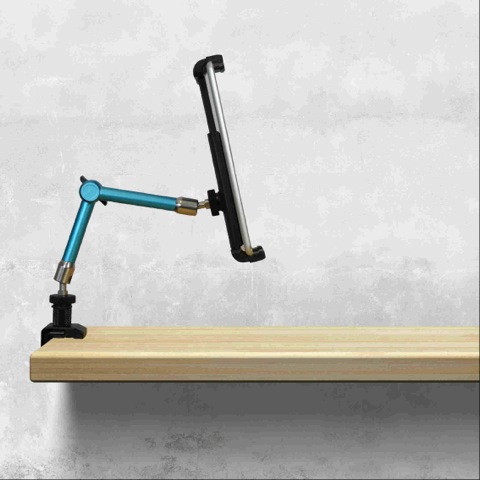 iStabilizer™ announced today the iStabilizer tabArm, the first friction articulating arm for tablets.  The tabArm brings out creativity in tablets by attaching them in any angle to virtually any surface:  desk, table, tripod, kitchen, bedroom, car headrest and anywhere else in your office or home, allowing you a more comfortable viewing angle to use your iPad, iPad mini, or other tablet hands-free in ways you never imagined. 
Inspired from Movie Studios — Now Available for Your Tablet
 
Friction articulating arms are common in the movie industry to set up monitors in any angle while filming to allow directors to see what is being filmed without having to look directly into the camera lens.  iStabilizer took this movie studio articulating arm concept and designed an arm specifically for tablets to allow users to be able to setup and rotate the device in any angle on any desk, tripod, or other surface to easily manipulate and view the screen while on a secure arm thereby taking tablet use to a whole other level of creativity. 
 
Ergonomic Viewing for Less Strain – Works with All 7″-10″ Tablets: iPad, iPad mini, Nexus7, Nexus10, Kindle & More
 
Compatible with iPad, iPad mini, Nexus7, Nexus10, Kindle, and other tablets, the tabArm includes the  iStabilizer tabMount that mounts tablets to any standard tripod, a Clamp, Hot Shoe Adapter, and 11″ stainless steel articulating Arm (each of these items are also sold separately).  The iStabilizer tabARM cradles the tablet while in your case and works with any standard tripod that uses the ¼" thread.  The included tabMount holds the iPad from side to side and the iPad mini from top to bottom.  The tabArm holds up to 8.8 lbs and any tablet up to 8.25″ (209mm) wide or tall.   To see how to use the tabArm, check out the video:  https://www.youtube.com/watch?v=cfgGTPF8TtE
The tabArm can be rotated in any angle for a variety of uses:
For videographers and photographers to take video or photos of an event or project.
As a teleprompter for speeches and presentations.
At work to keep an eye on your calendar.
For video chats.
For artists to paint or draw in a more comfortable angle.
In the car to watch movies.
As assistive technology for the handicapped.
For doctors requiring hands-free access in the operating room.
Features:
Compatible with all 7″-10″ tablets:iPad, iPad mini, Nexus7, Nexus10, Kindle, and other tablets.
Compact 11″ stainless steel friction articulating arm.
Includes 1/4″-20 and Shoe Mounts.
Assembles in seconds – no tools needed.
Single-point locking mechanism.
Mount expands to accept larger tablets, like the iPad and up.
Expands to 8.25″ (21cm) wide for smaller tablets, like the iPad mini.
Up to 8.25″ (21cm) tall.
Maximum weight load: 8.8 lbs.
Pricing & Availability
Available immediately from http://www.istabilizer.com/products/istabilizer-tabarm, the iStabilizer tabArm is priced at $99.95 and includes the 11″ stainless steel Articulating Arm, tabMount, Clamp, and Hot Shoe Adapter.  For more information, see www.istabilizer.com,
Facebook:  https://www.facebook.com/istabilizer, and Twitter:  https://twitter.com/istabilizer.