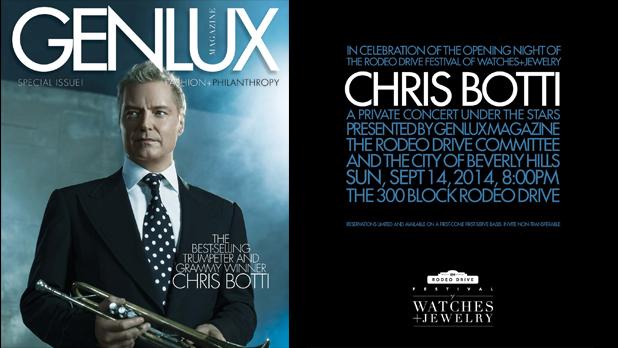 In celebration of Chris Botti being the first man on the cover of the prestigious Genlux, the fashion + philanthropy magazine, Botti will be performing a private concert on Rodeo Drive for 1,000 VIP guests. The most famous street in the world will be closed off to through traffic on Sunday, September 14th to erect a stage, sound, lights and seating where Rolls-Royces, Lamborghinis, and Ferraris usually roll. With the support of Westime and Beverly Hills BMW, Genlux is offering the summer's last hot ticket.
Genlux publisher Cecilia Moreno said, "Genlux is proud to present the best-selling and Grammy-winning jazz artist Chris Botti. We're also excited have him as the first man on our cover. We are grateful to the Rodeo Drive Committee and the City of Beverly Hills for teaming up with us on this momentous occasion."
Chris Botti, who won the Grammy for Best Pop Instrumental Album in 2013, has had four albums reach no. 1 on the Billboard Jazz chart. He has performed and recorded with Sting, Yo-Yo Ma, Paul Simon, Barbra Streisand, Andrea Bocelli, Joni Mitchell, Vince Gill, Herbie Hancock, Mark Knopfler, Steven Tyler, Gladys Knight and John Mayer. The private event is by invitation only for Genlux VIP guests.