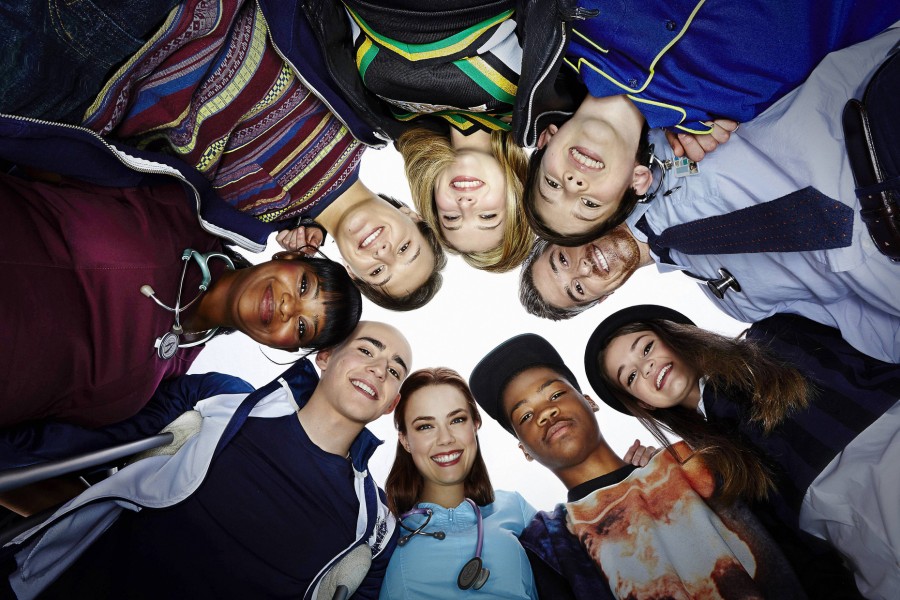 FOX's "Red Band Society" premieres tonight, Wednesday September 17th, 9:00-10:00 PM ET/PT.
From Steven Spielberg's Amblin Television and starring Academy Award-winning actress Octavia Spencer ("The Help," "Fruitvale Station"), Dave Annable ("Brothers & Sisters," "666 Park Avenue") and a charismatic cast of fresh faces, RED BAND SOCIETY is a provocative, unconventional and unique coming-of-age dramedy about a group of rule-bending friends and the adults who mentor them through the ups and downs of adolescence in Los Angeles' Ocean Park Hospital. Exploring everything from strong friendships, and first loves, to humorous mishaps and heartbreaks, the series is a story of life, with an edgy comedic tone all its own.
Twelve-year-old narrator CHARLIE (Griffin Gluck, "Back in the Game," "Private Practice") is in a coma and introduces us to this band of unlikely friends, including the "new kid," JORDI PALACIOS (Nolan Sotillo, "Prom"), a 16-year-old who comes to California to seek out treatment at the renowned hospital. What Jordi soon discovers is that it's not his illness that's going to change his life, but his new friends. Also at Ocean Park is LEO ROTH (Charlie Rowe, "Neverland," "Pirate Radio"), the 16-year-old, charming and independent "leader" of the group. Leo's best friend is DASH HOSNEY (Astro, "The X Factor"), a 16-year-old "rebel" with a big personality, who is determined not to let his cystic fibrosis stop him from living his life. Also on the ward is 15-year-old "know-it-all" EMMA CHOTA (Ciara Bravo, "Big Time Rush"), Leo's on-again-off-again girlfriend who is coping with an eating disorder. Rounding out this group of patients is KARA SOUDERS (Zoe Levin, "Arrested Development," "The Way Way Back"), a "mean girl" cheerleader who shares a room with Charlie. Although her heart is failing, she is realizing for the first time that she actually has one and begins opening it up to her new friends. 
The pediatric ward is run by NURSE JACKSON (Spencer), a caregiver with a take-no-prisoners approach to helping these teens get the most from their lives. Little do they know that she puts her own life second, and her stern manner hides her incredible heart that secretly makes their lives more ordinary. Overseeing much of their treatment is DR. JACK McANDREW (Annable), the country's top pediatric surgeon. Also attending to the patients is the naïve and gullible Nurse BRITTANY DOBLER (newcomer Rebecca Rittenhouse), who allows the teens to get away with things they probably shouldn't. These mentors' lives are more complicated than they seem. They are the guiding force for these teens, but in their own personal lives, things might not be so easy.
"Like" RED BAND SOCIETY on facebook at facebook.com/RedBandSociety. Follow the series on Twitter @RedBandSociety and join the discussion using #RedBandSociety. See photos and videos on Instagram @RedBandSociety.