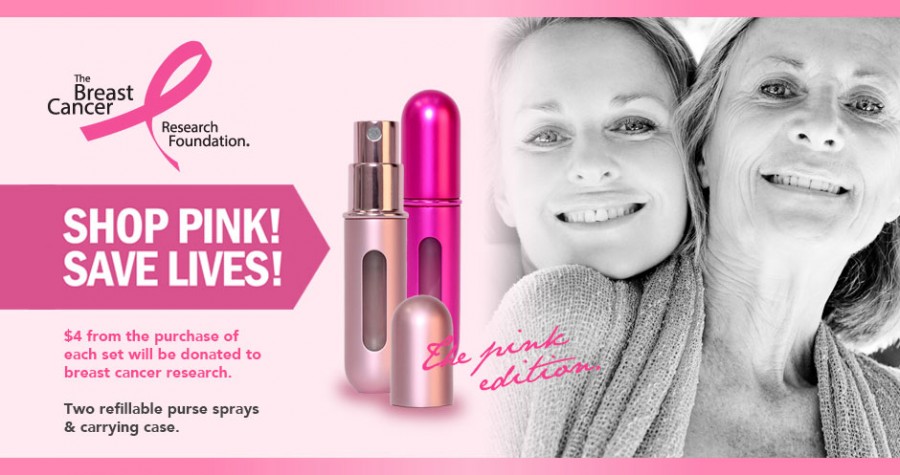 Travalo is pleased to announce its partnership with the Breast Cancer Research Foundation (BCRF).  We have designed a pink coffret holding a pale pink and a hot pink Traválo sold only for the benefit of BCRF with $4.00 from each purchase donated to their most important work. This item is available at www.TRAVALO.COM.  As a proud supporter of Mercedes-Benz Fashion Week, Travalo will celebrate this collaboration at a reception, September 9, 2014 in the South Courtyard at Lincoln Center.
The Breast Cancer Research Foundation advances the world's most promising research to eradicate breast cancer in our lifetime. "Travalo is honored to partner with BCRF," said Carmit Turjeman, inventor of the brand. "We applaud them for their vitally important mission, and we hope to assist them in any way possible."
Travalo is a perfectly compact perfume atomizer that never leaks and is the easiest, most fashionable way to carry your favorite fragrance from work to the gym to your night out.  Travalo is the approved carry-on accessory on EVERY airline, across the world.  Designed to fulfill the needs of an active, busy lifestyle, Travalo offers convenience, style, and versatility that fragrance consumers require and deserve.
Travalo is also introducing Milano, the most refined and luxurious Travalo to date.  With an incredible new custom-made high definition spray head, Milano is finished in opulent vegan leather, with finely crafted metal parts.  Perfectly weighted and balanced, Milano feels special the moment you touch it, and is designed to last.
Travalo was created and patented by London-based Carmit Turjeman, a brilliant young entrepreneur and graduate of the prestigious Technion Institute of Technology.  Just a few short years after beginning the painstaking work of creating a mold, claiming a world-wide patent, and producing her design, Travalo is now sold online and in thousands of stores worldwide.