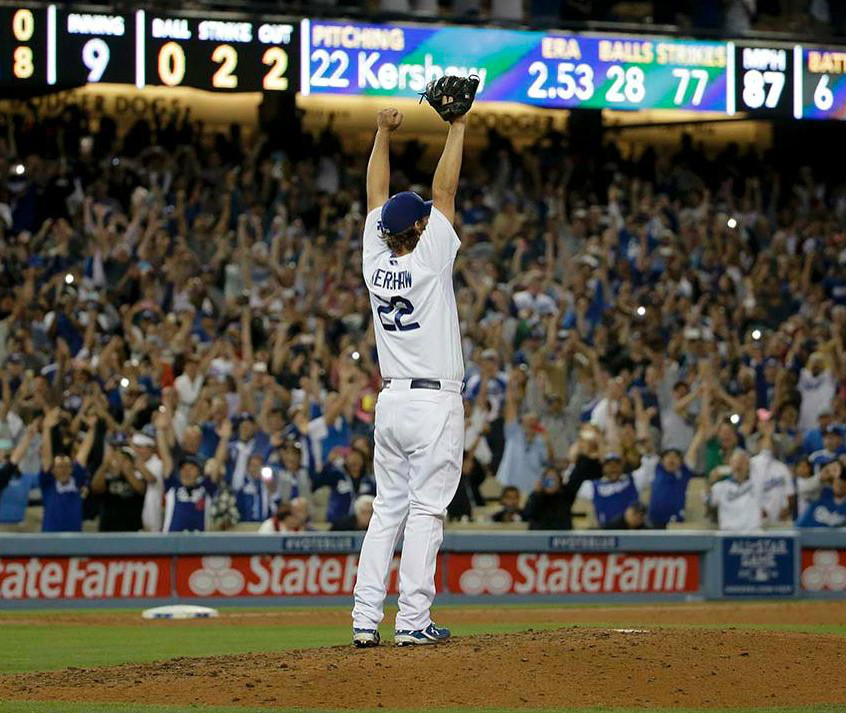 Dodgers Pitcher Clayton Kershaw – Photo: MLB
The Los Angeles Dodgers have clinched the 2014 National League West Division Championship, the club's second consecutive and 13th overall division crown. The Dodgers will play in the postseason for the fifth time in the last nine years and will play "October Baseball" for the 28th time in franchise history. It also marks the seventh time in franchise history that the club has reached the postseason in consecutive years.
Don Mattingly led the Dodgers to a division title for the second time in four seasons as manager, while General Manager Ned Colletti assembled his fourth division champion and fifth postseason-bound club in nine seasons since 2006. Under Colletti, the Dodgers previously reached the National League Championship Series after winning division titles in 2008, 2009 and 2013 and qualified for the postseason as the N.L. Wild Card in 2006 (tied for division title).
After going 92-70 last year, Los Angeles has won 91 games through its first 159 games, with the club posting consecutive 90-win seasons for the first time since doing so three years in a row 1976-78. The Dodgers remained over the .500 mark all year and will finish the season without a losing streak longer than three games, joining the 1988 (161 games) and 1924 clubs (154 games) as the only teams in franchise history to go the entire season without a four-game slide. For the second consecutive year, the Dodgers stormed back after a slow start to claim the division title after trailing the Giants by a season-high 9.5 games on June 8. The 9.5-game deficit ties for the largest deficit that the club has ever overcome to win a division title.
The Dodgers reached the postseason in 1959, their second season in Los Angeles, and continued that success in the 1960s with postseason appearances in 1963, 1965 and 1966. In the 1970s, Los Angeles played October baseball in 1974, 1977 and 1978. The club qualified for postseason play four times in the 1980s, in 1981, 1983, 1985 and 1988, but following their 1988 championship, the Dodgers reached postseason play only twice, 1995 and 1996, in the next 15 years, including an L.A. franchise-high drought of seven consecutive years from 1997-2003 before their 2004 N.L. West title. The Brooklyn Dodgers won pennants four times in five years (1952, 1953, 1955, and 1956), the best five-year stretch in franchise history. They also won three (1949, 1952, 1953) in a five-year period. Note that the 1951 playoff versus the Giants concluding with Bobby Thomson's "Shot Heard 'Round the World" is not included as postseason play.