Photos: LATF USA
Although social media has become a hub for meeting new people, whether romantic or friendly, many city folk are in search of unique events where they can mingle in person. What better way to make new friends than around gourmet cuisine at a dinner table? Last month, I discovered Dinner Lab, the perfect combination for foodies and those who are looking for 'a little something new' in their life. The exclusive dining club is making its way to every major city in the country, from Los Angeles to New York, Miami, D.C., Austin and more. Throughout the year, Dinner Lab takes over a new space; whether it be a sound studio or restaurant. Up and coming chefs work with DL to create a themed evening around several courses. Sometimes the dinners are more intimate and other times they can meet up to 100 guests. Either way, I found it to be enticing for both the taste buds and conversation.
I attended Dinner Lab's early September event at Mack Sennett Studios in Silverlake, CA. An impressive studio space was lined with long tables covered in white sheet with 'Bon Appetit' stamps. Up to twelve guests sat per table. At each seat your set DL prix fixe menu was placed in front of you. Guests arrived early for wine and spirits before sitting down to experience the delightful dinner prepared by young Chef Guillaume Jouvet. This particular evening had a strong French theme. As we tasted each dish, the film "Haute Cuisine" starring famous French actress Catherine Frot was projected onto the large white wall for all to see.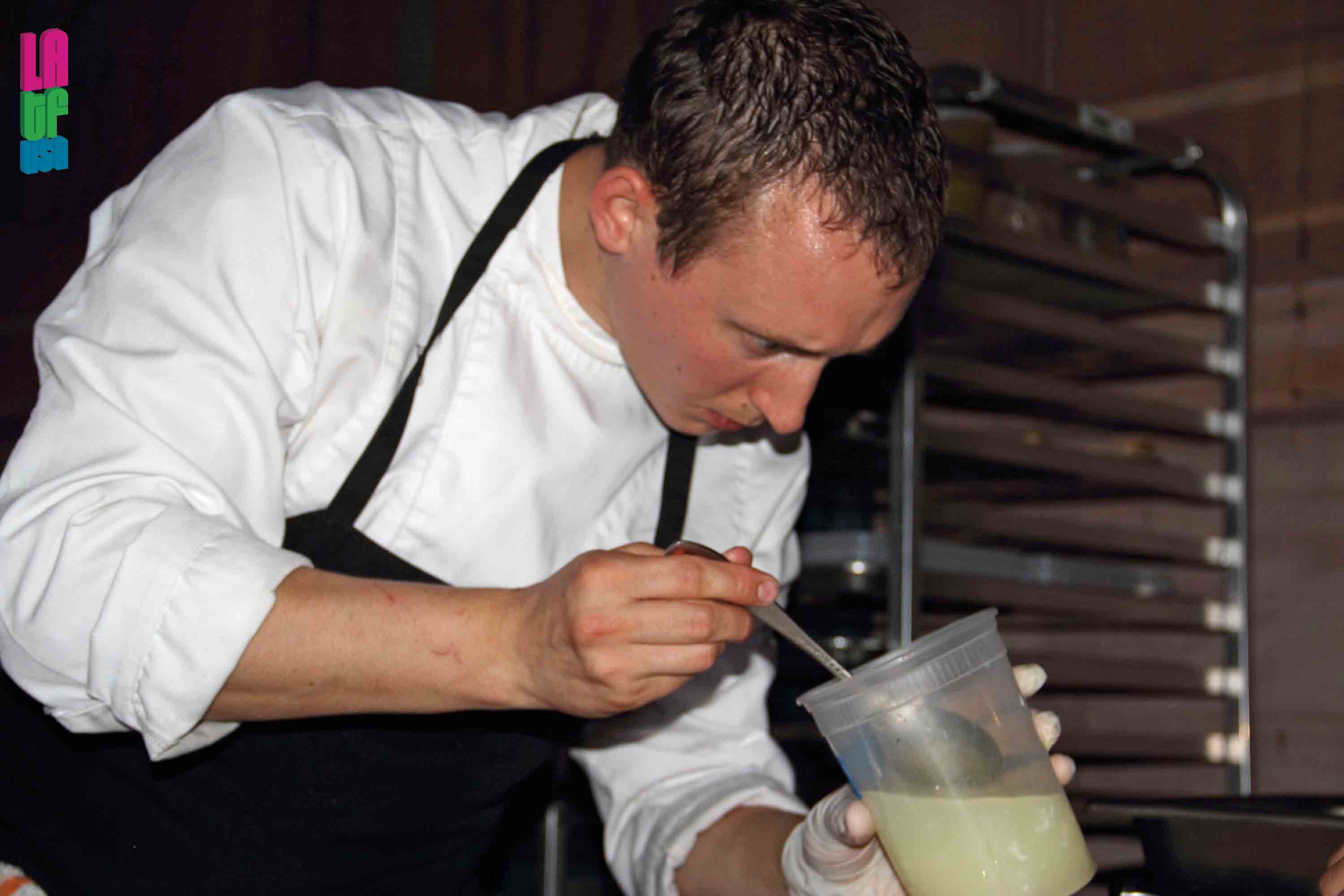 Chef Jouvet hails from Le Blanc Mesnil, France. He only just moved to Los Angeles six months ago and the Dinner Lab family immediately took his talents under their wing. Each course from Chef Jouvet was perfectly paired, from the Sardine Feuillete marjoram and tomato concasse with basil ice cream and mint pesto, to the Classic Boeuf Bourguignon with pommes puree and button mushrooms. The Chef and his team prepared our meals just behind the dinner scene. The company was just as good as the cuisine with an eclectic group surrounding the table; from an actor to an accountant and even a young man and woman who accepted a Heineken adventure challenge via an online contest to dine at the DL event that evening. We shared stories of traveling, films to see and our favorite dishes of the night. At the end of the evening, we filled out our course rating cards. Each course is rated by over 5 criteria points.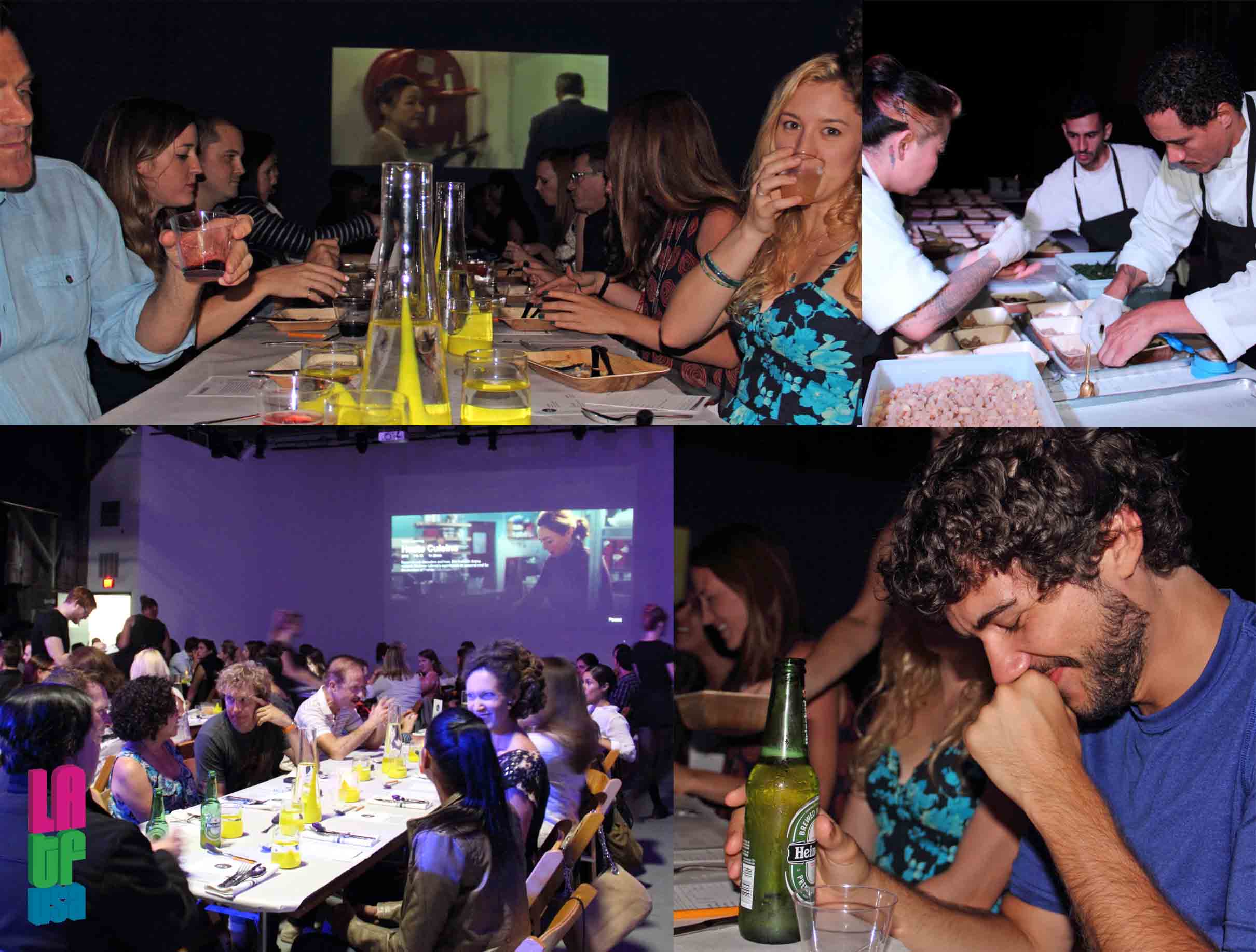 Dinner Lab is certainly a wonderful club for those who recently moved to a new city. It gives you the chance to network and socialize. After just celebrating their two year anniversary, the 19 city membership event is only on its way up; adding their 20th with San Diego. The brainchild behind DL consists of CEO Brian Bordainick, COO Drew Barrett, Chief Culinary Officer Paco Robert, etc.
So now you want to become a member? You might be as impressed as I was after reading the requirements. Depending on the market, a membership can cost anywhere between $100-$200 per year. You are able to bring up to 3 guests for each event. When you think of the experience and several course dinner, that's what we call 'a steal.'
For the Angelenos, the next Dinner Lab evening will take place on Saturday, Sept. 27th and feature Chef Aaron Grosskopf.
To experience, visit: https://dinnerlab.com/
By Pamela Price