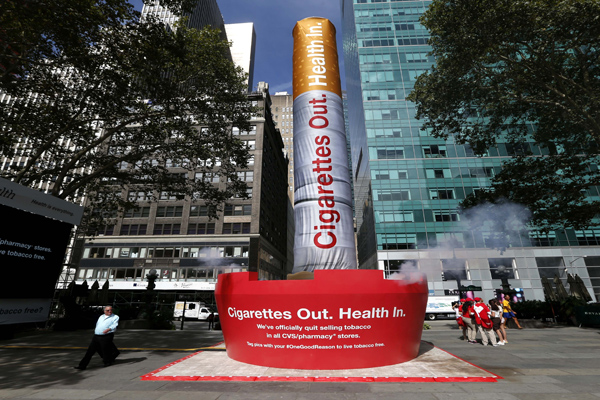 CVS makes a big step in the fight against tobacco. They are changing its corporate name to CVS Health to reflect its broader health care commitment and its expertise in driving the innovations needed to shape the future of health.
"Along with the start of CVS Health, the sale of cigarettes and tobacco products at CVS/pharmacy ends today. By eliminating cigarettes and tobacco products from sale in our stores, we can make a difference in the health of all Americans," Merlo declared.
"The sale of tobacco in a retail pharmacy conflicts with the purpose of the health care services delivered there," added Troyen A. Brennan, M.D., M.P.H., Chief Medical Officer, CVS Health. "Even more important, there is evidence developing that indicates that removing tobacco products from retailers with pharmacies will lead to substantially lower rates of smoking with implications for reducing tobacco-related deaths."
CVS Health includes the company's retail business, which continues to be called CVS/pharmacy; its pharmacy benefit management business, which is known as CVS/caremark; its walk-in medical clinics, CVS/minuteclinic; and its growing specialty pharmacy services, CVS/specialty. With 7,700 retail pharmacies, 900 walk-in medical clinics, a leading pharmacy benefits manager with nearly 65 million plan members, and expanding specialty pharmacy services, CVS Health enables people, businesses and communities to manage health in more affordable, effective ways. 
"Each year, CVS Health touches more than 100 million people by playing an active, supportive role in each person's unique health experience and in the greater health care environment," said Merlo. "Consumers are increasingly taking control of their own health and, through our 26,000 pharmacists and nurse practitioners, we are helping people on their path to better health."
CVS Health has a portfolio of programs to help people manage chronic disease and connects patients with pharmacists who help them stay on their prescribed medications. Digital capabilities are supplementing these programs to give customers a full view of their prescriptions. CVS Health's Specialty Connect and Maintenance Choice programs integrate the company's mail and retail capabilities, providing choice and convenience for patients. CVS Health is also forging strategic alliances with physicians and health plans through both CVS/pharmacy and CVS/minuteclinic to provide clinical support, medication counseling, chronic disease monitoring and wellness programs for their members.
As a further demonstration of its commitment to health, CVS Health also announced the end of tobacco sales at CVS/pharmacy as of September 3, nearly a month ahead of the previously targeted date of October 1. In February, the company announced that it would end the sale of cigarettes and tobacco products at its CVS/pharmacy stores, making CVS/pharmacy the first and only national pharmacy chain to take this step in support of the health and well-being of its patients and customers.