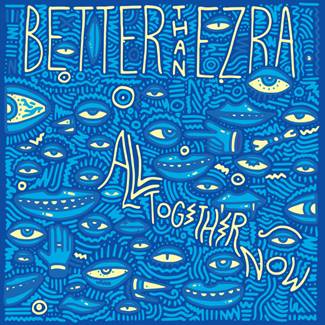 Better Than Ezra, known for their hits "Good," "Desperately Wanting," "Juicy," and selling out venues for nearly 20 years, will release their eighth studio album titled All Together Now via The End Records on September 9, 2014. The band unveiled the album's artwork and track listing today.
USA Today provided a first taste of All Together Now in the track "Crazy Lucky" that has been climbing the charts ever since. PRESS HERE to listen.
The catchy first single "Crazy Lucky" as well as the rest of the album was produced by Grammy nominated mixer/producer Tony Hoffer (Fitz and the Tantrums, M83, Beck, Silversun Pickups). "Crazy Lucky" is now available on iTunes.
Better Than Ezra quickly became a staple in the '90s pop/rock scene following their debut album Deluxe in 1995 via Elektra and immediately releasing two new albums within three years of being signed. Friction, Baby, released in 1996, and How Does Your Garden Grow? In 2001, Better Than Ezra released the critically acclaimed Closer, followed by Before the Robots in 2005. The latter featured the hit "Juicy," licensed by several commercials and brands, was also featured in the promotional advertisements for the popular ABC television series Desperate Housewives.
The band recently signed to The End Records and this marks the band's first release since 2009's Paper Empire. Better Than Ezra will be hitting the road for the second leg of their US tour in support of the upcoming album. For the latest dates and routing, visit www.BetterThanEzra.com.
 
 
All Together Now Track Listing:
1. Crazy Lucky
2. Gonna Get Better
3. Undeniable
4. Insane
5. Sunflowers
6. The Great Unknown
7. Before You
8. Dollar $ign
9. Diamond In My Pocket
10. One Heart Beating
 
Tour Dates
9/19       San Francisco, CA @ Bimbo's 365 Club*  
9/20       West Hollywood, CA @ House of Blues Sunset Strip*  
9/21       Anaheim, CA @ House of Blues Anaheim*  
9/22       Solano Beach, CA @ Belly Up*  
9/25       Austin, TX @ Emo's*
9/26       Dallas, TX @ House of Blues*  
9/27       Houma, LA @ Best of the Bayou
10/18     Detroit, MI @ St. Andrews Hall
www.betterthanezra.com
www.Facebook.com/betterthanezra
Twitter – @BetterThanEzra
Instagram – @WeAreBetterThanEzra