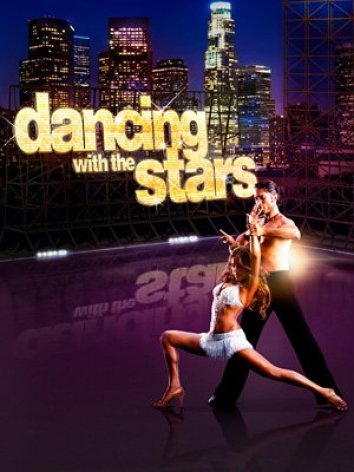 This season's cast of celebrity dancers on "Dancing With The Stars" includes a fashion icon, a YouTube sensation, a NASCAR legend, and a movie star, to name a few. The stars will grace the ballroom floor for the first time on live national television with their professional partners during the two-hour season premiere of "Dancing with the Stars," which airs MONDAY, SEPTEMBER 15 (8:00-10:01 p.m., ET) on the ABC Television Network. One couple will be eliminated on the "Dancing with the Stars" results show the following day, on TUESDAY, SEPTEMBER 16 (8:00-9:00 p.m., ET).
The thirteen professional dancers teaching the celebrity cast how to bring heat to the dance floor are Mark Ballas, Cheryl Burke, Sharna Burgess, Witney Carson, Artem Chigvintsev, Valentin Chmerkovskiy, Tony Dovolani, Allison Holker, Derek Hough, Keo Motsepe, Peta Murgatroyd, Emma Slater and Karina Smirnoff. Two-time Mirrorball champion and movie star Julianne Hough joins Len Goodman, Bruno Tonioli and Carrie Ann Inaba at the judges' desk.
Meet the cast:
JONATHAN BENNETT — Though his striking good looks may have made Jonathan Bennett an object of affection for the 'plastics' in "Mean Girls," his talent and commitment are what have led him to become one of the most sought after young actors in Hollywood. Bennett's first foray into feature films was in Paramount's smash hit "Mean Girls" from producer Lorne Michaels and writer Tina Fey, in which he starred opposite Lindsay Lohan.
TOMMY CHONG — Grammy Award-winning comedian Tommy Chong is legendary for his invaluable contribution to comedy and American counter culture as part of the legendary comedy team Cheech & Chong. During their reign, the twosome recorded six gold comedy albums, including the 1974 Grammy winner "Los Cochinos," and starred in seven films, most of which Chong co-wrote and directed.
RANDY COUTURE — As a 6-time World Champion and Hall of Famer in the fastest growing sport in the world, Randy Couture is a true icon in the sport of Mixed Martial Arts and the Ultimate Fighting Championship (UFC). In addition to his stellar standing in combat sports, Randy is also a successful businessman, best-selling author and action movie star.
BETSEY JOHNSON — Known for her over-the-top celebration of the exuberant and the embellished, Betsey has been rocking the fashion industry with her unique and original designs since the 1960's. Her commitment to remain true to her one-of-a-kind vision has afforded Betsey continued success in an industry known for its fickleness. Her ability to change with the times while keeping her designs pure has not gone unnoticed.
LOLO JONES — Lolo Jones, born in Des Moines, Iowa, is one of the greatest track athletes of her generation and one of the greatest American hurdlers of all time. The American record holder at 60 meters, Lolo was a three-time national champion at Louisiana State University (which led to being named All-American 11 times). After college, she only got faster, winning the U.S. indoor national championship three times, and then she topped that by winning gold medals at the indoor World Championships twice. In addition to  appearances at the 2008 and 2012 Summer Olympics for hurdles, Lolo became just the 10th American in history to compete in both the Summer and Winter Olympics, as a member of the U.S. Bobsled Team for the 2014 Games in Sochi, Russia.
BETHANY MOTA — In only five years, youtube.com sensation, fashion designer, and beauty expert, Bethany Mota has become one of the most recognizable names on social media. Today, Bethany's YouTube channel (www.youtube.com/macbarbie07) has over 7 million subscribers, and her videos have been viewed almost 500 million times. Bethany got her start when she created a channel on YouTube under the moniker Macbarbie07 in June 2009. Originally intended as a fun outlet for a tween girl to share her opinions on fashion and style, Bethany's charismatic personality and unique eye for popular trends have earned her a devoted following on multiple platforms.
JANEL PARRISH — Born in Hawaii, Janel started her career with a love for music. She entered and won a statewide singing contest at age 6 and soon followed that with being cast in the National Touring Company and Broadway Company of "Les Miserables" as Little Cosette. It wasn't long before Janel's Broadway experience and recognition led to acting auditions in Hollywood. While studying acting, Janel continued to train vocally, eventually adding piano to her repertoire. She also began writing her own music, which led to becoming the lead singer in a 3 girl pop group called "Impulse" as well as a recording deal with Geffen Records.
ALFONSO RIBEIRO – Alfonso's interests and loves vary from acting, best known for his role as Carlton Banks on "Fresh Prince of Bel-Air," to his active career today as a television director, host and voice-over. He made his first big role cast opposite Ricky Schroder in the long-running sitcom "Silver Spoons," making him an instant teen idol. His directing credits include television shows "Shake It Up," "Are We There Yet?" "The Wannabes," "Meet The Browns," "Cuts," "Eve," "One on One," "All of Us" and "Mighty Med" on Disney XD.
SADIE ROBERTSON – Sadie Robertson is well known for her dimples and engaging smile, but there is more to the 17-year-old charmer and star of A&E's "Duck Dynasty" than that. A high school athlete and motivational speaker, Sadie spends her summers on mission trips and working at a Christian youth camp spreading her message to peers about being confident in who you are and learning to "live original."
ANTONIO SABATO JR. — Antonio Sabato Jr. once overlooked Time Square from a 90-foot billboard dressed only in his Calvin Klein underwear. The iconic fashion designer hired the actor to be the company's first celebrity model since Mark Wahlberg and famed photographer Herb Ritts shot the campaign. That combination caused a sensation when the photos appeared in every magazine and hundreds of billboards throughout the world. Antonio is widely known for his fan-favorite role as Jagger Cates on ABC's "General Hospital" and for playing Jack Parezi on "Melrose Place." He was also featured in People Magazine's "50 Most Beautiful People" issue.
TAVIS SMILEY – Tavis Smiley is currently the host of the late-night television talk show "Tavis Smiley" on PBS, as well as "The Tavis Smiley Show" from Public Radio International (PRI). He has authored or co-authored 16 books, including What I Know for Sure: My Story of Growing Up in America and The Rich and the Rest of Us: A Poverty Manifesto, both of which were New York Times Bestsellers. His latest book, Death of a King: The Real Story of Dr. Martin Luther King Jr.'s Final Year, will be published in September. It examines the widespread assaults on Dr. King's character, ideology and political tactics in the year leading up to his assassination. Smiley is the founder of the nonprofit Tavis Smiley Foundation, which recently announced a $3 million, four-year campaign called "ENDING POVERTY: America's Silent Spaces" to alleviate endemic poverty in America.
LEA THOMPSON — Lea Thompson is perhaps best known for her role as the various incarnations of Lorraine McFly in "Back to the Future I, II, and III" (Kid's Choice Film Actress Award) and as the star of "Caroline in the City" (People's Choice Award). Thompson has starred in more than 30 films, 25 television movies, 4 television series, more than 20 ballets, and starred on Broadway in "Cabaret". Lea can currently be seen on ABC Family's Peabody Award winning hit show "Switched at Birth," where she acts and directs. Lea's movie credits include: "All the Right Moves," "Red Dawn," "Some Kind of Wonderful," "The Beverly Hillbillies," "Howard The Duck"(star and vocals), Clint Eastwood's "J. Edgar;" the 2014 Sundance favorite "Ping Pong Summer;" and soon to be released "Left Behind" starring Nicolas Cage.
MICHAEL WALTRIP – Michael Waltrip is a winning professional racecar driver, founder and co-owner of Michael Waltrip Racing, a widely recognized network racing commentator and author of a best-selling biography.  Waltrip is a two-time winner of NASCAR's crown jewel event, the Daytona 500, and is one of only two drivers in history to hold victories in NASCAR's three top tier divisions over four consecutive decades. Waltrip still competes on a limited basis, posting two top 10 finishes in just four events in 2013. In recent years, Waltrip has driven in international events, competing in the 24 Hours of Le Mans and 24 Hours of Daytona, as well as events in Spa, Belgium, Sebring and Dubai.
For the first two weeks viewers may cast their votes for their favorite couples via phone on Monday nights during and up to 60 minutes after the end of the "Dancing with the Stars" broadcast in each time zone. Online voting at www.ABC.com and on Facebook at https://apps.facebook.com/votedwts/ is open for 15 hours, beginning from the start of the episode on the East Coast at 8:00 p.m., ET/5:00 p.m., PT and closing at 11:00 a.m., ET/8:00 a.m., PT the next day. From week three until the finale, viewers may cast their votes for their favorite couples via phone on Monday nights during and up to 60 minutes after the end of the "Dancing with the Stars" broadcast in each time zone. Online voting at www.ABC.com and on Facebook at https://apps.facebook.com/votedwts/ is open for 24 hours, beginning from the start of each episode on the East Coast at 8:00 p.m., ET/5:00 p.m., PT and closing at 8:00 p.m., ET/5:00 p.m., PT on Tuesday evenings.
For the final week, on Monday, November 24th, online voting will open for 15 hours, beginning from the start of the episode on the East Coast at 8:00 p.m., ET/5:00 p.m., PT and closing at 11:00 a.m., ET/8:00 a.m., PT the next day. A custom Facebook app lets fans vote, share whom they voted for and say why, as well as see whom friends voted for.
Hosted by Emmy® Award-winning host Tom Bergeron ("America's Funniest Home Videos") and Erin Andrews (sports host & "Dancing with the Stars" Season 10 finalist), "Dancing with the Stars" is the hit multi-award-winning series in which celebrities perform choreographed dance routines which are judged by renowned ballroom judge Len Goodman and dancer/choreographers Bruno Tonioli, Carrie Ann Inaba and ballroom dancer and Emmy®- Nominated choreographer Julianne Hough.