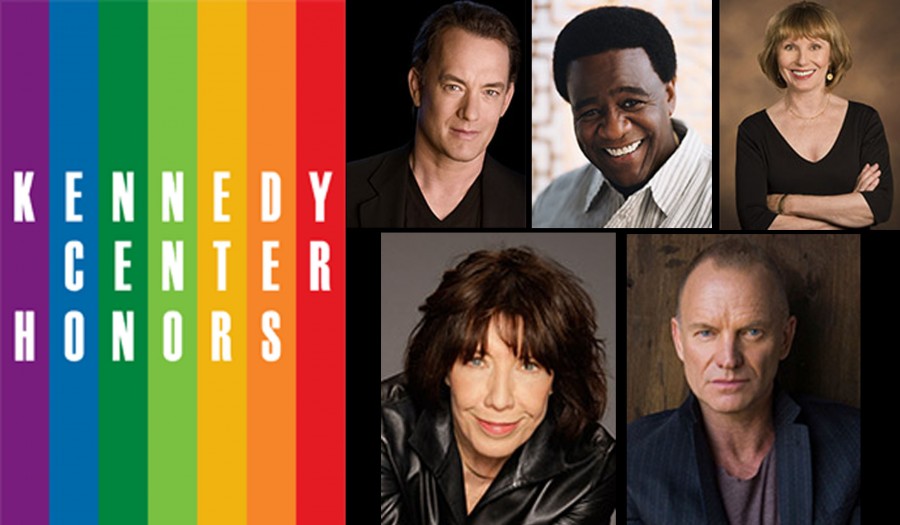 Singer Al Green; actor and filmmaker Tom Hanks; ballerina Patricia McBride; singer-songwriter Sting; and comedienne Lily Tomlin will receive honors for 2014 on THE 37TH ANNUAL KENNEDY CENTER HONORS, to be broadcast Tuesday, Dec. 30th (9:00-11:00 PM, ET/PT) on the CBS Television Network. CBS has broadcast the special each year since its debut 37 years ago.
In a star-studded celebration on the Kennedy Center Opera House stage, the 2014 Honorees will be saluted by great performers from Hollywood and the arts capitals of the world. Seated with President and Mrs. Obama, the Honorees will accept the thanks of their peers and fans through performances and heartfelt tributes. 
"The Kennedy Center celebrates five extraordinary individuals who have spent their lives elevating the cultural vibrancy of our nation and the world," stated Kennedy Center Chairman David M. Rubenstein. "Al Green's iconic voice stirs our souls in a style that is all his own; Tom Hanks has a versatility that ranks him among the greatest actors of any generation; one of the world's greatest ballerinas, Patricia McBride continues to carry forward her legacy for future generations; Sting's unique voice and memorable songwriting have entertained audiences for decades; and from the days of her early television and theatrical appearances, Lily Tomlin has made us laugh and continues to amaze us with her acting talent and quick wit."
The President and Mrs. Obama will receive the Honorees, members of the Artists Committee who nominate them, and the Kennedy Center Board of Trustees at the White House prior to the gala performance taping on Dec. 7. The 2014 Kennedy Center Honors Gala concludes with a supper dance in the Grand Foyer.
The Honors recipients are recognized for their lifetime contributions to American culture through the performing arts – whether in dance, music, theater, opera, motion pictures or television – and are selected by the Center's Board of Trustees. The primary criterion in the selection process is excellence. The Honors are not designated by art form or category of artistic achievement; over the years, the selection process has produced a balance among the various arts and artistic disciplines.
Newly arrived Kennedy Center President Deborah F. Rutter expressed the Center's continued gratitude to the many individuals involved in the success of the Honors program. She said, "In addition to recognizing some of the world's most treasured artists, the Kennedy Center Honors supports a wide variety of artistic programming, as well as the Center's educational and national outreach efforts."