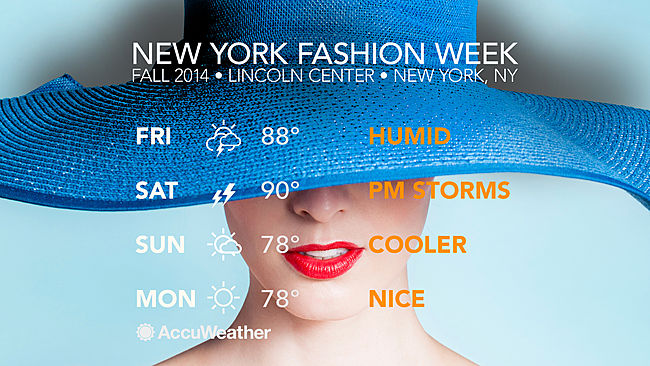 AccuWeather is providing a new approach to preserving fashion-forward styles with MinuteCast® at this week's 2014 Fashion Week in New York. Rain or shine, the AccuWeather MinuteCast Storm Squad will be on hand with umbrellas and mobile phones ready to forewarn and forearm the luminaries of the fashion world against any possible precipitation.
AccuWeather MinuteCast provides patented minute-by-minute, highly localized weather forecasts to keep event attendees informed on exactly when precipitation will start and stop at their precise street or GPS locations.  Now, deciding what to wear and safeguarding your style is easier than ever in all kinds of weather with this innovative new pinpointed forecast.
MinuteCast is available free on AccuWeather apps across all major mobile devices – just download the app on your phone and click "Get MinuteCast".  The feature's interactive design pinpoints precipitation by the minute for the next two hours.  AccuWeather MinuteCast is also available on the AccuWeather.com web and mobile sites.
According to AccuWeather, New York's forecast calls for sunshine as the event kicks off, but forecasters warn that rain could dampen festivities over the weekend.  
To help Fashion Week attendees stay one step ahead of possible precipitation and navigate sudden showers that could dampen the most current couture, the AccuWeather MinuteCast Storm Squad will be near the site of the runway shows throughout the day at Lincoln Center on September 4 and 5.  No matter what the weather brings, AccuWeather will be there for the big event providing umbrellas, answering questions, and demonstrating MinuteCast's essential, style-saving features.