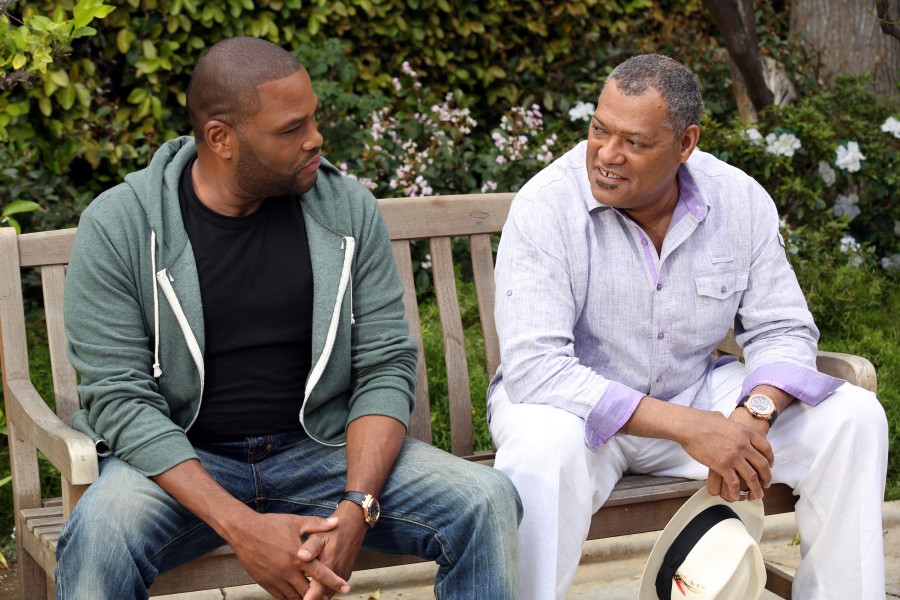 ABC's new family comedy, "black-ish" premieres Wednesday September 24th 9:30/8:30c. Talk about bringing racial stereotypes to the surface, executive producers and show stars, Anthony Anderson and Laurence Fishburne break the mold with this hilarious family comedy. It's bold, it's clever and it's progressive. "black-ish" takes a fun yet blunt look at one man's determination to establish a sense of cultural identity for his family. The series also stars Tracee Ellis Ross.
Like any parents, Andre "Dre" (Anthony Anderson) and Rainbow (Tracee Ellis Ross) Johnson want to give their children the best. But their offspring's childhood is turning out to be much different than theirs. They now realize at least two things: there is a price to pay for giving their children more than what they ever had, and these loving parents are totally unprepared for the fallout. Dre wishes his children, especially his oldest son, would embrace his black heritage and culture. But it turns out his son would much prefer having a bar mitzvah and join the hockey team. 
Meanwhile, Dre is trying to be anything but a stereotype and is left heartbroken when he discovers his promotion to SVP at his advertising/marketing company turns out to be a position to head up the Urban division.

Dre considers himself the family patriarch and when he looks at his life – he sees a beautiful wife and four kids living happily in their colonial home in the 'burbs. But when he looks a little closer — have the trappings of success brought too much assimilation for this black family? The world he sees has a much different lens than the one he would like his family to look through.
He may disagree with some of the liberal viewpoints of his bi-racial wife, Rainbow, an anesthesiologist. But they are in agreement that they want to successfully raise their family in a better situation than what they had. Much to her husband's wonderment, she believes their children can exist in a colorless society. She takes pride in that her husband will break down barriers by becoming the first black senior VP of his ad firm. She is also looking forward to the salary increase that will follow.
Dre's father, affectionately referred to as "Pops" (Laurence Fishburne), has an affinity for velour tracksuits and going to the racetrack. He can be quite the curmudgeon and takes every opportunity to offer his opinion on family issues. But when Pops offers his usually curt and spot-on old school wisdom, it is difficult to disagree with him.
Dre's son Andre Jr. asks to be called "Andy," and then announces that like his schoolmates, he wants a bar mitzvah for his 13th birthday — and their family isn't Jewish. When the boy says he wants to play for his school's field hockey team instead of basketball, Dre has to wonder: would he rather Andre play basketball because it is a black-ish sport? Or could it be Dre wants his namesake to like the sport he prefers?
Zoey, 15, has everything going for her. She's pretty, popular and super smart. However, she is dripping in privilege and unearned entitlement. Zoey's idea of success is rooted in material things, rather than hard work. The definition of accomplishment for Zoey? To have 100,000 Instagram followers.
Rounding out the family are six-year-old twins, Diane and Jack. Diane is gifted and talented. She thinks she has all the answers but has yet to develop a filter to put them through. Although she is one minute older than Jack, she likes to think she is smarter than her twin brother by ten thousand minutes. Young Jack is more of the sensitive type and idolizes his dad. He is quick to give his father a compliment, even if it does come out a little awkward.
Dre is sincere about honoring his family's past, while also embracing its future. As he defines what the American dream means to his family in a multi-cultural world, one idea keeps surfacing. It appears that in this melting pot called America, we are all a little um, black-ish.
Marcus Scribner is perfectly cast as the eldest son, who would rather change his name to something that 'sounds more Jewish.' The cast chemistry and dynamic makes for a memorable comedy series. "black-ish" breaks the mold for primetime TV.
Don't miss LATF's interview with Anthony Anderson in our November issue of www.LATFtheMagazine.com