LATF rotating photo album

The Los Angeles Food & Wine Festival rolled out the red carpet on Grand Ave. in Downtown Los Angeles for foodie and wine aficionados. For the fourth year, David Bernahl of Coastal Luxury Management, FOOD & WINE, Lexus, as well as partners Chase Sapphire Preferred®, Delta Air Lines, JENN-AIR, The Cosmopolitan of Las Vegas, and Wagstaff Worldwide present a successfully luxurious weekend with fine cuisine, talented Chefs, winemakers and sommeliers.
The three day event kicked off with Ultimate Bites of L.A. Presented by Chase Sapphire Preferred in the heart of Downtown Los Angeles right next to the Walt Disney Concert Hall. It's enchanting as you walk onto the red carpet under hanging twinkle lights and an array of wine and food vendors in front of you. You are handed a single empty glass of wine for all of your tastings. (Be careful not to put your glass down or you may have to go back for another!). The trick to tasting multiple wines in one evening is to always rinse your glass with water after every pour.
LATF discovered a number of delicious wines, from Reisling to Rose, Pinot Noir, Cabernet, Malbec and more. There seemed to be more wine vendors than cuisine. We enjoyed tasting from Boony Doon Vineyard, Bernardus Winery, Testa Rossa Winery, TY*KU Sake, Anheuser-Busch's Goose Island Beer Co., Black Market Liquor Bar, Kristler, Landmark Wine, Chateau Lagrezette, Dolin Malibu Estate Vineyards and Malbec & Malbec Cellars.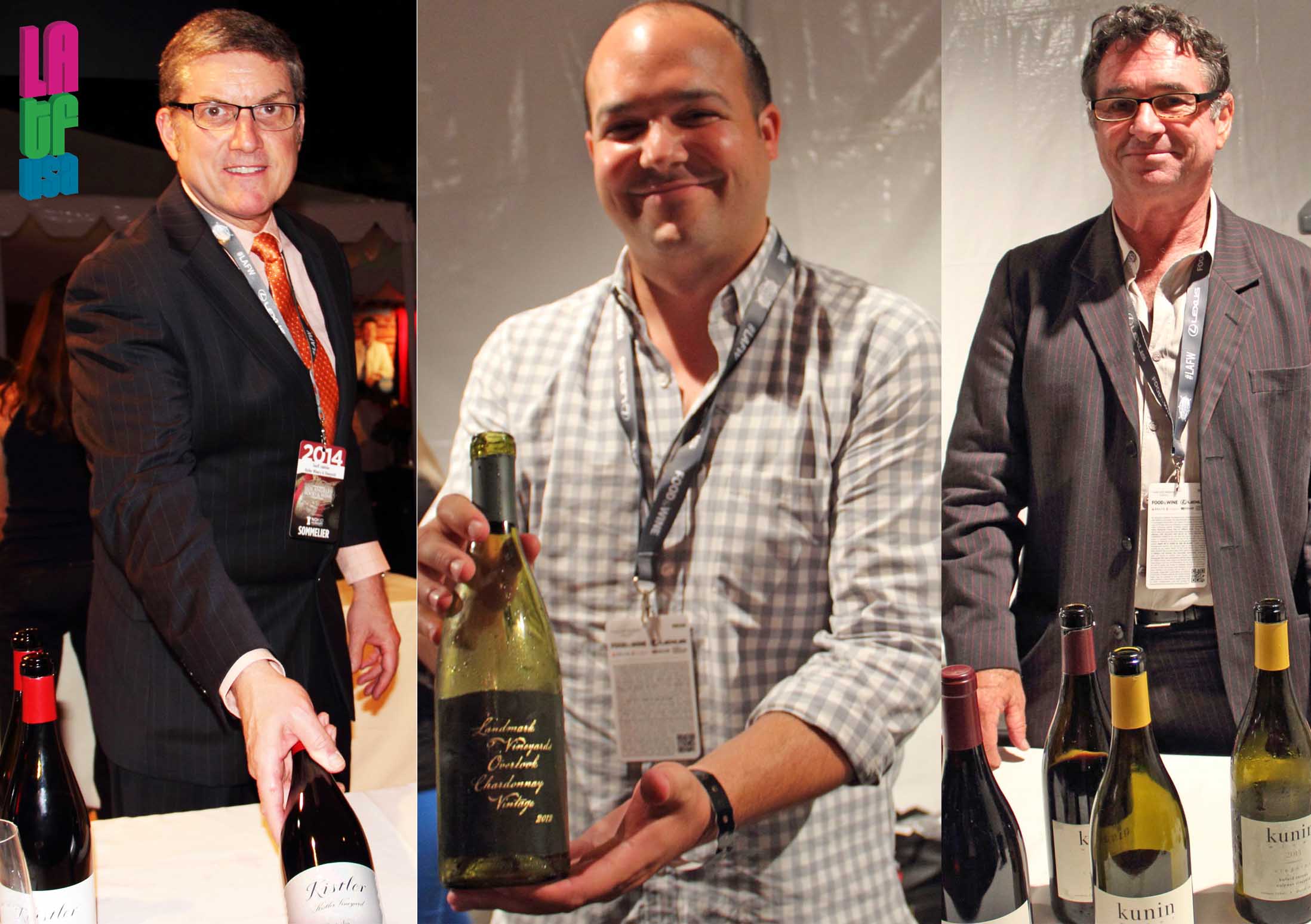 On the cuisine end, our first stop was with Chef Mirko Paderno of Oliverio at the Avalon Hotel. His truffle pasta was 'to-die-for.' He was whipping a truffle sauce on-site. Chef Elia Aboumrad from Gorge served a chicken liver pate with cornichons and rabbit rillette. It was a memorable bite. Speaking of one to remember, Montage's Chef Gabriel Ask offered a petite lobster fondue. On the lighter side, The Foundry's Josh McKnight hit it out of the ballpark with a most unique grilled cheese sandwich and a yellow based tomato soup. LATF also partook in cuisine from Chef Damon Gordon at Watergrill, Chef Ian Gresik from Drago and Chef Megan Logan from Nick & Stef's Steakhouse. The best dessert of the evening goes to Rose. Rabbit. Lie from The Cosmopolitan for the nutella sandwich.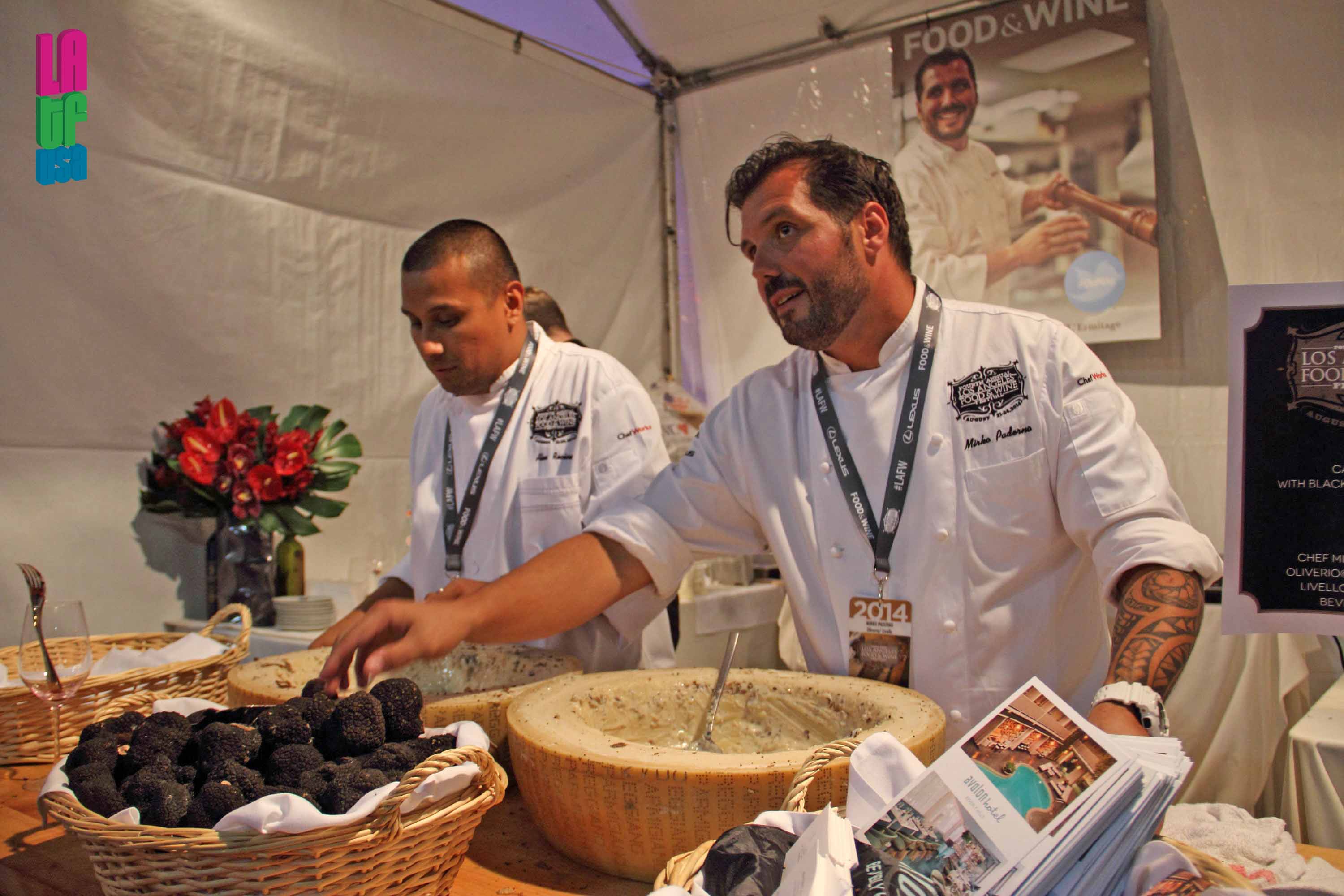 The festival continued with cooking demonstrations, an Asian Night Market hosted by Iron Chef Masaharu Morimoto, the Lexus Grand Tasting and more. One theme was clear throughout the festival: the celebrity chef. With the advent of cable, it seems as though the celebrity chef is a genre of entertainment unto itself. At LAFW's Sunday event, chefs from Bravo's "Top Chef," CJ Jacobson cranked out incredible amuse-bouche's for the masses, as the "Chopped" judge and esteemed restaurateur Scott Conant made the rounds.
Guests were treated to delicious little bites and a better understanding of another massive trend in the food world: pairings.The newest to that game is Stella Artois with 'The Butcher, the Baker, the Belgian Beer Maker.' This documentary series follows culinary artists and brings their craft to the fore with small bites intended to pair well with the Belgian beer. Pairings in the wine world are taking new twists, emphasizing that certain rules can be broken when done well. Rather than just letting red wines go with richer dishes, certain wineries are lightening the blends and letting them pair with sweets and the like. One in particular, called 'The Big Easy' has been aged longer with a different process to further mellow out a Pinot Noir bouquet.
The greatest takeaway aside from a full belly is a better understanding of what goes into making, not only the food we eat, but the people cranking it out in the kitchen. It's quite a skill to keep turning out stellar pieces of culinary art for a hungry crowd of foodies while still being ready for a photo op.
The production of LAFW is very impressive, with a Lexus seating station, beautiful decor and more. My only hope is that next year they will have more wine glass stations throughout.
Bon appetit!
By Lauren Steffany & Pamela Price