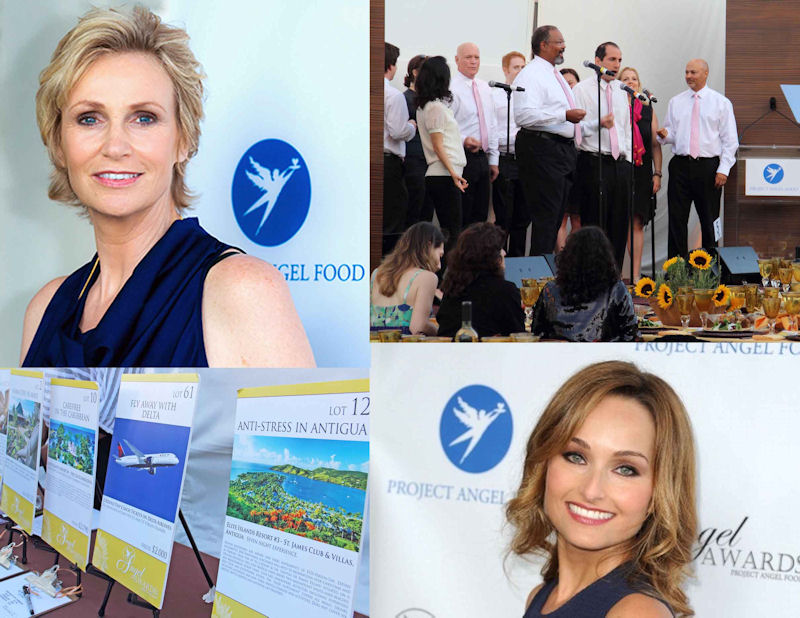 LATFUSA.com – Photo from 2013 Project Angel Awards

Project Angel Food, the Los Angeles-based nonprofit agency dedicated to nourishing people debilitated by critical illnesses, was founded in 1989 and celebrates its 25th anniversary this year. As part of the festivities, the charity will commemorate Elizabeth Taylor and her unparalleled support for Project Angel Food with the inaugural presentation of the Elizabeth Taylor Leadership Award during the 2014 Angel Awards on Saturday, September 6, 2014.
Project Angel Food's Angel Awards, which is the nonprofit's annual fundraising dinner, featuring a menu created by celebrity chef Govind Armstrong of Post and Beam, Willie Jane and 8oz Burger Bar restaurant fame, are held at its headquarters in Hollywood. Academy Award nominee and Emmy Award-winning actress Sharon Stone will present the first Elizabeth Taylor Leadership Award to philanthropist Aileen Getty, founder of Gettlove and the Aileen Getty Foundation. Getty is also Taylor's former daughter-in-law. The Angel Awards will also feature a live auction conducted by Andrea Fiuczynski of Sotheby's. Angel Awards 2014 is co-chaired by Faye Moseley, Project Angel Board member and Jeff Valenson, Jeff Valenson Design.
The inaugural Elizabeth Taylor Leadership Award honors the actress/activist's legacy in the fight against the spread of HIV/AIDS, which continues today through The Elizabeth Taylor AIDS Foundation (ETAF). For more than 20 years, Taylor consistently supported Project Angel Food, both personally and through her foundation. In fact, ETAF's first grant of $150,000 was bestowed on the agency in 1992. She served as a Project Angel Food trustee for 22 years and was honored with her own Angel Award 15 years ago in 1999. Even after Taylor's passing in 2011, ETAF proudly continues funding the agency, awarding a sizeable grant to Project Angel Food as recently as this May.
"People know Elizabeth Taylor as an Academy Award winning movie star, but at her core, she was a compassionate woman who advocated for those in dire need. It's through the continued generosity of her foundation that we've been able to provide vital nourishment to those who desperately need it," said Laurie Lang, Executive Director of Project Angel Food. "Like Ms. Taylor, Aileen Getty has worked tirelessly to advance the quality of life for our community. Her selflessness and generosity are awe-inspiring. When we created TheElizabeth Taylor Leadership Award, Aileen was our first choice and we are very proud to honor her."
"Elizabeth Taylor's leadership for HIV/AIDS causes and Aileen Getty's advocacy for the homeless echo a passionate commitment for helping the most vulnerable citizens of our community," said Joel Goldman, Managing Director of ETAF. "We appreciate Project Angel Food for honoring Ms. Taylor with this award in her name, and applaud them for recognizing Aileen's amazing work. We are confident Ms. Taylor would agree Aileen is its perfect first recipient."
Aileen Getty founded Gettlove in 2005. Gettlove's mission is to help Hollywood's chronically homeless navigate the complex journey out of homelessness into permanent housing sustained by relationships and services that promote a sense of belonging to community. In addition to Aileen's hands-on work with Gettlove, the Aileen Getty Foundation supports organizations and endeavors that enhance the environment, our communities and the lives of individuals though innovation, preservation, connection and kindness. Aileen also serves as an ambassador to ETAF.
Project Angel Food, now in its 25th year of service to the Los Angeles community, was created in 1989 by a group of compassionate volunteers who were concerned about the county's most fragile members suffering in silence from malnutrition and the many other ravages of HIV/AIDS. In 2008, the agency expanded its scope, and today Project Angel Food provides medically tailored meals and nutritional counseling for men and women across Los Angeles struggling with serious illnesses of any type, including cancer, heart disease, HIV/AIDS and renal failure. To date, Project Angel Food has home-delivered more than nine million meals.
For information on how to purchase tickets to Angel Awards, please visit http://angelfood.org or email Becca Bloom at bbloom@angelfood.org. 
For more information on Gettlove, please visit: http://gettlove.org/.
For more information about The Elizabeth Taylor AIDS Foundation, please visit: