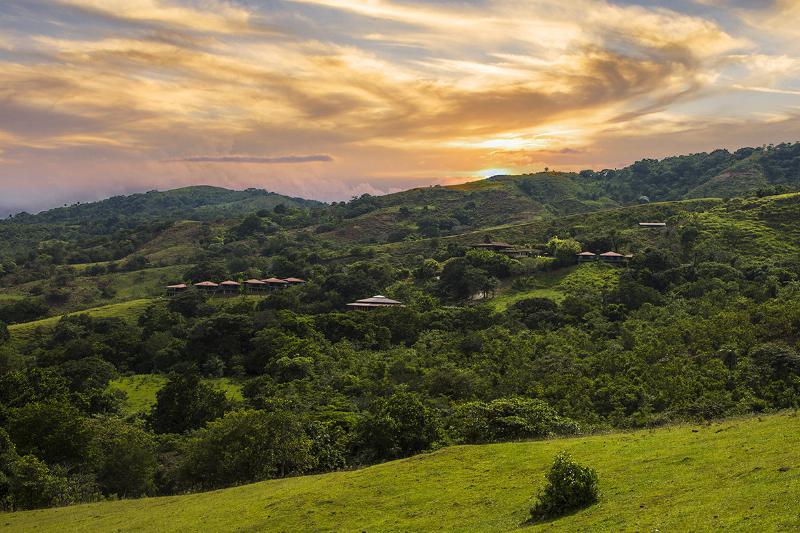 If you are looking to start your own resort… now is the time. Dust your bidding paddle off. Rancho de Caldera – a private resort/retreat in Caldera, Panama, that includes a home, nine villas, a restaurant, a yoga pavilion, greenhouses and a fruit orchard – will sell at absolute auction Saturday, Sept. 13, with Albert Burney Auctioneers marketing the estate and managing the sale.
"This is a retreat where someone can be completely immersed in luxury and practically forget the rest of the world exists. The estate is even independent of external electricity, with ample energy from its own power house, which has 76 solar panels, three hydroelectric generators and a back-up diesel generator," said Warren A. Ward, president of the auction company.
The 50-acre estate even has a restaurant, employee residence, 20′ x 40′ pool, and open-air barn with tack room – approximately 29,000 square feet of buildings and covered terraces in all. It is located 25 minutes from downtown Boquete and less than an hour from David, Panama.
"The estate was built with the idea of operating it as a business, but it has been a private residence for a couple of years. Every aspect has been carefully maintained, and it is still suitable for that operation," said Ward.
The auction will begin at 11 a.m. Saturday, Sept. 13, at the estate. Individuals seeking additional information may visit www.albertburney.com or call 256-543-1654. Auction representatives will be available at the property for inspections from Sept. 4 through the sale date.