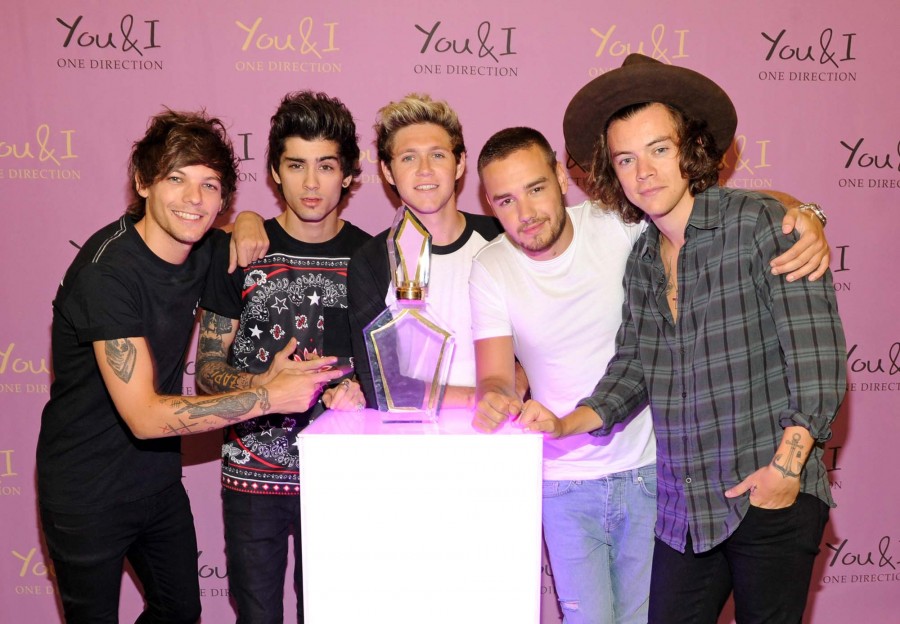 Today, One Direction launched their highly anticipated new fragrance, YOU & I, at an exclusive press event at The London Hotel in New York. The band unveiled the full fragrance pack shot with the bottle and latest campaign film with fans for the first time via their social channels ahead of the event.
YOU & I is the third in the bands line of fragrances, following That Moment and their debut fragrance, Our Moment, which broke records to become the fastest selling women's fragrance of last year. YOU & I will be available beginning  the 25th of August at all leading retailers nationwide. CLICK HERE to pre-order at Macy's.
Liam Payne said, "We love coming to New York, so it means a lot to us that we get to launch YOU & I here. As with Our Moment and That Moment, we worked hard creating the fragrance and making sure that YOU & I was different to anything we've done before. It's not easy when you've got five different ideas on what smells and looks better – but I think that's what makes the end result so special to us."
The fragrance is made up of splashes of fresh fruit and seasonal flowers, infused with an undertone of musk. Bright splashes of mango and refreshing grapefruit are combined with a heart of creamy osmanthus, exotic orchid and soft peony to offer a romantic signature that captures the peak of nature in bloom. Background notes of musk, indulgent praline and sandalwood blend to wrap the fragrance in smooth, seamless harmony.
TOP
Mango, Grapefruit, Peach Blossom
MID
Osmanthus, Orchid, Peony
DRY
Musk, Praline, Sandalwood
The perfumer, Richard Herpin said, "The scent embodies that unique time between spring and summer when nature is in full bloom; when everything is at its peak. Juicy fruits and gourmand notes are paired with fresh florals in a way that is perfectly balanced, achieving a harmony much like the charismatic dynamic of One Direction."
Eau de Parfum Spray 3.4 fl. oz. $59.50
Eau de Parfum Spray 1.7 fl. oz. $49.50
Eau de Parfum Rollerball .34 fl. oz. $20.00
Body Lotion 5.1 fl. oz. $21.00
Shower Gel 5.1 fl. oz. $15.00