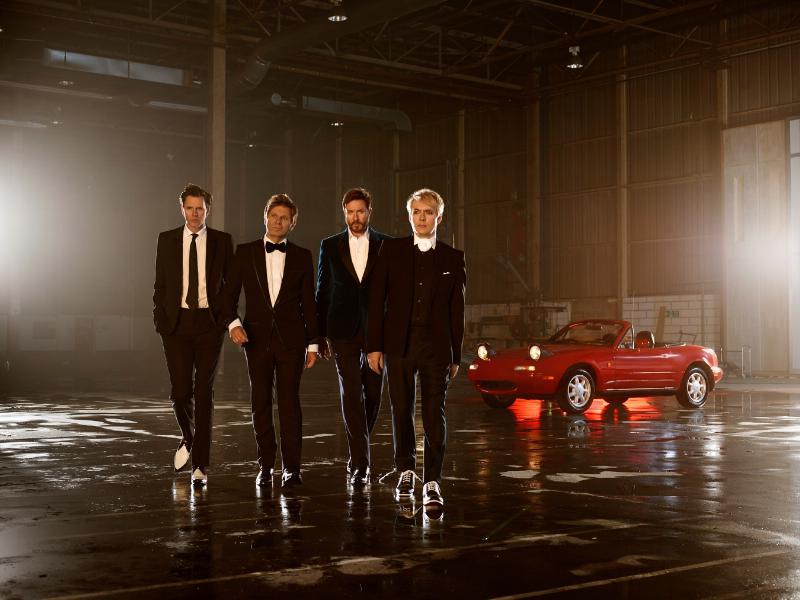 Mazda North American announced that Duran Duran will headline its unveiling of the all-new 2016 Mazda MX-5 Miata during a live event to be held in Monterey, Calif. on Wednesday, Sept 3rd, 2014, and viewable globally on Mazda's YouTube channel.
Revealing one of the most anticipated cars of 2014 on a global stage is not easy.  Fans may be asking, "Is There Something I Should Know?" To accommodate them, Mazda will hold simultaneous global reveals in Tokyo, Barcelona and Monterey.  U.S.-based fans can tune-in on Mazda's YouTube channel (http://bit.ly/2016_MX5) starting at 6:00 PM (PDT) on Wednesday, September 3 to watch the live reveal of the MX-5, as well as highlights of Duran Duran's unforgettable performance.
Mazda's MX-5 celebrated its 25th Anniversary on February 10, 2014.  It is the best-selling two-seat roadster of all time, with more than 930,000 models sold around the world since its 1989 debut, and is praised for always being affordable, lightweight and fun to drive.  The world received its first sneak peek of the fourth generation of the car on April 16, 2014 when Mazda introduced its new chassis during the 2014 New York Auto Show.
To give fans another opportunity to see the 2016 MX-5, Mazda has also partnered with Fashion Rocks, which will celebrate the powerful relationship between fashion and music with a live broadcast on CBS on Tuesday, September 9, 2014 (9:00 PM ET, tape-delayed to also play at 9:00 PM PT).  A specific Mazda-branded page can be found on www.FashionRocksLive.com/The-Road. The branded site features custom-curated music content including videos from Fashion Rock artists Duran Duran, Nico and Vinz, and AfroJack, as well as the full lineup of Mazda vehicles. 
Fans can follow the MX-5 conversation on Twitter through #LongLivetheRoadster or on Facebook.com/Mazda.
Duran Duran has sold over 100 million records in three decades and continues to perform for screaming fans all over the world. They are timeless, defying the odds by outlasting their contemporaries and never losing the desire to innovate. Their approach—a fusion of art, fashion, technology, and pop—has always been far ahead of its time, and the band shows no signs of easing its foot off the pedal, as they're currently hard at work on their 14th studio album, with star producers Mark Ronson, Mr. Hudson and Nile Rodgers.
Mazda North American Operations is headquartered in Irvine, Calif., and oversees the sales, marketing, parts and customer service support of Mazda vehicles in the United States and Mexico through nearly 700 dealers.  Operations in Mexico are managed by Mazda Motor de Mexico in Mexico City.  For more information on Mazda vehicles, including photography and B-roll, please visit the online Mazda media center at www.mazdausamedia.com.