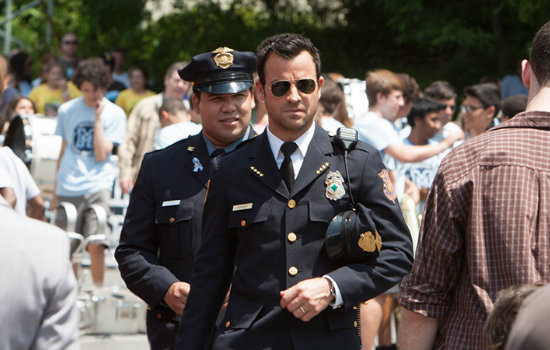 HBO has renewed the drama series THE LEFTOVERS for a second season. Created by Damon Lindelof (Emmy® winner for "Lost") and acclaimed novelist Tom Perrotta (Academy Award® nominee for "Little Children"), the series is produced for HBO by White Rabbit in association with Warner Bros. Television. Lindelof serves as showrunner.           
"We are thrilled to bring back THE LEFTOVERS for a second season with the exceptional talents of Damon Lindelof and Tom Perrotta," says Lombardo. "It has been truly exciting to see the overwhelming response to their provocative and original storytelling. We look forward to continuing the journey as the show delves deeper into the lives of those who remain."
Currently debuting hour-long episodes on Sundays at 10:00 p.m. (ET/PT), and based on Perrotta's bestselling novel of the same name, THE LEFTOVERS is an original look at The Rapture…or was it The Rapture at all? Set in a small New York suburb, the intimate family drama focuses on the residents of the fictional town of Mapleton, whose preconceptions are shattered in the wake of a global event dubbed "The Sudden Departure." Three years after the fateful day when 140 million people disappeared without a trace, the series looks at the ways ordinary people react to inexplicable events that can unite or divide families and communities, examining how their untold grief and the strain of an unprecedented calamity can turn faith into cynicism, paranoia, madness or cult-like fanaticism.
The ten-episode first season of THE LEFTOVERS debuted June 29 on HBO, with the season finale slated to debut Sept. 7. Among the critical praise, the New York Times hailed the show for "an intriguing premise that is intelligently and artfully presented," while HitFix.com said of Damon Lindelof, "Maybe he saw the opportunity in 'The Leftovers' to make something great. Because he sure as hell has." The New Yorker noted that the show "captures the disorientation of grief in a way that is provocative and rare for television," adding, "'The Leftovers' is something new."
Season one series regulars include Justin Theroux, Amy Brenneman, Christopher Eccleston, Liv Tyler, Chris Zylka, Margaret Qualley, Carrie Coon, Emily Meade, Amanda Warren, Ann Dowd, Michael Gaston, Max and Charlie Carver, and Annie Q.