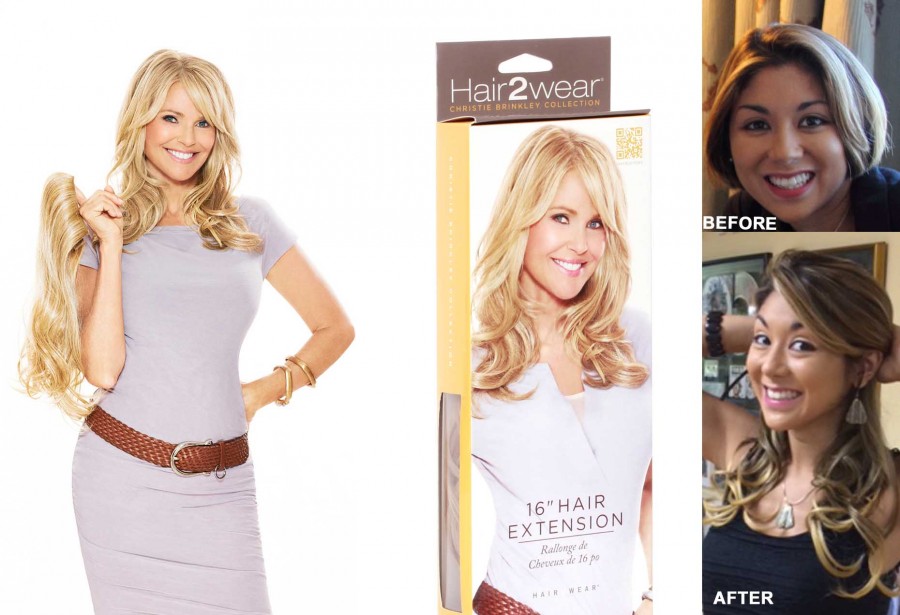 Sometimes you just need a change… when it comes to your hair-do. One day you like your short hair, the next day you'd prefer a little more length. Supermodel, Christie Brinkley has introduced a great new line of fashionable wigs and hair pieces: Hair2Wear. The pieces are easy to add to your hair and, with the right match, they blend in perfectly with your natural hair color. 
Inspired by Christie's supermodel beauty expertise and real life leading roles as mom, entrepreneur, and actress, comes a new line of affordable, on-trend hair additions. With an expansive range of available looks from sleek clip-in bangs to massively popular braids, plus 10 natural-looking wigs, the Hair2Wear Christie Brinkley Collection lets any woman have the most coveted hair trends in no time.
Each hairpiece comes in up to12 hand-blended hues, and all wigs are available in up to16 expertly created shades, for natural looking color that can match any head of hair. Every Hair2wear offering is also created to be heat styleable up to 350° degrees, so you or your stylist can customize each piece just like with your own hair. To help women make the most of the Christie Brinkley Collection, an exclusive how-to video series demonstrates how easy it is to wear and care for Hair2wear products.
"We've applied some of the behind-the-scenes hair tips and tricks that I have learned over the years as a model to create this line", Christie said. "Hair2Wear extensions and wigs offer real women stylish options; and the price allows them to buy multiple styles. Now, you can literally change your hair as often as you change your outfit", says Christie. 
Michael Napolitano, the President of Hair2Wear said, "We are so pleased to have Christie's wealth of experience in the beauty and style worldsto draw from to create this versatile new line. With her insider knowledge plus our industry authority, we've created a collection of products unmatched in terms of must-have looks plus professional grade quality."
Here are your style choices:

Corinthian Headband ($10): This braided headband delivers a contemporary twist on a traditional accessory, allowing you to create a unique, polished look in seconds.
Fishtail Headband ($10): A classic headband, updated with a popular, of-the-moment fishtail braid, for a sleek finish to
a ponytail or hair down style.
Double Braided Headband ($10): This double braided headband adds extra style to the timeless braid, while also
keeping hair elegantly pulled back and off your face.
Thick Braid Headband ($10): Make a major style statement with minimal effort with this dramatic thick braided
headband that can be dressed up or kept casual to suit any style.
Natural Tone Hair Wrap ($16): An easy way to style longer hair into a casually elegant chignon or sophisticated bun. This simple piece makes messy hair look styled in an instant, and keeps hair conveniently off your neck.
The Pony™ ($39): Add must-have length, or glamorously fill out an existing pony with this unique hairpiece. An innovative wrap-around wire finishes the style with a natural-looking knot that's fast, easy, and secure for hours.
Full-Sweeping Side Fringe ($24): These sexy, side swept bangs can be worn on either side of the part for a style change that's dramatic yet temporary. Thanks to a unique design, this piece lays flat to create a naturally beautiful and realistic look.
16" Hair Extension ($49): If you crave a longer look, but don't want to wait, these 16" long by 7" wide extensions deliver longer, fuller hair in seconds. With a built-in loose wave, each piece blends effortlessly with natural hair for maximum volume.
Wigs ($129 – $259): Available in popular styles such as a textured boy cut, modern page, textured layers, long shag, beach wavesand soft curls. Wig names are: Attention Getter,Cover Shot, Editor's Choice, Fan Favorite, On Location, Photo Perfect, Pin Up, Rising Star, Special Edition and Uptown.
PRICE: $10 to $259