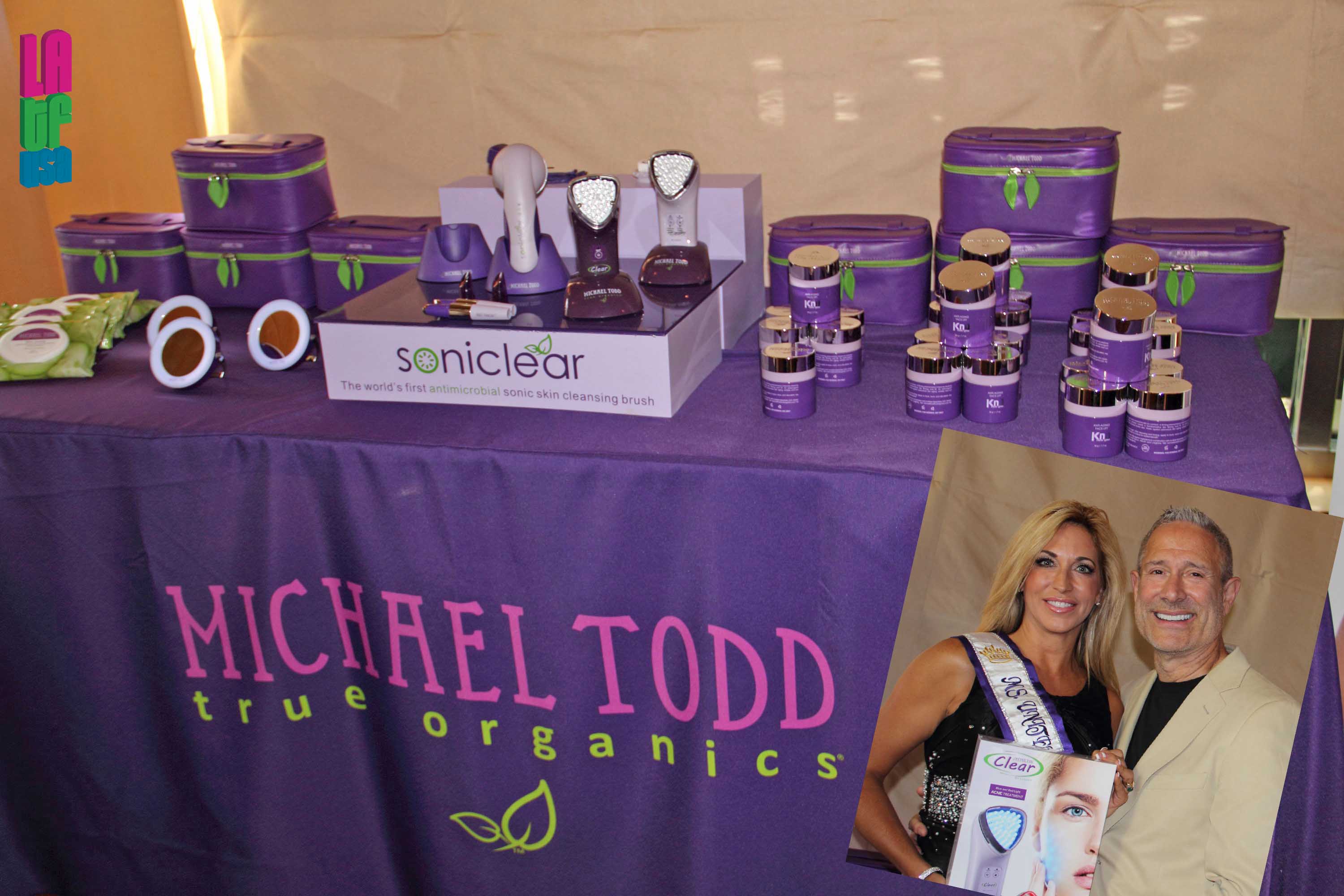 As they do every year, GBK Productions and owner Gavin Keilly delivered a successful Pre-Emmy Gifting Suite at the luxurious L'Ermitage Hotel in Beverly Hills during Emmy weekend. Set up on two levels, there was a nice and impressive flow of talent throughout the day. Celebrities posed in front of the gorgeous and unique step & repeat wall with rich pink flowers, the GBK logo and other supporting company logos in classy black frames.
LATF bumped into Oscar nominated actress, Viola Davis, Kristin Bauer van Straten (True Blood), Jackson Rathbone (Twilight), Megan Hayes (The Hunger Games: Catching Fire), Carla Gonzalez Miss United Nation International, Vanessa Marcil (General Hospital) and Corbin Bleu, among other stars.
Guests enjoyed refreshments, music by DJ MorganHildebrand and, of course, gifts! GBK combined their gifting with charity fundraising; supporting GO Campaign, Cops 4 Causes and Environmental Media Association.
As far as the featured companies go, there were plenty of amazing products, gadgets and personalities. On the beauty end, we met presenting sponsor, Michael Todd True Organics president Lewis Hendler, who introduced us to the World's First Antimicrobial Sonic Skin Cleansing System. Brow Art 23 gave a little tutorial to Miss United Nation and Beauty Kitchen by Heather Marianna gifted her natural bath and body products, bath soaks and custom soaps. Jean Scholtes showed us her natural Kind Soap line. Skinny Coconut Oil was also a hit with their hand pressed, 100% RAW coconut oil in the world: containing the oil of 12 coconuts per jar. American Velvet is Nature's multivitamin, it is 100% pure, artisan-crafted elk velvet promoting muscle recovery and joint function, while cultivating balance within the body.
Di Modolo Jewelry had a beautiful display of their shining earrings and more.
On the flavor end, Barry's Gourmet Brownies were to-die-for, melt in your mouth fudge brownies! Perfect for the summer heat was Tracy Reinhardt's delicious LIQRPops, the first liquor-based posicle.Try the coconut! Back from last year were Sequin Wines bubbly Pinot Grigio and Moscato from California. We were also introduced to 16 Water, a naturally purified through 16 layers of volcanic bedrock.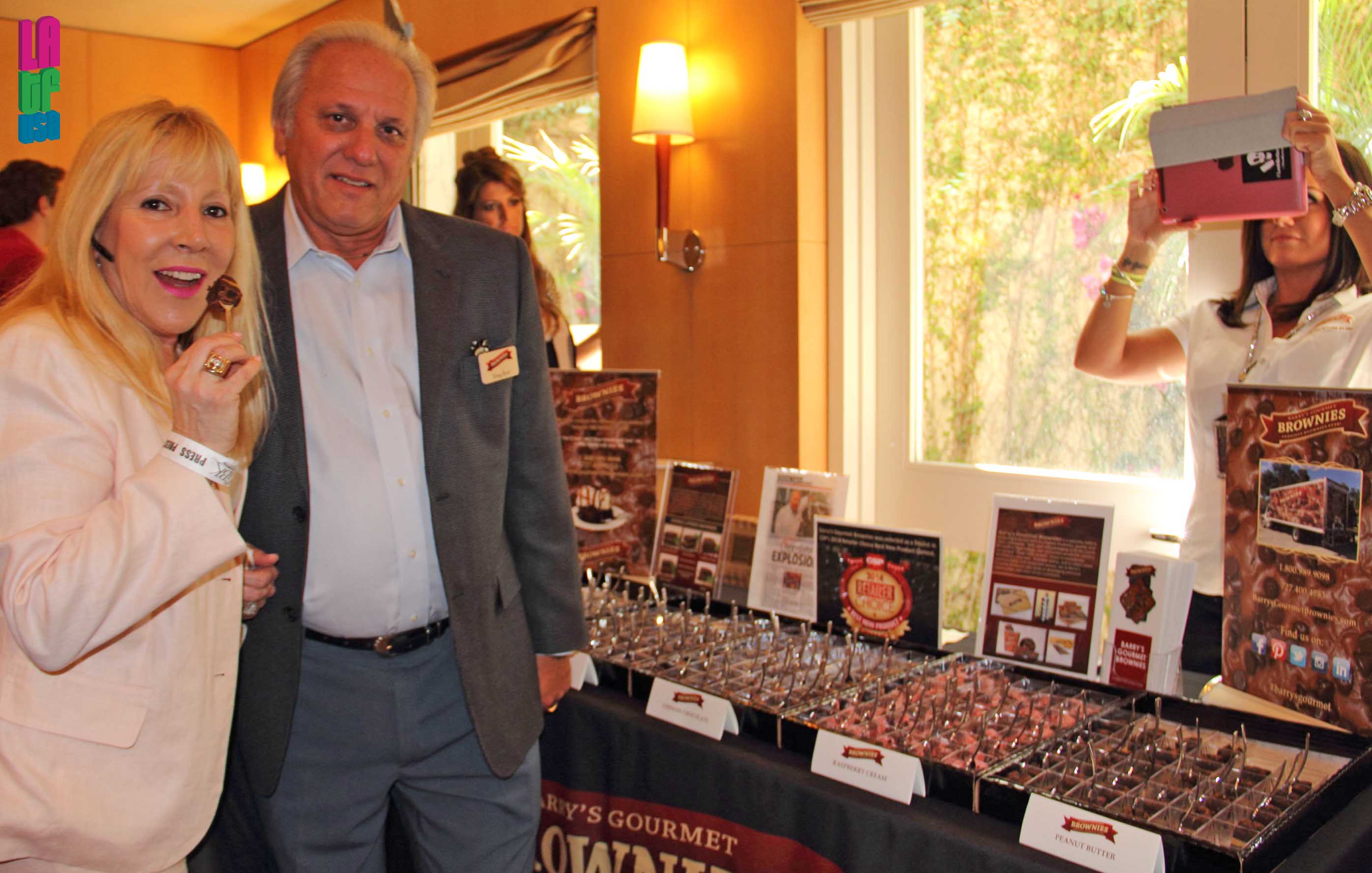 GBK had some amazing travel highlights this year with The Mulia, Mulia Resort & Villas – Nusa Dua, Bali, a luxurious property located on the majestic coastline of Nusa Dua, which gifted a 5-night stay in a Signature Ocean Court room, 1 Balinese Spa Treatment, and dinner at their beachfront restaurant – Soleil; Palace Resorts and Caribbean Living providing a four day/three night stay for two at the brand's signature property, Moon Palace Golf & Spa Resort; and The Little Nell, Aspen's only five-star, five-diamond property and the only hotel with ski-in, ski-out access to historic Aspen Mountain.
Other great gifts and sponsors included: Maxim Mattress, The Original Pet-Pal ~ Pet Bedding with a Heart; Bluetooth headphones from LG Electronics; An Intuition Blueprint Reading from Joanna Garzilli as well as a copy of Unleash The Psychic In You 2nd Edition book and Foster Grant's stylish sunglasses.
One of our favorite features of the suite: Mutt Match LA's puppy rescue set up!
Well done GBK, another great suite for the stars!
http://www.gbkproductions.com/