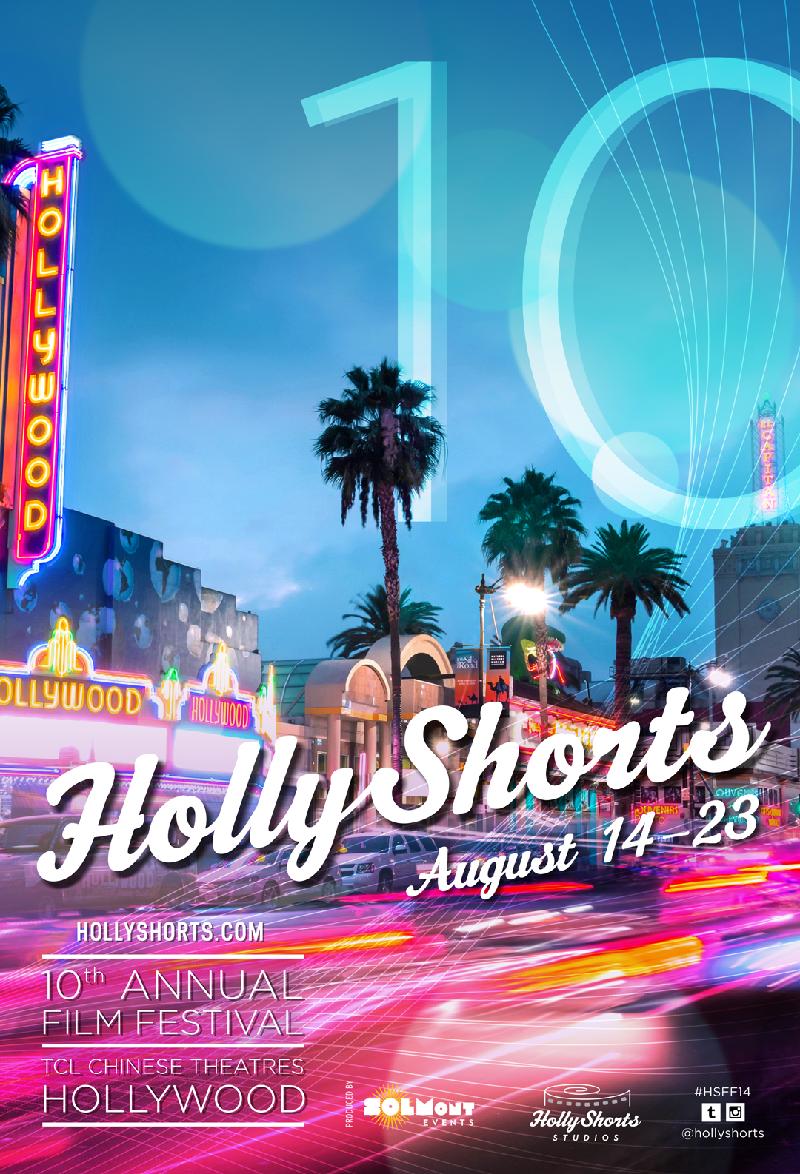 The 10th anniversary of HollyShorts Film Festival is in full swing at the TCL Chinese Theater and Roosevelt Hotel. Ending on August 23rd, 2014; a number of impressive short films have already screened. The festival has also launched an #HSFF APP. Download here: http://bit.ly/HollyshortsFestAPP
Tonight, director Adriano Valentini, who has premiered a series of his shorts at past HollyShorts festival, will be screening "Age of Insecurity: A Clinical Romance." Earlier in the year, Valentini's "Adventures in Pregaming" received praise and entertained audiences at HSF. Also a part of his "Age of Insecurity" series, "Beanie Bros." saw its world premiere at Palm Springs International Short Fest. Don't miss his next short tonight at the TCL Chinese Theater. Click here for ticket info.

Amongst the lineup are:
The Magic Bracelet starring Oscar nominee Hailee Steinfeld, Kaitlin Doubleday, Bailee Madison, Jackson Rathbone and directed by Jon Poll (screens 8/15 at 12noon).
Last Call directed by Camille Delamarre who is currently directing Transporter 4 (screens 8/15 at 2:30pm).
Alex Prager's Face in The Crowd starring Elizabeth Banks (screening 8/15 at 7:30pm).
Today's The Day starring Danny Devito and directed by Daniel Cloud Campos (screening 8/16 at 7:30pm).
Bulimia: The Musical starring Gary Anthony Williams, Cedric Yarbrough, Jamie Denbo, Katherine Burns and directed by Kristin McCasey (screening 8/16 at 10pm).
#twitterkills starring Sarah Paulson and Nathan Parsons and directed by Brett Sorem (screening 8/16 at 10pm).
Clapping for the Wrong Reasons starring Donald Glover and directed by Hiro Murai (screening 8/18 at 7:30pm).
Jordan Bradley and Travis Champagne's The Sound of Trains starring Daniel Baldwin (screening 8/19 at 7:30pm).
1%ERS starring Michelle Rodriguez and directed by Francesca de Sola (screens 8/18 at 5pm).
Resurrection Slope starring John Hawkes and directed by Tamara Feldman (screens 8/19 at 12noon).
Life Coach starring Andy Dick directed by Remond Francois (screening 8/20 at 12noon).
Interstate starring Gina Rodriguez and directed by Camille Stochitch (screens 8/20 at 5pm).
One Armed Man executive produced by Philip Seymore Hoffman, starring Terry Kinney and directed by Tim Guinee (screens 8/21 at 5pm).
The Box directed by Jon Huertas and Andrew Bikichky (screening 8/21 at 5pm).
Michael Ring & JR Soldano's Chocolate Milk starring Victoria Justice (8/23 at 2:30pm).
The full lineup can currently be viewed on the HollyShorts Tumblr. The full festival schedule and tickets are now available at hollyshorts.com. 
Wednesday August 20 at HollyShorts is Digital Day Presented By General Assembly. At 12noon is the Romantic Comedy program, 2:30pm marks the Coming of Age Shorts, 5pm showcases a top Drama Shorts program, 7:30pm is Funny Shorts with 10pm closing out the day with the popular Web Series program. The Film Conference at the Roosevelt on Digital Day will feature top digital sessions and a special cocktail at 6pm Presented by General Assembly.
Thursday August 21 is Awards night at HollyShorts. The ceremony takes place at 8pm at the Roosevelt. But prior to the Awards, audiences can check out the HollyShorts Alumni program at 2:30pm, Time Machine period pieces at 5pm, and more student shorts at 7:30pm.
New this year are two additional days of screenings, Friday August 22 and Saturday August 23. Friday features: Take Me There program at 2:30pm, Indi.com winners and the 48 hour Disability Competition winners program at 5pm, Drama Shorts at 7:30pm, and Friday Night Live at 10pm. Saturday features: Next Gen Showcase at 12noon, The HollyShorts Monthly Screenings Winners showcase at 2:30pm, Short But Sweet show at 5pm and Last But Not Least at 7:30pm.
There will also be a closing alumni Feature Doc presentation at 10pm on 8/23, which will be announced by the organizers shortly. At 10pm is the final closing bash for the festival, the location for that will also be announced shortly.
HollyShorts is awarding nearly $200,000 worth of production and scholarship prizes.  Company 3 is awarding $45,000 in Post-Production Services including $15,000 for the Best Short, $10,000 For Best Director, $10,000 for Best Cinematographer $5,000 For Best Music Video and $5,000 in Post services for Best Commercial. Method Studios will award a $10,000 Post-Production Services Prize for Best VFX. Latino Art Beat (LAB) and HollyShorts Youth Film Competition celebrating young filmmakers' will award the winning young filmmaker a $40,000 scholarship prize to attend The School of the Museum of Fine Arts, Boston (SMFA). Sponsors also include UCLA Extension, NYFA, ShortsHD among others.
HollyShorts opening night tickets are currently available at www.hollyshorts.com. All access passes are also available.