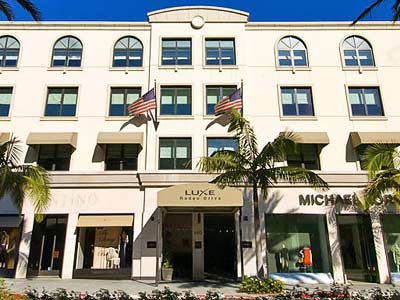 Award season means gifting time for nominees and celebrities. DPA is hosting their annual pre-Emmy garden gifting lounge, at the hidden boutique hotel Luxe Rodeo Drive and will be offering celebrities, nominees, and presenters, amazing new products and fantastic services.
The highlight of the DPA gift lounge this season: Costa Rica! Copa De Arbol Beach & Rainforest Resort is a new and very private beachfront eco-luxury destination on the OSA Peninsula in Southern Pacific Costa Rica. Endless swimming beaches, small coves, fresh-water lagoons and miles of trails winding through the rainforest make Copa De Arbol the perfect spot to simply relax all day or to experience an adventure of a lifetime. DPA lucky selected guests will get one all-inclusive stay (except airfare) to discover this paradise
Nathalie Dubois Sissoko is famous among the stars for finding the best of the best: Australian fashion designer MacGraw, Icelandic fashion designer Kronkon, Parisian leather couture designer Pascal Piveteau, and Italian ceramic bowties Cor Sine Labe Doli. DPA has also a great selection of US talents represented this year by Sunse Apparel, and bi-coastal fashion designer Blackmera, Marchon Eyewear will also gift sunglasses from one of the top French designers
Canadian jewelry companies will take over the jewelry presentations and will be represented   this year by Jewelry by Nadine (Alberta), Imperfect Indulgence (Toronto), Micalla, (Montreal) and Creations Youd  (Montreal). Other jewelry brands are Reija Eden jewelry, and Jones Katami.
"Her coup de Coeur" is Parisian Jewellery company Philippe Audibert. Stars will get some amazing pieces of jewelry freshly arrived from Paris. (Cuffs, bracelets, earrings in gold or silver metal with Swarovski crystals will be some of the gifts). Philippe Audibert has collaborated with designers such as Karl Lagerfeld, Agnes B and Paco Rabanne, and his exquisite very Parisian pieces will be the big success of the DPA event
The "Spa" Area will feature some unique beauty products on the market today: Milena Candles Make up by Andi, Perfumes Mercedes. The most talked about booth in the "spa" will be Longeva (48 organic, essential oils in one bottle. Organically sourced, ethically produced, made in California). Sechoir hair salon, celebrity make up artist Michelle Briones and Tarot reader extraordinaire Truth in hand, will be also on hand to provide great services.
The refreshments and catering are provided by Luxe Hotel Rodeo drive, Coco Libre water, Chipz Happen, Toffee Talk, Ohyos, The Berry Company, Icebox, XL Energy and Winestar.
Also featured in the gift suite are: Cape Smokey Leashes, DryCleanGreenBag, Teo Jasmin and Arido jewelry (gifting very generous $1000 gift certificates).
Nathalie will also bring awareness to two great charitable organizations: Lupus LA and the Elysia Skye breast cancer foundation.
The gift lounge will be set up on the penthouse terrace of the Luxe Rodeo Drive Hotel and will be opened to guests August 21-24, 2014 from 10am to 6pm. The lounge is expected to welcome many A-list celebrities from the TV networks, as well as for the first time world-renowned musicians.