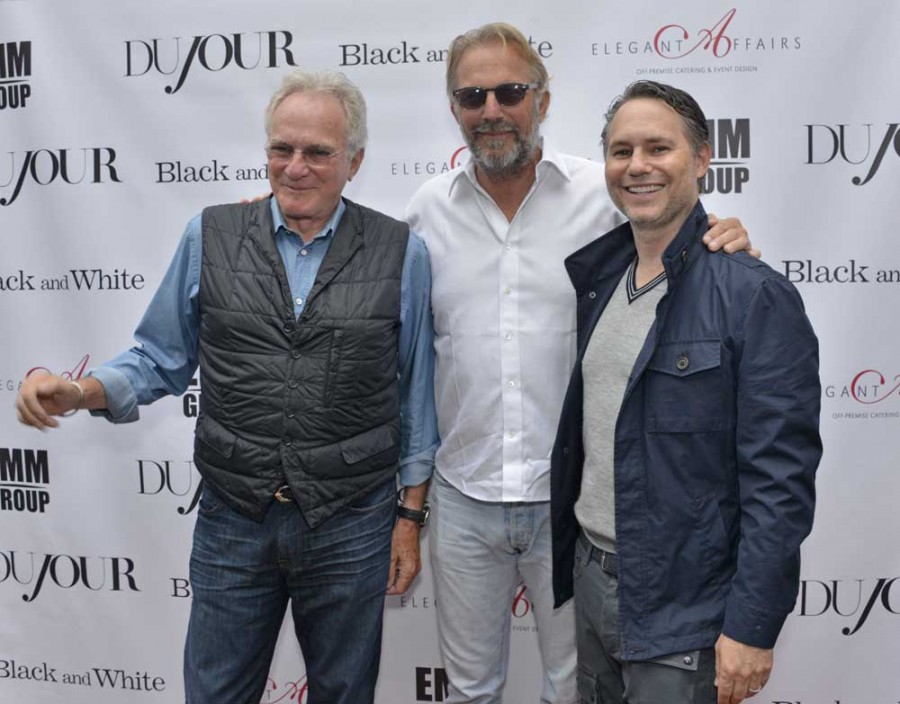 Academy-Award winner Kevin Costner traveled to the Hamptons this past weekend for an official sneak-peak screening of his highly anticipated film "Black and White." 
DuJour Magazine's Jason & Haley Binn hosted Costner in their Amagansett estate over the weekend, and Jason who is a longtime friend of Costner's, was responsible for pulling together this exclusive preview screening.  The film, written and directed by Mike Binder, and self-financed and produced by Costner who also stars in the film, was screened in East Hampton Sunday evening at the UA East Hampton Cinema 6 theater for approximately 200 guests, and will premier next month at the Toronto International Film Festival. The film, which centers around a custody battle, also stars Oscar winner Octavia Spencer, Anthony Mackie, Bill Burr, and Jennifer Ehle.
Following the screening, guests attended an after party held at Mark Birnbaum and Eugene Remm's Hamptons hotspot Finale East. Go-to Hamptons caterer, Andrea Correale of Elegant Affairs catered the after party and left no stone unturned.  A weight staff of 30 served-one-of-a-kind hors d'oeuvres and delicious light bites.  At the after party, Costner mingled with guests who all showed their support for the film.
Guests from the fashion, media and business world came out to show their support for Costner and the film, including: Nacho Figueras; EMM Group's Eugene Remm and Mark Birnbaum; Donny Deutsch, Nanette Lepore, David Yurman; Executive Producer for "Live With Michael & Kelly," Michael Gelman; Jeff Zucker; Whitney St. John; James Esposito; Jim Gold, President & Chief Merchandising Officer of Neiman Marcus; Ron Kramer; Tracy Anderson; Massimo Caronna of Brunello Cucinelli; Bob Balaban; and Bruce Weber & Nan Bush.