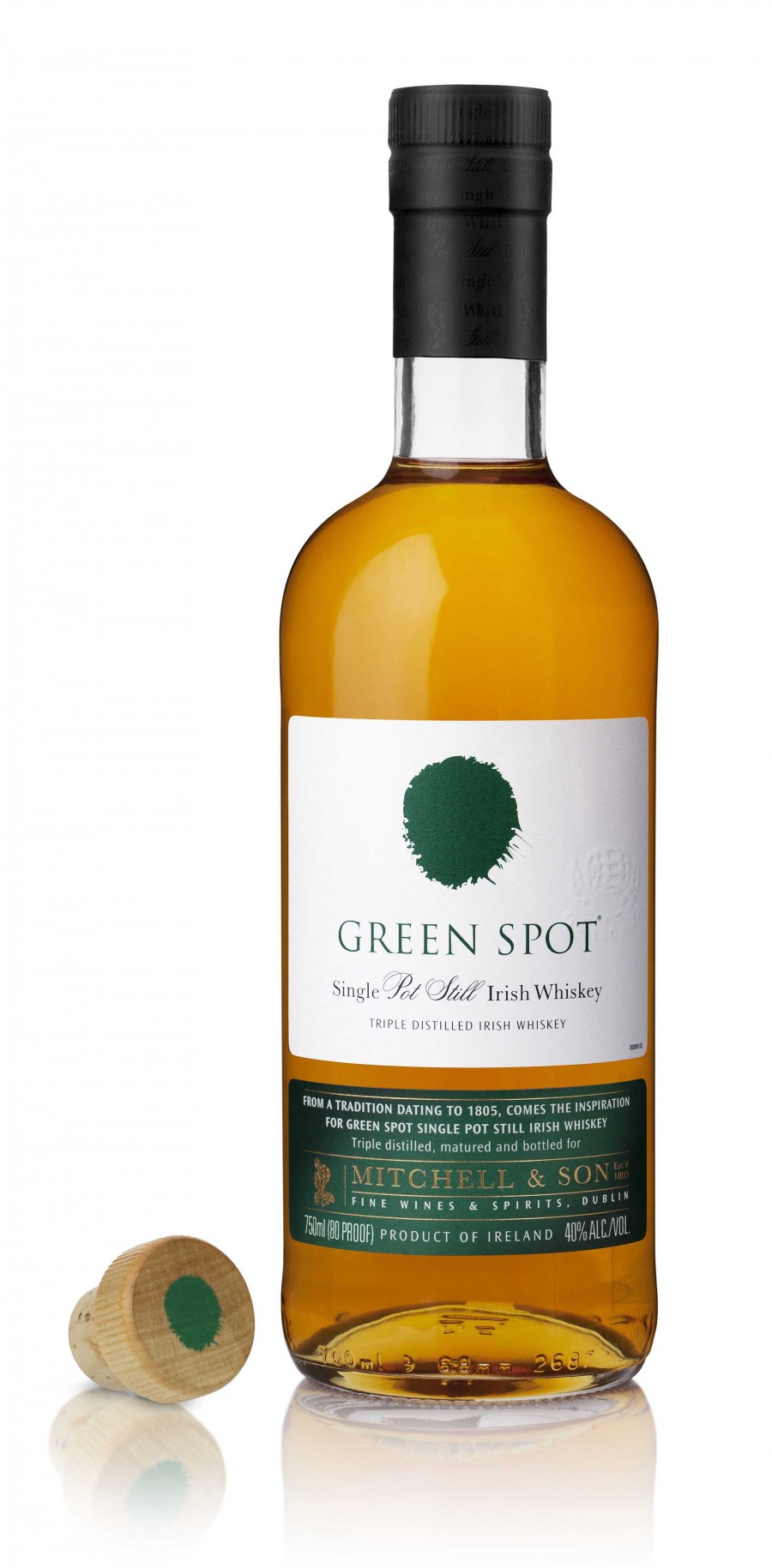 When I think of the Emerald Isle, I conjure up pleasant images of rolling green hills, leprechauns, Irish Wolfhounds, raven haired girls, Irish pubs and four-leaf clovers. On the flip side, I also remember Ireland's bloody history, as depicted in films like "Michael Collins;" about efforts for an Irish Free State in the 20's; "In the Name of the Father", about an IRA member ending up in prison for confessing to a bombing he didn't do, and "Hunger", Michael Fassbender's searing portrayal of Irish republican, Bobby Sands, who leads the inmates of a Northern Ireland prison on a hunger strike.  
Also filmed on location on the Isle of Man is a delightfully lighthearted tale, "Waking Ned Devine", which tells the story of a poor bastard whose luck ran out while clutching the winning ticket to the Irish Sweepstakes. I decided I needed a little Irish humor over the weekend and popped "Waking Ned Devine" into my DVD player. As the opening credits spooled, I cracked open a bottle of GREEN SPOT Single Pot Still Irish Whiskey and splashed a nice shot over ice and waited a bit; giving the ice a chance to melt, ever so slightly.  GREEN SPOT Single Pot Still Irish Whiskey, a rare collector's whiskey and one of only two remaining Single Pot Still Irish Whiskey brands, is comprised of pot still whiskey, aged between seven and ten years, matured in a combination of new bourbon and sherry casks. It has a sweeter taste and finish, with hints of licorice, sherry, plums, apricot, golden syrup, marshmallow, vanilla, toffee and butterscotch — a delectable blend. Only small quantities of GREEN SPOT Single Pot Still Irish Whiskey are bottled each year, making it a rare and much sought-after delight.
As I swirled around the shot of whiskey in my glass, I caught the scent of fresh aromatic oils and spices, orchard fruits and barley on a background of toasted wood. It smelled fantastic. I was anxious to try it, and was not disappointed. The first sip brought a full, spicy body, which warmed all the way down. As I savored the whiskey's delicious blending of tastes on my tongue, I caught the barest hint of cloves, combined with the fruity sweetness of green apples, all rounded off with the slightest bit of toasted oak. I finished my drink while I was watching the last scene of the movie, where the villagers all get together, raise their glasses to Ned to thank him for his gift to the village. I toasted Ned with the little that was left in my glass… The lingering flavors of spices and barley made for a very warm, very pleasant, very relaxing sipping experience. 
Created with the whiskey collector in mind, only 12,000 bottles of Green Spot are produced every year, so I feel extremely lucky to have nabbed one of them.  GREEN SPOT Single Pot Still Irish Whiskey became available in the U.S. in March 2014, at a suggested retail price of $50.  For more information, please visit http://www.singlepotstill.com.
By Deborah Bauer